Edward Sexton 'offshore bespoke' tailoring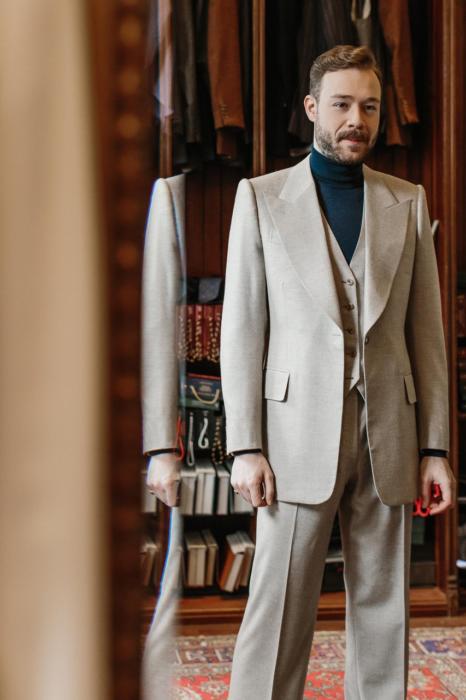 I recently started the process of having a suit made with the Edward Sexton offshore service. (Starting at £2500 incl. VAT for a two-piece suit.)
This has been around for a few years, and is similar in many ways to the offshore products being offered by Huntsman, Whitcomb & Shaftesbury, Benson & Clegg and others.
The suit is cut in London by the same people that cut the regular bespoke, but the majority of the making is done elsewhere – in this case, China – in a workshop of people trained by Savile Row tailors.
There are a few differences, though. First, unlike Whitcomb & Shaftesbury, there are no bespoke-style fittings. The suit comes back fully made except for the sleeve length, and alterations are then made in London.
The aim is less to entirely replicate bespoke, just with offshore workers, and more to offer a made to measure product with a better, more experienced level of cutting. This is more similar to Huntsman, Benson and others that use the Chinese workshop.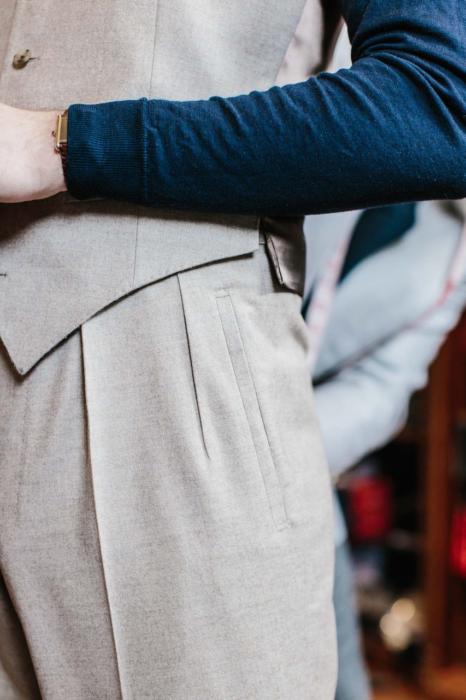 The other significant difference is that the chest is machine padded, rather than hand padded. (Nearly all other work is the same.)
This was a deliberate move by the Sexton team – the workshop does hand padding, and they could have opted for that. But they decided for the machine option for three reasons: one, it makes the suit a little cheaper; two, the firmer chest is more forgiving in terms of fit, which is helpful given the lack of fittings; and three, it further separates the offshore product from the full bespoke.
In fact, one thing that distinguishes the Sexton offshore service is that it has a very clear aim: to be able to offer the Edward Sexton style to people that couldn't normally afford bespoke.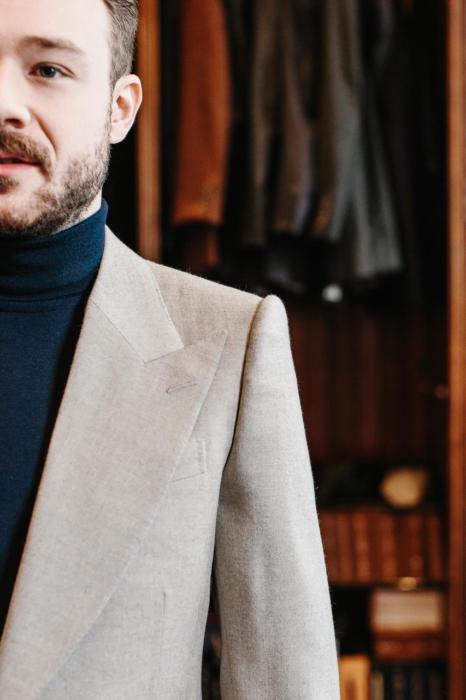 So the process is made easier, shorter and cheaper. But it is also deliberately limited: there is a house style with that characteristic Sexton shoulder, in single or double-breasted, but not much variation from them on.
Edward cuts an extreme, pagoda-style shoulder for some bespoke customers. And has been making a very soft shoulder for others for years. But neither of those are possible with the offshore bespoke.
You also can't fiddle around too much with the pocket placement, or go for a 6x1 double-breasted, where the jacket fastens on the bottom row, despite that being popular among full-bespoke clients.
The idea is to make the product streamlined and efficient as possible - so it can be cheap, but also consistent. So a good fit can be achieved despite the lack of fittings.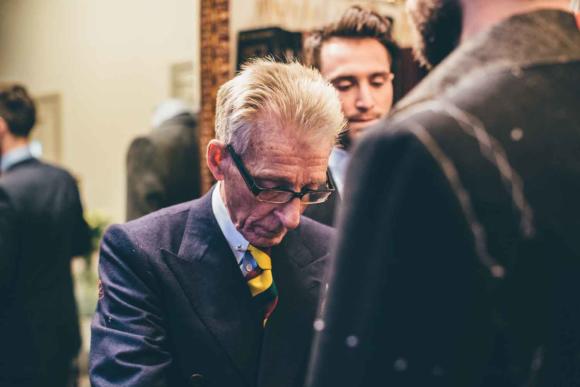 Where little variations in the style or process are allowed, they will often involve an additional fee. This is very much the exception, and is dependent on prior discussion with Dominic Sebag-Montefiore (above, centre) and the team, but it's in the same vein of tying payment very closely to the end product.
"With full bespoke, we can often spend several fittings messing around with fit aspects that the client likes, or design things they want to try. And the price makes that possible," says Dominic. "The idea with the offshore was to streamline all of that, and as a result make the Sexton cut available to a different audience."
That said, there are some clients who use both services, just for different suits. Some commission more casual, knockabout suits in corduroy or linen using the offshore service, and use full bespoke for their dressy worsteds.
Others apparently do the opposite, having worsted suits made with offshore, because they are their everyday work suits. And use bespoke for special pieces, like a dinner jacket.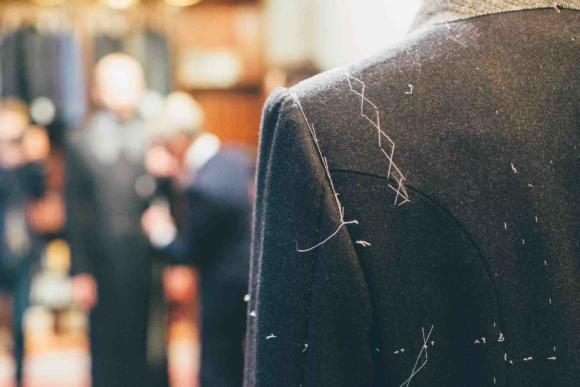 Another difference between this and some other offshore services – such as the Huntsman 100 – is that Sexton uses fitting garments as well as measurements.
So at the first appointment, the customer is measured as normal but also tries on a ready-made piece in their normal size. The focus is on getting the shoulders and balance right in the jacket, so there's no risk of those being off in the mostly finished suit that comes back.
This seems sensible, and of course some bespoke tailors use a fitting garment as part of their standard process – such as the blue, squared models used by Camps de Luca. Or they take measurements off a client's existing jacket as well as their body. Most still don't, but they have the luxury of multiple fittings to get it right.
"The other thing it's worth saying about offshore," says Dominic, "is that your second and third suit will certainly fit better – because each is effectively an extra fitting, with your pattern being refined each time. So you do get closer to the full bespoke fit."
And given that offshore bespoke is almost a third of the price of full bespoke, you will get there by the time you get to the same expenditure. Just with three suits instead of one.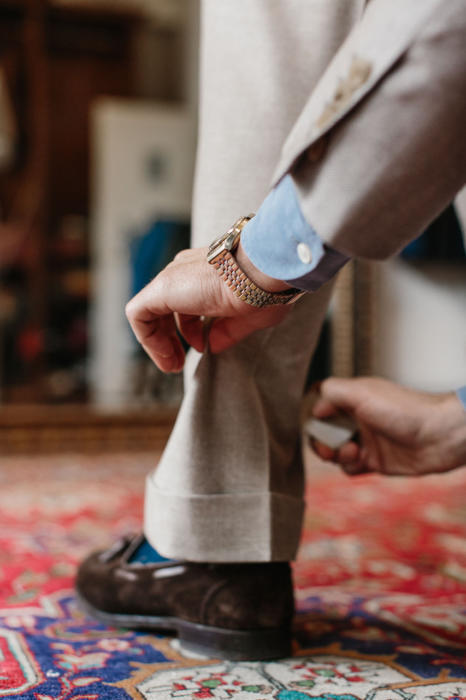 After the initial consultation, suits normally take 6-8 weeks to come back. One further set of changes is then made locally, which takes about another 2 weeks.
I've been very impressed by the suits I've seen on friend Aleks Cvetkovic, using the offshore service, so I'm excited to see how mine turns out.
That's Aleks pictured here, in a Caccioppoli wool/silk-blend flannel.
I went for a dark-brown double-breasted linen suit, with the cloth determined by seeing the same on Willy from The Anthology last year. And the style driven by my bespoke flannel suit from Edward, which I love.
So a cloth I've seen made up, a style that I've experienced myself, and a service that's driven by a desire for consistency. All bode well for the final result, which should be here in about six weeks.
Full pricing: £2,500 for a two piece suit, £1,900 for a jacket and £650 for trousers (all including VAT).
Photography: Jamie Ferguson @jkf_man