In the past five years, it feels like everyone has started doing some kind of shirt-jacket.
It was a natural extension of the soft tailoring trend, perhaps, and it certainly gained traction when shirtmakers realised they could offer this too - a welcome new category for them.
The only problem I found, personally, was that some of them were overcomplicated.
The more pockets, the bigger and more bellowed they were, and the more details like belts and epaulettes, the more the jacket became unusual and difficult to wear - the opposite of what they were usually aiming for.
I think that's why I've found this Mandarin-style jacket from Prologue quite versatile.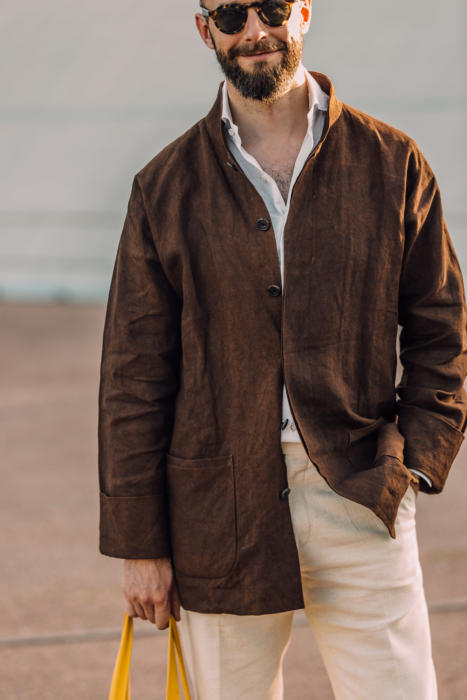 For unusual as it is to see someone in a Mandarin (or Nehru, or Mao, or stand) collar jacket, the design is normally quite simple.
There may be pockets, as there are here, but there are only two and they're simply patches. No flaps, buttons or pleats.
There's no placket either, no lapel, and the cuffs are simply long sleeves folded back. It has more in common with a French workwear jacket than a tailoring-inclined Safari jacket.
I've worn it with linen trousers and a dress shirt (as pictured) but also flannels and an Everyday Denim shirt, and a T-shirt with chinos. (Though not jeans - still too crisp for that.)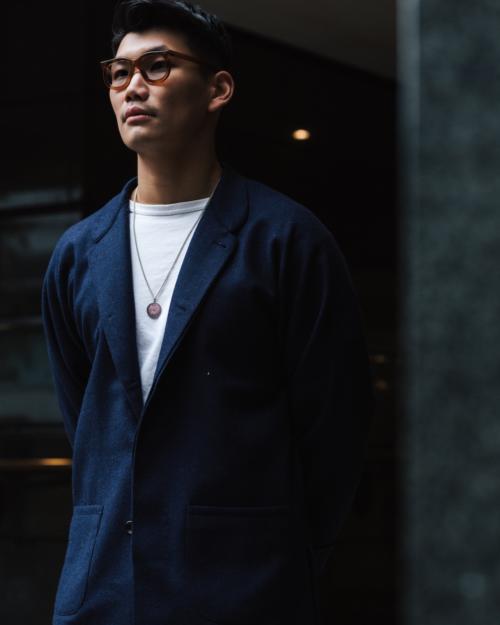 Above, Chris from Prologue wears his with a T-shirt.
He and the rest of the Prologue team have been working on this jacket for a while, and it's been nice to see the design improve. Even though it looks simple, changes like raising the collar and enlarging the pockets have made a big difference.
The collar has also been worked to sit better folded down, if you like that look (as shown by Chris, above).
And the changes are particularly complicated given the jacket has no separate sleeve - the fronts and the sleeve are one piece (below).
Mine was made to measure, but we deliberately didn't make it too fitted - like a shirt or tailored jacket would be. (A mistake I probably made with my Budd Safari shirt.)
So there's a little shape in the back, but not much. We determined the length of body and sleeves (even though the sleeves roll back, you don't want them too short or long) and we altered the front/back balance a little.
The only thing we couldn't quite get right was the collar - which would ideally sit flush with the back of the neck. That's not easy with simple MTM, but it would be an improvement.
As it is, the collar sits there with the jacket open, but not with it closed.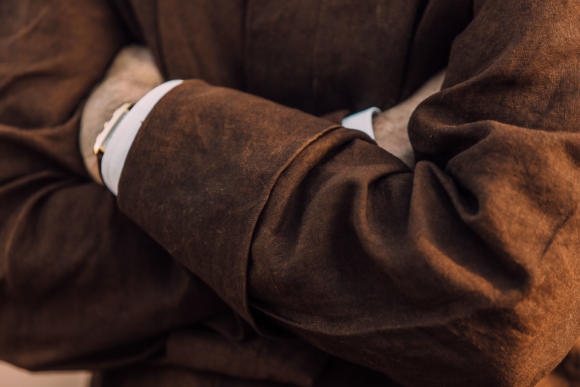 The most impressive thing about the jacket, though, has to be the cloth.
This is a hand-dyed linen/cotton, done locally in Hong Kong. The material is dyed with a mix of plant-based dyes, and then left to dry in the sun, with the amount of light determining its final colour.
This traditional process is not that unusual (particularly in Japan) but the specific combination here creates a beautiful effect. The colour is deep and rich, and it looks like it has almost suede-like texture. In fact, that's the most common response you get from people - asking if it's suede.
The problem with using such a process is that it is highly dependent on the weather, and as such Jerry and Chris at Prologue have had some problem getting consistent delivery times.
The current advice is to contact them if you're interested, and ask what the wait time is at the moment.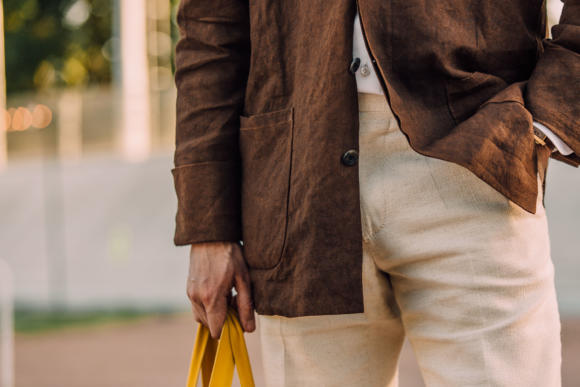 The colour combination of this outfit is pretty typical for me, in that it's a tonal look with the optional pop of colour - in this case, a Trunk tote bag.
Having white on the top half and cream on the bottom is fairly striking and unusual (and means, practically, that it doesn't look great with the jacket off).
But as mentioned above, it works equally well with less striking things. A blue button-down shirt like chambray or Everyday Denim work equally as well as the white pictured. And normal suede loafers could replace the slipper-like Sagans.
Black shoes with combinations like are a continuing theme at the moment, as mentioned previously on the Gieves linen suit. I'm finding they work best when the colours elsewhere are fairly cold.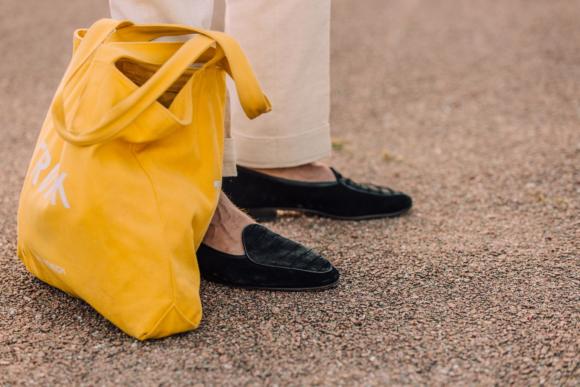 It will be interesting to see how new Hong Kong set-ups like Prologue and The Anthology evolve over the next few years.
At the moment, the things that set them apart for me are their taste in tailoring - the cuts they choose and the fabrics they suggest - and the development of original designs like this.
It's much harder than simply setting up a shop and selling the same craft brands as everyone else. But it also has much greater potential to set down long-term foundations for a brand.
Good luck to them.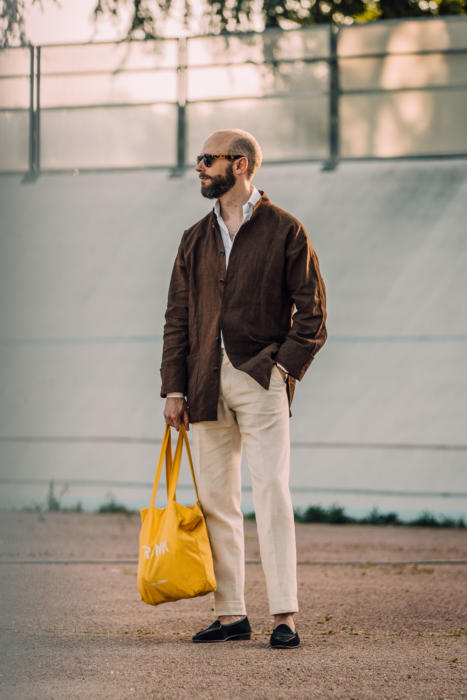 The Mandarin jacket is £950 made to measure, and £475 ready to wear.
There are 10 lengths currently available of the hand-dyed cloth for MTM, and RTW is available in a green Moon lambswool tweed, navy mockleno and navy Sherrytweed. See images below.
In my pictures:
White linen shirt: D'Avino

Cream cotton/linen trousers: Eidos

Sunglasses: EB Meyrowitz

Sagan shoes: Baudoin & Lange
Photography of me: Jamie Ferguson
Photography of Chris: Milad Abedi
Others: Prologue