Linen has long been a favourite for tailoring intended for hot weather.
Its prime appeal is it's cool to the touch (a lot more than wool, and a little more than cotton) because the fibre is a good conductor. Metal feels cool for the same reason.
Linen also tends to be quite breathable – but that's down to the weave.
Because linen is a strong, relatively thick fibre it can be made in an open and therefore more breathable weave structure.
That's also usually a plain weave, for the same reason. Plain weaves don't have to be woven as densely as twills, for example, and are therefore more breathable.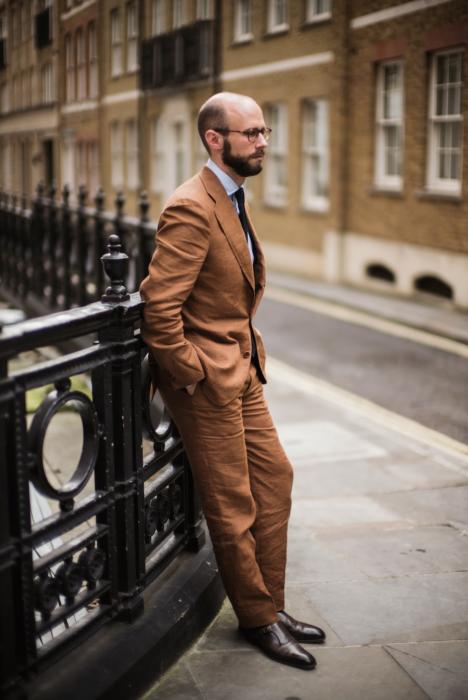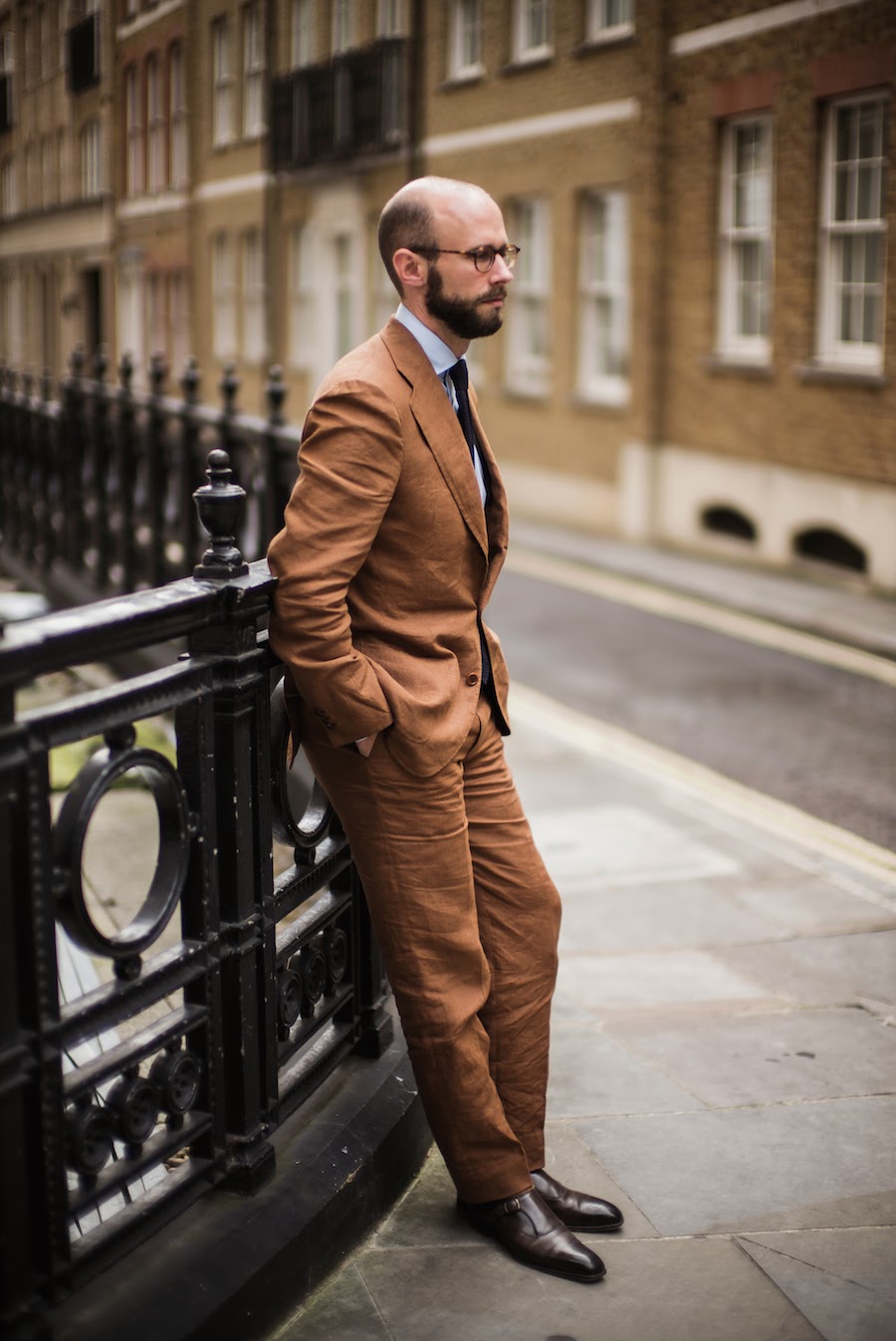 The main reason people dislike linen is, of course, the wrinkling. This is because linen has no natural stretch (unlike wool).
The wrinkling does make linen less formal, but in an age when few men have to wear a smart suit to work, it can be a nice alternative for tailoring.
A navy linen jacket with a polo shirt underneath might be an effective way to dress up without looking too corporate.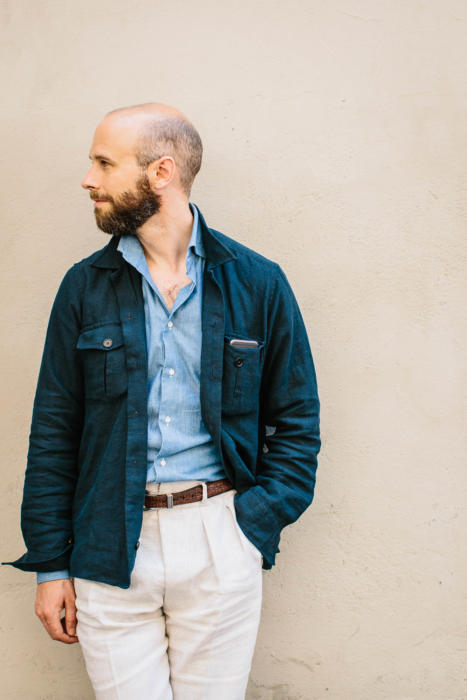 For some, a wrinkled linen suit also has a certain relaxed, dégagé elegance.
This might be because linen is a relatively long-staple fibre (certainly compared to cotton) and therefore continues to move and drape well, even when wrinkled.
That also makes it less likely to become misshapen (eg bag at the knees).
You could argue that after 4 or 5 wears, a linen suit will look better than some wools. Both will be wrinkled, but linen will wear it better.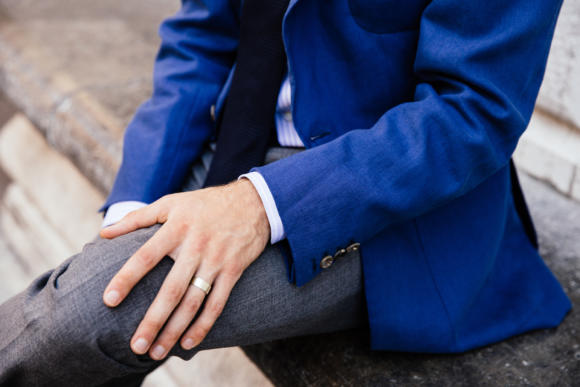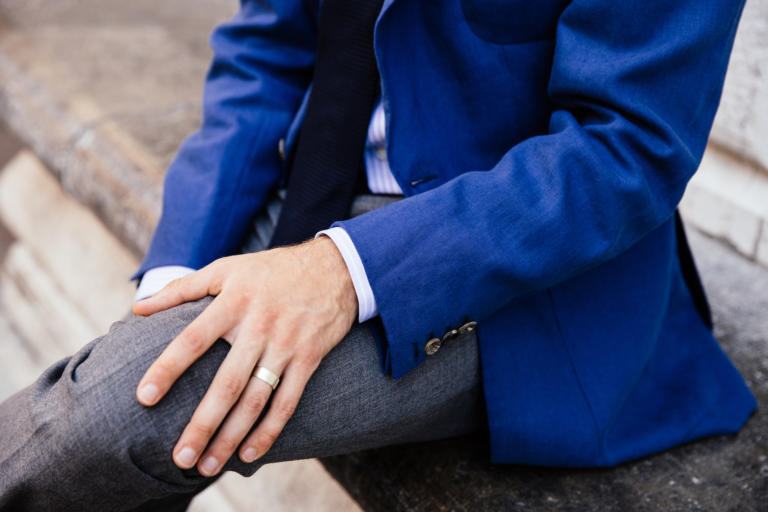 If the wrinkled look is a big turn-off, a good alternative is to wear just a linen jacket, or just trousers.
A hopsack jacket is be a nice partner to linen trousers, and high-twist wool trousers (e.g. above) a partner to a linen jacket.
However it should be noted that, in general, wearing a linen jacket and trousers in different colours should be avoided. The similarity of texture looks odd.
Better, if you want the coolness of linen in both, is to have a jacket in a wool/silk/linen mix – a standard offering from Italian mills in jacketing bunches.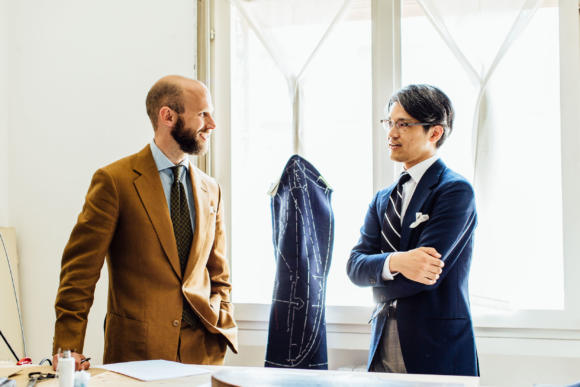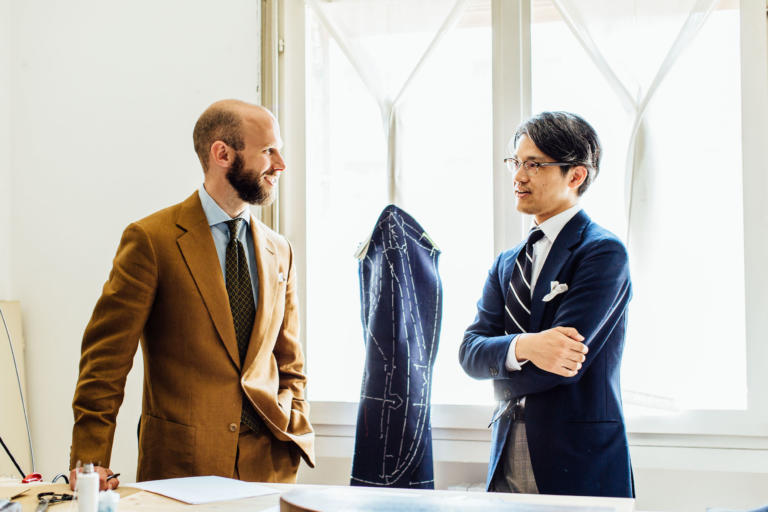 Pure linens tend to be one of two weights: either 10-13oz from Irish mills (e.g. above), or 8/9oz from European ones (e.g. the other tobacco suit, shown at top).
This is because historically Irish mills have spun their yarn a bit coarser (1/25 or 1/10Nm) than Italian mills (1/25 to 1/40). They also use a closer setting during weaving, making it denser.
Irish 12/13oz linen feels heavier and looks sharper. Although it will wrinkle, the wrinkles are larger and fewer (something you can see above, again). The 8/9oz linens feel a lot lighter, but tend to wrinkle consistently all over.
I tend to prefer Irish linens, certainly in a suit; and if I want a lighter weight jacket, I go for a wool/silk/linen mix.
Irish linens, by the way, sometimes have a sanforised finish, which makes a little stiff and shiny. This often washes out when the suit is cleaned.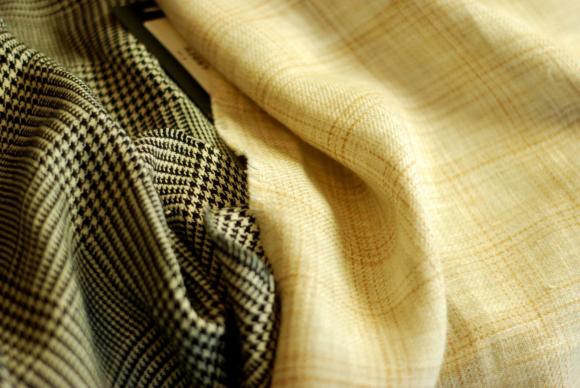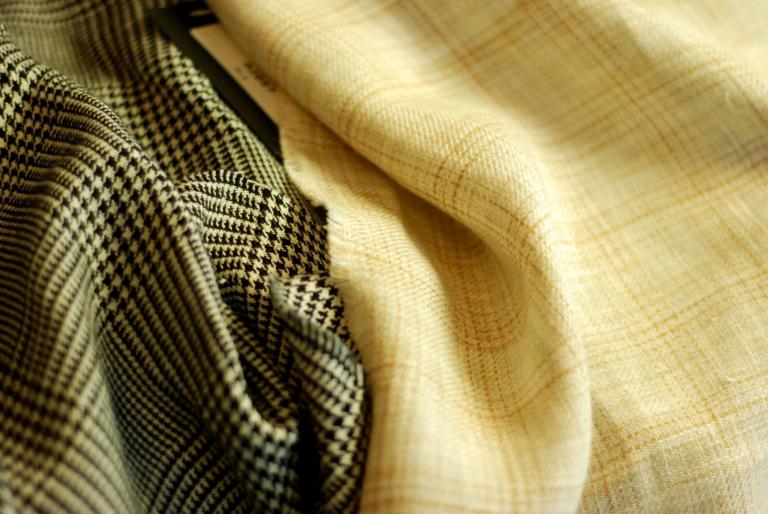 Among linen's other properties are that is highly absorbent, but moisture evaporates quickly (another plus for hot weather, and a similarity with wool); and that its smoothness means it doesn't attract lint and so needs little brushing (unlike wool).
Linen is also very strong, and deals well with abrasion (so won't wear down at the elbows, for example). Signs of wear tend to come where the cloth is folded and the fibres crack, such as on the top of the collar.
Perhaps most importantly, linen fibres have natural imperfections along their length that show up as 'slubs' in the cloth.
It is this organic, irregular look that often makes people most passionate about it. The same people that like hairy tweeds in the winter tend to like the natural, slubby look of linen in the summer.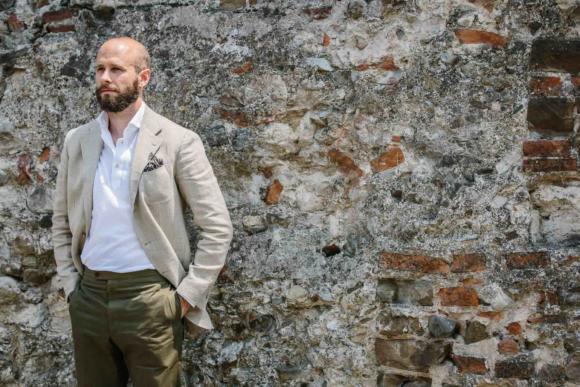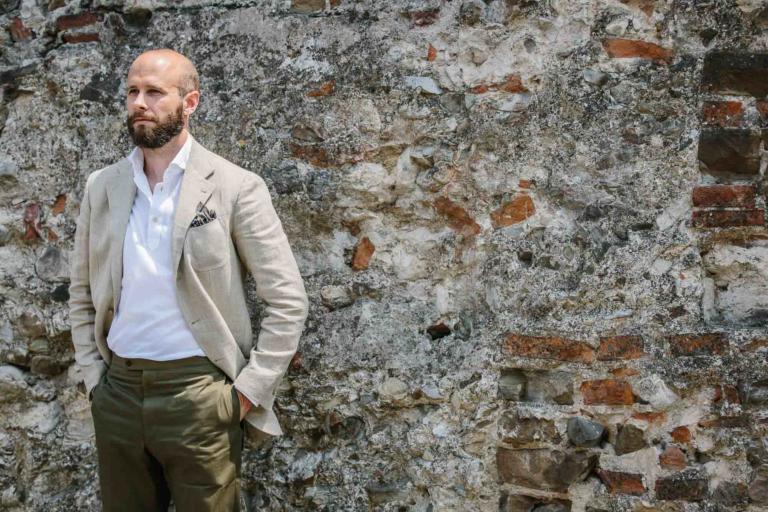 Linen will probably never quite escape its associations with red-faced colonials or the man from Del Monte. But there are a lot of ways to wear linen other than as a full, cream suit.
Natural colours such as tobacco, olive and dark green are often good, particularly in a tailored trouser in the summer. And off-white or biscuit (above) are nice alternatives to cream.
Navy can work well, but usually not as a formal suit – not as a replacement for worsted wool to the office.
Linen can be dyed pretty much any colour though, and according to the mills the trend at the moment is for plain, bright colours and pastels.
Personally, I'd suggest starting with some olive or biscuit-coloured trousers, and then moving up to a tobacco suit.
Wear it three or four times, and then revel in the wrinkles.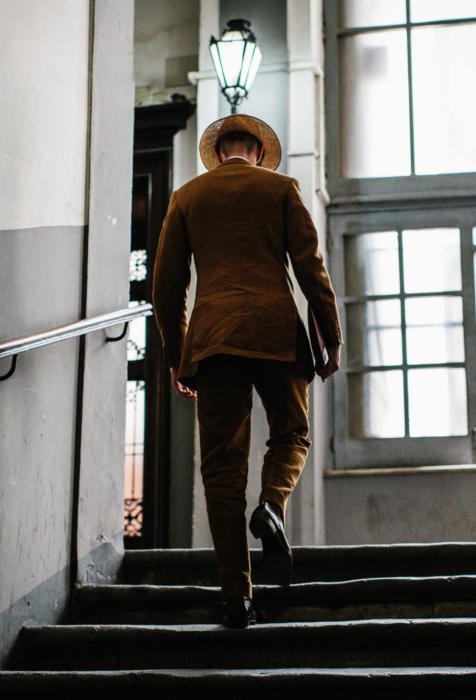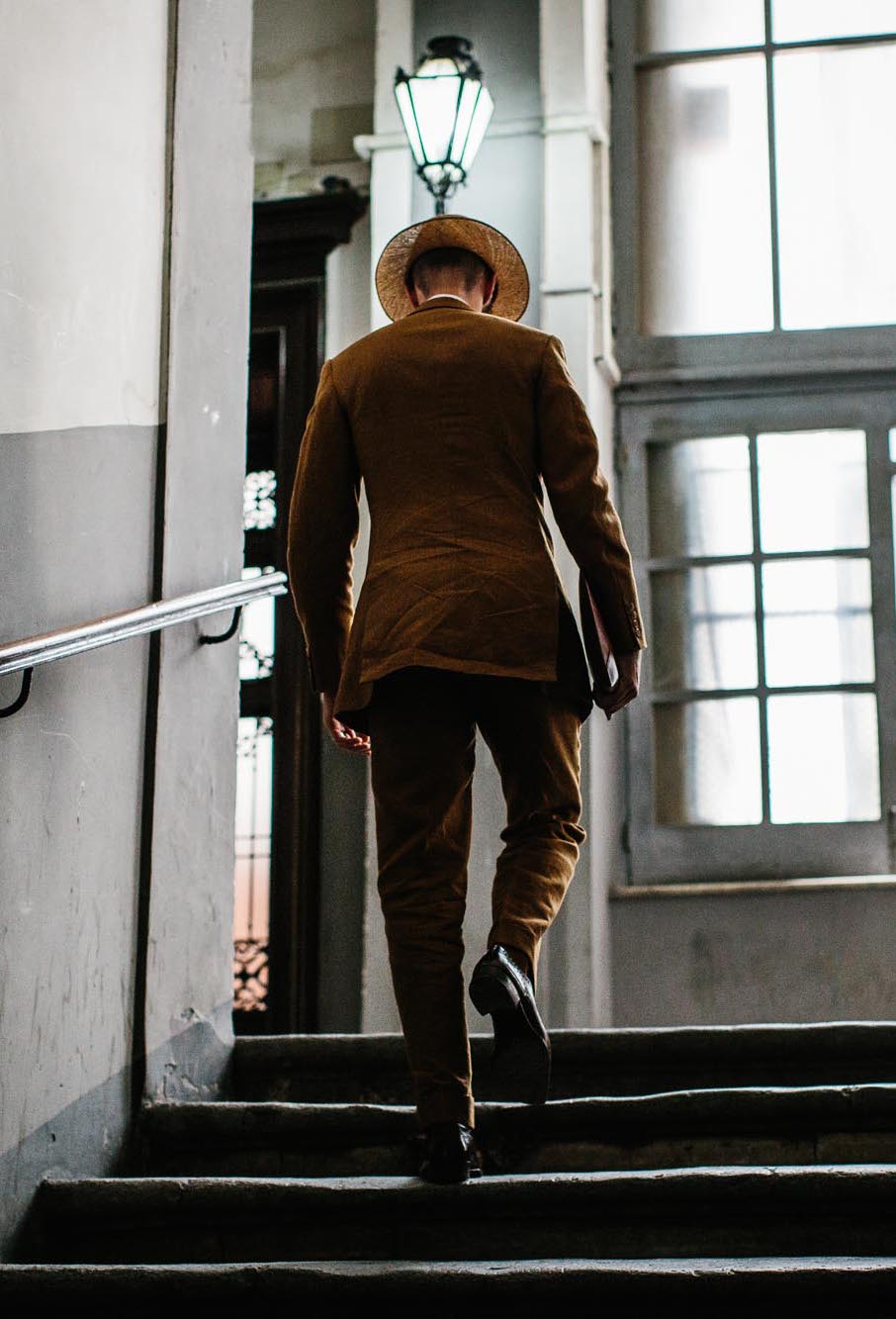 Photography: All Jamie Ferguson @jkf_man except: top suit image, Luke Carby; bright blue jacket, Drake's; checked and yellow cloths, Rubinacci.