The three wardrobes that define my week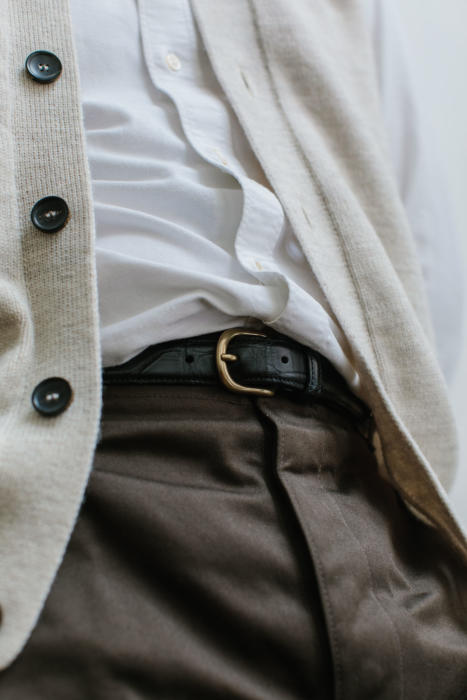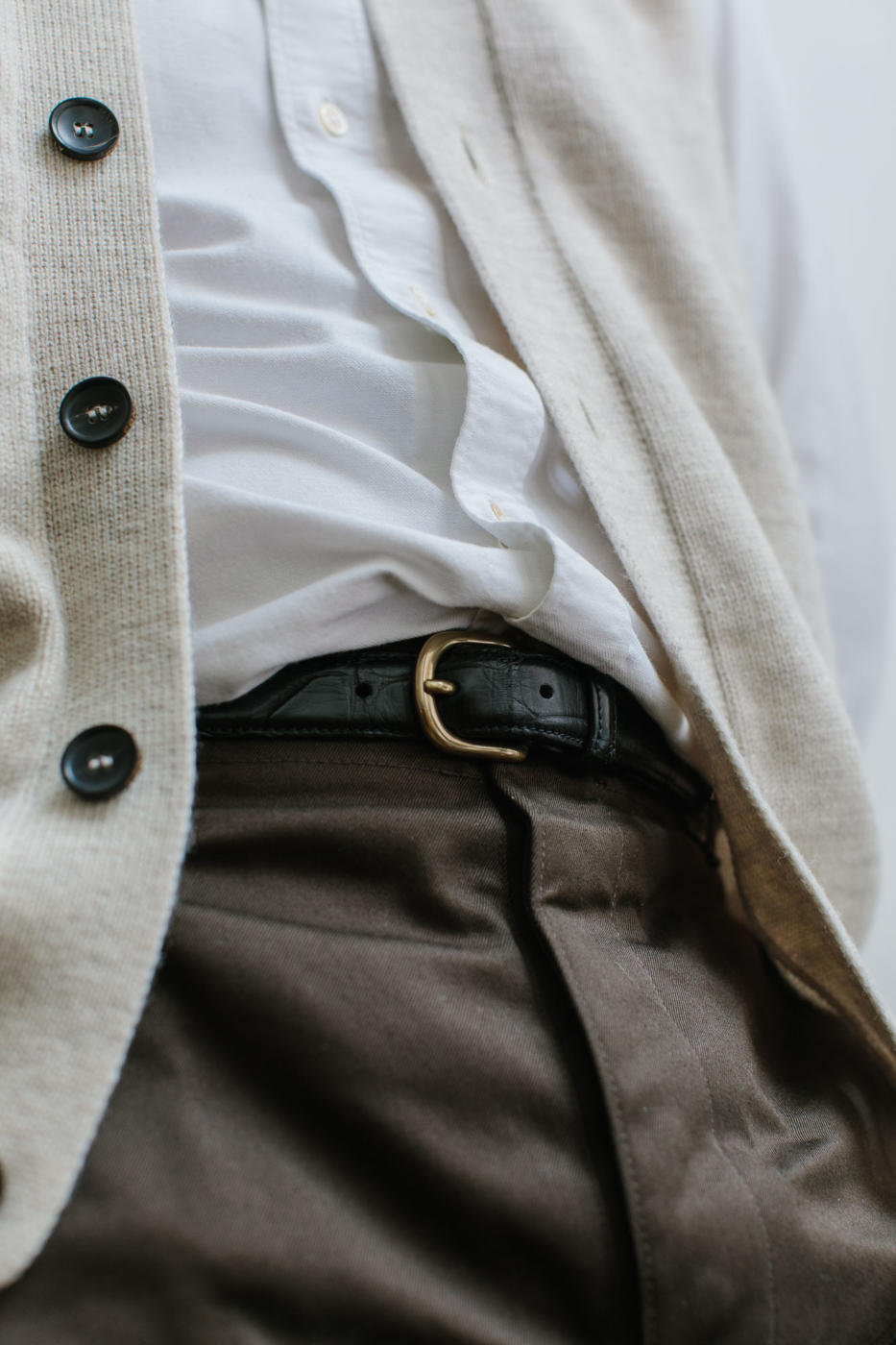 Broadly speaking, I dress in one of three ways during the week. They are defined quite clearly (to simplify the process, as much as anything else) and represent three general levels of smartness.
I know readers will be interested in having these set out, as capsule wardrobes are always popular.
But I'm also aware that all three could represent office wardrobes for some people - whether it's a case of being smart but not wearing a suit, or of adding subtle touches in an environment where everyone wears T-shirts and trainers.
So this could easily be another 'Which office are you' article, and just as helpful. I can expand any of the three into fuller lists of clothing (and sellers) if helpful.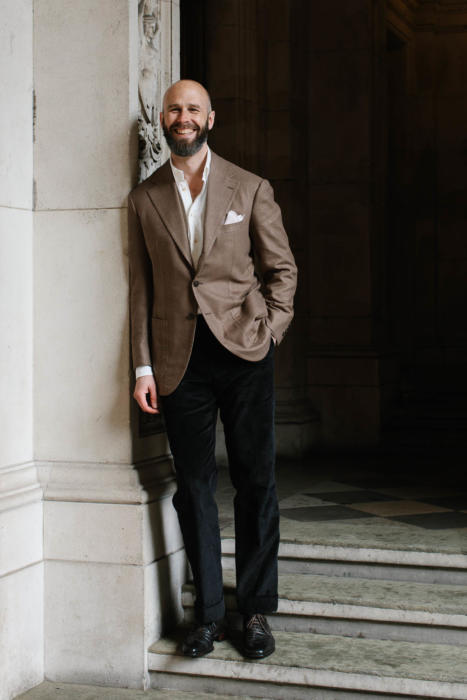 1. Jacketed
During the working week, if I go into town I nearly always wear tailoring.
This is both because it is appropriate - it is what is expected of me, and the impression I want to give - and because I enjoy it. I love my tailoring but the most I'm going to wear it is three days a week; I don't want to miss the opportunity.
The tailoring is more casual than when I used to work in an office, in the City. It is mostly a jacket and trousers - rather than a suit - and rarely a tie or pocket square. But it is still smarter than 99% of people around me.
I also wear more brown, white and black than when I was in an office, with those three plus shades of grey usually making up my jacket, shirt and trousers. The outfit above with my Pirozzi dupioni is a good example.
However, if you work in an office this could just as easily include business colours, most obviously as navy. As set out in the five jackets article, a navy, oatmeal and grey jacket would go a long way. Combined with some of the five smart trousers and your regular shirts.
Top: Shirt, or at the most a collared knit
Bottom: Flannels, cords, high twist wools
Outer: Sports jacket
Shoe: Leather or suede, tending towards smarter styles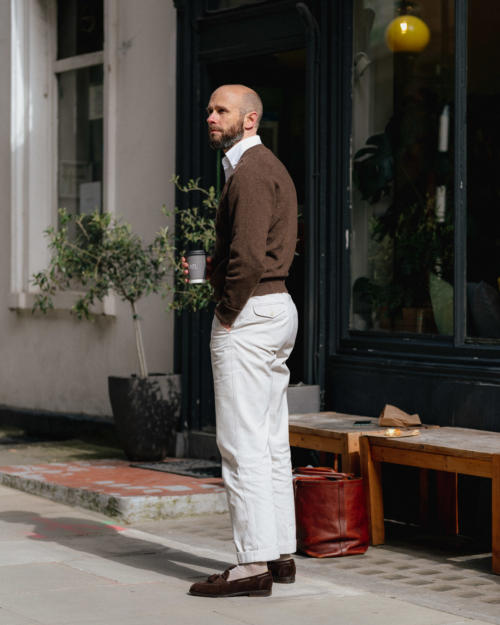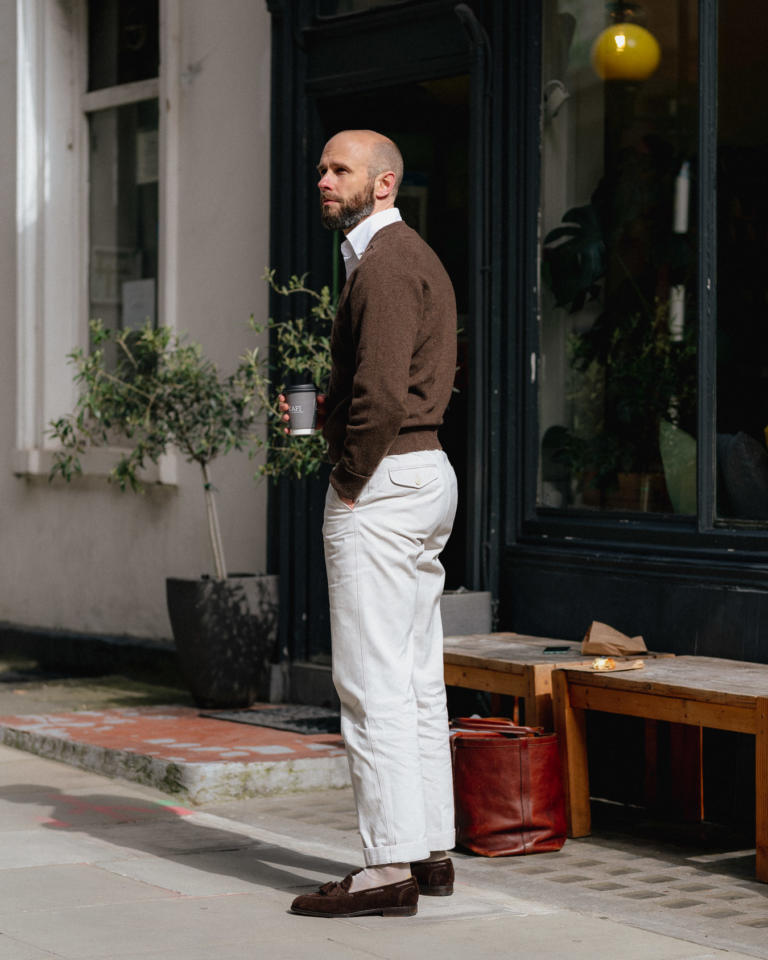 2. Casual chic
This is a step down in smartness. Usually worn during the working week when I'm not in town (central London).
I mentioned during discussions about dressing during lockdown that wearing a shirt makes me feel like I'm at work, and should be working. It's a motivational thing: I just never work the same in shorts and a sweatshirt.
This second category is in that mould. It is smart, but it's not tailoring. The top is collared, but the trousers are not jeans. It is the area of menswear that I've referred to as 'casual chic' and I think has the most potential for the modern man - but in many ways is the hardest to do.
Why? Because it depends so much on subtleties. It's less about wearing a jacket or not and more about wearing smart chinos rather than workwear ones, or wearing a knitted polo shirt rather than regular piqué.
The item I reach for most often here is my Rubato chinos. A pair of those, plus a shirt or smartish sweater (like the Cashmere Rugby) and a pair of suede or cordovan loafers, and I'm done.
The smartest I'd go with trousers is flannels, but it's usually chinos or cords; the most casual I'd go is ecru jeans. Outerwear could be a suede blouson or a long raglan.
This category can also step up or down sometimes. It is, for example, what I might wear into town if I didn't have any appointments. And it's what I would wear to something smarter at the weekend, like a friend's birthday party.
Top: Casual shirt (oxford, chambray, denim) or smart polo
Bottom: Smart chino or cord, occasionally flannel or white jean
Outer: Cashmere knit, blouson, raglan coat
Shoe: Loafer or boot, suede or cordovan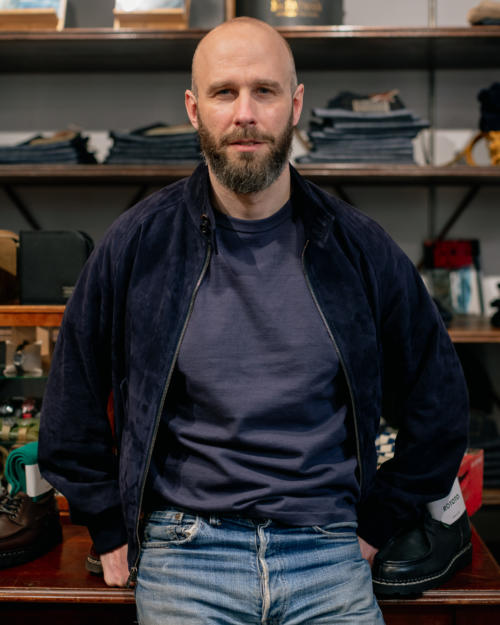 3. Workwear and sportswear
This defines my weekend. There might be the occasional exception or simple laziness, but this is how I usually think when I get up on a Saturday morning.
Trousers: workwear chinos or jeans. Top: T-shirt or oxford shirt, maybe a chambray. Shoes default to tennis shoes, a canvas trainer, though with the occasional loafer too, as we'll discuss in a moment.
This is where my Real McCoy's sweatshirts live, my beloved old Armoury chinos, my vintage outerwear and leather jackets.
It's obviously casual, but it's also heavily influenced by the Ivy take on sportswear - by old, more considered sportswear. And by smarter takes on workwear too.
In practice this means I'm often working slightly smarter elements into the outfit. For example if it's a sweatshirt and chinos, I might wear cordovan loafers instead of tennis shoes. Just to keep things interesting - to avoid everything sinking to the lowest common denominator.
Another example: an oxford under the sweatshirt rather than a T-shirt. Or with a T-shirt and jeans, perhaps a luxurious-looking suede bomber rather than a vintage varsity jacket. Both are beautiful, but in very different ways.
This third category is something I'd suggest to a reader whose office is a sea of big T-shirts and Air Jordans. Try just tweaking one thing: old trainers, but with a blue oxford shirt; a T-shirt, but with Alden penny loafers; or a shetland rather than a sweatshirt.
One step of elevation, but no more. Otherwise it looks like you're looking down on everyone.
Top: T-shirt, oxford, denim
Bottom: Jeans, fatigues, workwear chinos
Outer: Sweatshirt, shetland, vintage military
Shoe: Canvas trainer, suede or cordovan loafer/boot
With all three capsules, there will of course be exceptions. I still wear a suit; I still wear a tie. Sometimes I wear jeans with jacket, or workwear into town. But they are specific exceptions with specific reasons - these three are the starting point, default.
Here are some more images by way of illustration. But please, please read the text as well - otherwise like the piece on My Ivy, half the comments will be misunderstandings. These are merely intended to illustrate what is set out above.
Sportswear and workwear: