Introducing: The Cashmere Rugby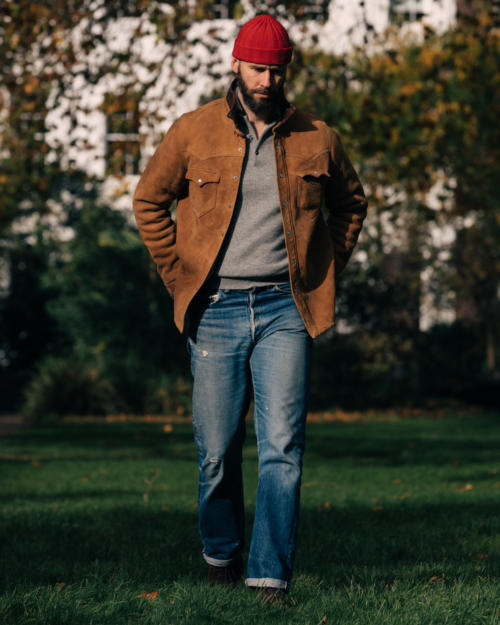 *UPDATE: We have confirmed a re-stock for January - including the XL that has sold out. So do use the form on the Shop site to be added to the waiting list for that*
In our article a couple of weeks ago about the new shearling colour, there was a really nice discussion in the comments about PS products, their role within Permanent Style and in the wider world.
It was lovely to hear how much readers understand and like the clothes. The thing that hit home for me though, was that people appreciate the way they fill a niche, yet can be versatile. They're clothes most readers could wear, but are offered (usually exclusively) for very specific reasons.
Today's launch (the last for a while!) fits that brief particularly well.
It is a collared, cashmere sweater made by William Lockie in Scotland, but in a 4-ply that they no longer do because it's usually not considered commercial enough.
Most collared knits of this type are 2-ply. They're great, and I own ones from both Colhay's and William Crabtree.
But a 4-ply feels surprisingly different. Having double the amount of cashmere makes it really warm and lovely in colder weather, like now. But it also gives it an almost jersey-like bounce, and sponginess.
Collared knits are often referred to as 'sports shirts' by factories, which I always think is charmingly antiquated. But actually this weight feels more like a jacket substitute than a shirt. It's great in winter, but in milder weather it's heavy enough to wear on its own, or just with a gilet over the top.
The jersey-like feeling, meanwhile, comes from the combination of that weight, the 15-gauge density, and the tension Lockie work with. It's why I've referenced a rugby shirt in the name - it has a similar easy feeling to cotton jersey, plus the collar which makes it just as easy to pull on at the weekend.
Four-ply collared knits like this used to be quite popular, and Lockie and others sold them widely. But over time they have been phased out because the price makes them hard to sell online.
It's difficult to explain to someone - if they haven't felt it in person - why they should pay over £400 for a sweater, even though it has almost twice as much cashmere in it as the more standard Scottish two-ply, which will already be £300.
(Of course, as we've discussed recently, Scottish sweaters are also knitted more densely, meaning there's even more cashmere in there - often 40% more than in an equivalent Italian knit.)
So you'll see two-ply styles from Lockie sold widely: in a crewneck, V-neck, cardigan and so on. But no four ply.
James Priestley - long an agent for Lockie, among others - brought back the four ply when he opened his store in Marylebone, called William Crabtree & Sons. He currently sells it as a crewneck*.
But I fell in love with an old collared version he had, and it was James who helped us bring back this style.
He also helped with some technical points around re-designing the collar. I wanted it a little higher in the back, because like the Dartmoor and Finest Polo, I find this more flattering on most people.
So while not as high as those other models (which are specifically designed with a jacket in mind) the Rugby does have a slightly higher collar than most - as illustrated below.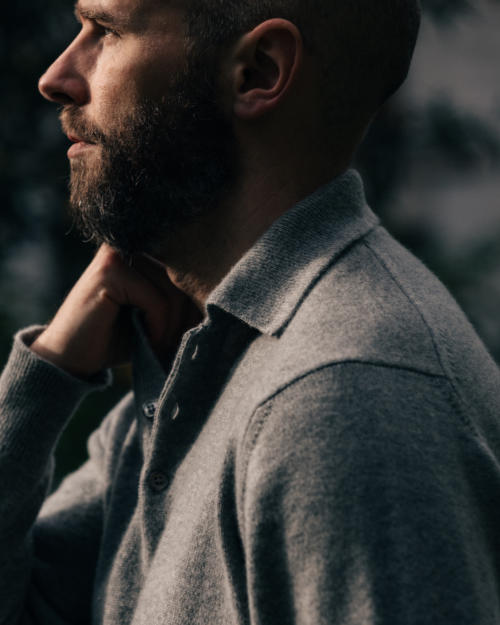 In the six months I've had my version, it's become my easy default - the thing I reach for first, and pull on with both jeans and tailored trousers.
It's just so easy. The collar means you don't need to wear a shirt underneath, and yet it looks very put-together. The thickness means it goes just as well with jeans as with smart trousers (unlike the smarter Dartmoor) and as a result it's good going to the park or for a nice lunch.
As ever, I've tried to show this in the photography. The casual outfit at top - with jeans, boots, shearling overshirt and red watch cap - is as casual as it gets for me. Yet the other outfit, below - with cream twill trousers and brown-suede loafers - is as smart as many people ever need.
We chose a classic grey-flannel for this first iteration because it also works with the greatest range of colours. While the cream trousers I'm wearing will be too showy for some, the flannel colour also goes with navy, beige, green, brown, black and so on. Basically everything except the same colour as itself.
I think the only other PS piece I find as useful is the blue oxford, and even then it's not quite as good with smart clothes (I'd switch to the white oxford there).
Yet the Rugby is still, in some ways, niche. It's not intended to replace the more widely available two-ply knit, which can be worn for more of the year and is available in more colours.
Rather, it's nice to resurrect an old style that - I've found - I really love wearing. And I'm sure there will be readers out there that will love doing so too.
Details on the Cashmere Rugby:
Made by William Lockie in Scotland

Sold in collaboration with William Crabtree & Sons

100% four-ply cashmere (two ends of 2x28s)

15-gauge

Grey mother-of-pearl buttons

Price £355 plus VAT

Available only on the PS Shop here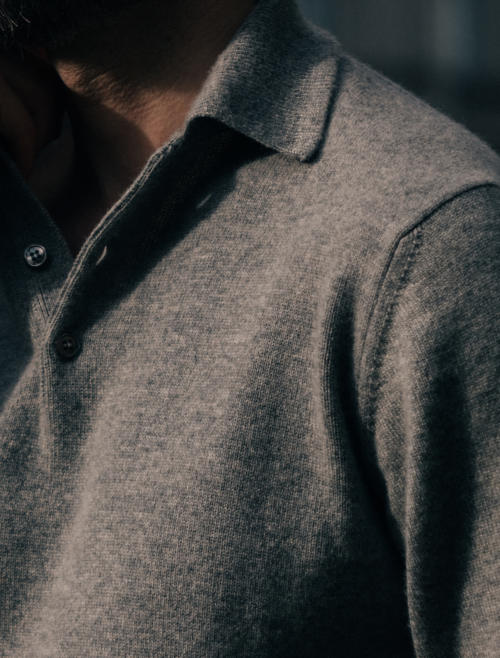 Sizing:
The Cashmere Rugby has a classic shape, rather than slim

Simon wears a Large in the images here, but could also wear a Medium
"I sized up because I wanted a more generous, comfy fit, but a Medium would have fitted too, it would just be neater"

Simon is six foot tall and has 39-inch chest

Measurements, in inches, are below
Chest is pit to pit, length is on the back from the bottom of the collar, sleeve is the under-sleeve seam
Please note, garments are marked by measure size of the chest itself, from 36 to 44. This is a Lockie convention and does not relate to the chest sizing usually used on tailoring
| | | | | | |
| --- | --- | --- | --- | --- | --- |
| | X-Small | Small | Medium | Large | X-Large |
| Chest | 19 | 20 | 21 | 22 | 23 |
| Length | 25.5 | 26 | 26.5 | 27 | 27.5 |
| Under arm | 19.25 | 19.5 | 19.5 | 19.75 | 19.75 |
Other clothes shown:
Photography: Milad Abedi
*The William Crabtree website describes this style as two ply, and the two ply as one. This is the less standard way of counting - just the ply rather than the ply and the ends together. Most sellers use the way of counting we do