Cashmere Rugby restock, with navy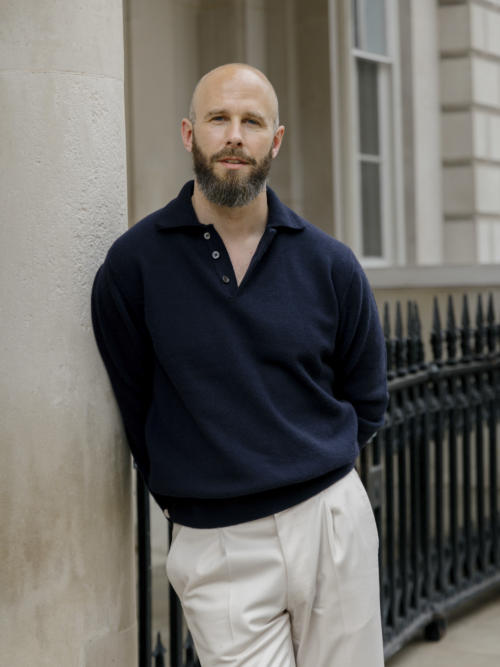 The Cashmere Rugby - our reintroduction of the classic four-ply quality of Scottish polo - has just been restocked.
A dark navy has been added to last year's flannel grey, covering pretty much all the bases for a slightly classic, slightly better-dressed guy.
The knit was really popular last year, in large part I think because of this combination of luxury and versatility. It's the kind of piece you really can pull on with both sharp flannels and battered jeans and improve both. It runs the full gamut of officewear (today) to a lazy Sunday at home.
In fact the name itself is something of reflection of this breadth. It wasn't deliberate, but where (thick, tight, Scottish) cashmere says luxury, 'rugby' suggests a more easygoing side.
Readers have been telling us that since last year, which is always nice. Noel for example commented on the launch post: "I've had my PS rugby for about a week now. It's very soft and spongy, very cosy…Overall a very nice product that it's easy to put on and look fairly stylish without standing out."
I was particularly interested, however, in how Lucas Nicholson, who now works on PS, took to the knit.
Lucas dresses more casually and less conservatively than me. He's also worked in menswear for a long time, and is pretty shrewd about clothes both in terms of style and quality. He really took to this product out of all the ones he helps with on PS, so I asked for his reflections.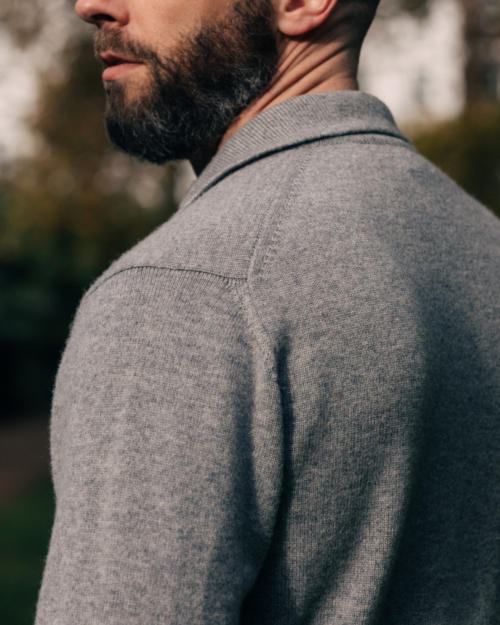 "I've owned an incredibly vast array of clothing: if you've coveted it I've probably owned it. That's not to show off, just to say I've been around the block a few times. I'm also ruthless with reducing my wardrobe - constantly selling when things don't fit the way I want, or if the dream of acquiring was more fun than the actual owning.
Some pieces have been with me throughout this journey - certain Polo jumpers acquired in Miami that are probably a dozen years old, my first Drake's shawl-collar cardigan, which cemented the brand in my head as something I'd wear for years to come.
When we launched the Cashmere Rugby last year, I quickly got my hands on it and tested it out. I could immediately feel the density and the way the collar would hold itself. When you work in clothing and are surrounded by beautiful objects, you have to take some advice from Biggie and not get high on your own supply. But I really felt this was something I needed."
"The only thing that held me back was the colour. The grey is wonderfully flexible but it's just not something I like myself in. So when Simon and I discussed a navy version my eyes lit up, and ordered a sample in my size.
Unfortunately, as often happens in menswear, the seasons were out of whack. I got it in the summer and after trying it to check the fit, the sweater was rewrapped in its plastic bag and put in the bottom of a draw, not to be seen again until last month.
Let me tell you, time has made the heart grow fonder. As I slipped it on for the first chilly morning this year I can't stress how great it felt. For me and my style it strikes the perfect chord between smart and casual, bookish and sporty.
I've worn it endlessly with a T-shirt under a jacket, over a shirt with jeans. It really is one of those pieces that could take you from a meeting in the office, to dinner out or even a couple of pints after work. It's flattering and expensive-looking without being ostentatious or showy.
And fear not the 'delicate' reputation of cashmere - this stuff can stand up to wear. Proper hardy Scottish cashmere only gets better with age."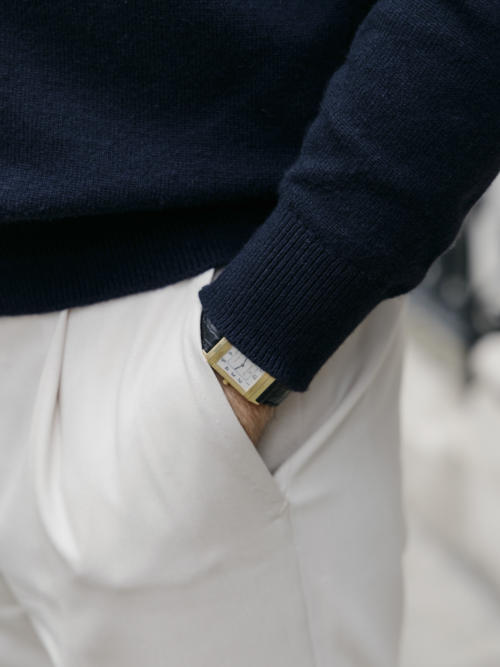 More voices, more perspectives. I like my Rugby with bespoke trousers like the off-white Pommella ones above, but I know Lucas would never wear that. I'll try and take some decent pictures of how we would, and does, at some point.
The navy Rugby is of course shown here with tailored trousers, but would equally be at home with tan cords, pale jeans and with any type of chino from smart to workwear.
At this point, the most common question I get is, which is the most versatile? Should I start with navy or grey?
Well, I think most guys will know their answer from knitwear they already have, but for the others, I'd say it depends whether you wear more mid-grey flannels or navy chinos and jeans. The grey is going to go with everything except trousers in the same grey, and the navy with everything apart from trousers in the same navy.
There are effective grey-on-grey and navy-on-navy outfits of course, with top and bottom the same colour, but we're talking about the easiest, day-to-day looks.
One last thing - I've deliberately used a couple of short videos here, just to show what the Rugby looks like in motion, or to try and get a little sense of the texture when worn.
I can't promise to do this every time, as it always takes multiples of effort compared to photography. But if anyone has particular thoughts or feedback on them, do let me know.
I know Instagram is now basically blocking any account that doesn't do video, video, and more video, but I'd really rather not be told what to do by Facebook if I can help it, and only do things when readers find them genuinely useful. Thanks.
All the details on the Cashmere Rugby, including the quality, origin, and sizing, can be found on the product page here, with more detail in the launch article here.
Made by William Lockie in Scotland
Sold in collaboration with William Crabtree & Sons
100% four-ply cashmere (two ends of 2x28s)
15-gauge
Grey mother-of-pearl buttons
Price £355 plus VAT
Available only on the PS Shop here
Photography and video: James Holborow