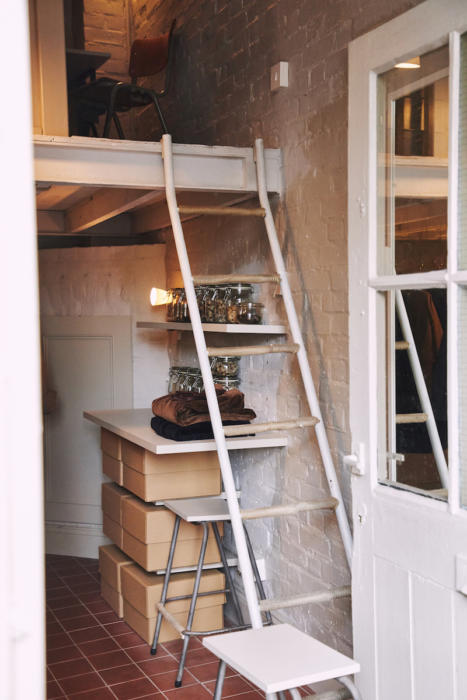 Here's an interesting one. I passionately believe SEH Kelly should be covered and included in the pages of Permanent Style, even though I wouldn't wear a lot of their pieces.
Why? Because in every aspect apart from style, they're perfect.
Paul (below) and Sara care deeply about traditional materials: heavy cords, natural linens, waxed cotton, unpolished horn.
Their designs are original, yet draw on heritage menswear - and like all heritage pieces, functionality is sacrosanct.
They're a small company with one small shop, doing little advertising or promotion, and charging good, honest prices. Most things are even made in London.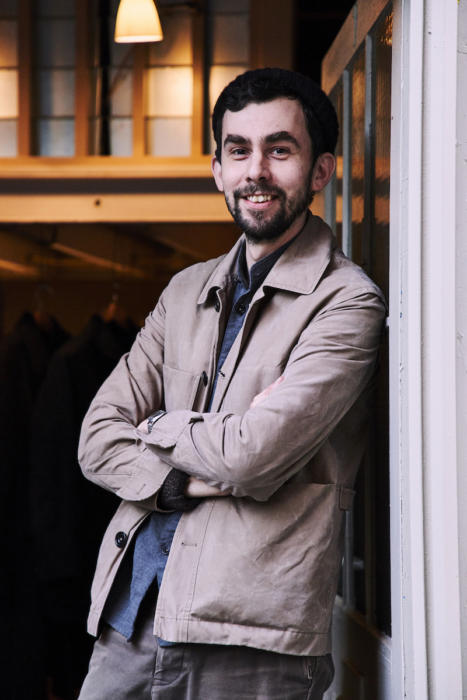 So why wouldn't I wear some of them? I think it's that most of the styles are too casual, and with different priorities to tailoring.
The shirts are made in the most beautiful shades of olive linen, ecru cotton and charcoal corduroy. The collars are a good size and the horn-button choice is perfect.
But they're designed to be worn tucked out, and are therefore a little shorter than what I'd want, and a little squarer.
I'm slightly obsessed with the work jacket in cedar corduroy (below). The materials are so lovely I could eat them.
I love the sleeve design, particularly the hole in the armpit, and the functional cut of the collar.
But it's too short for me, and too boxy. It's not really the aesthetic of everything else I own.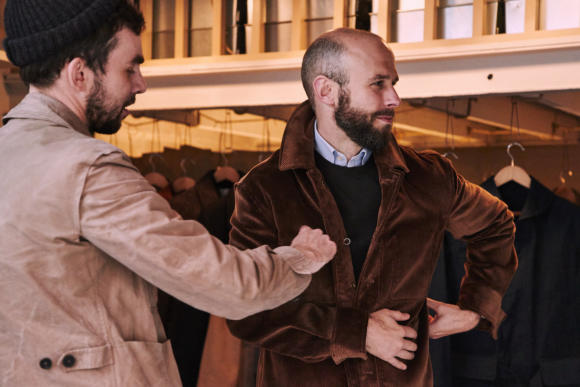 It's really a question of proportion, I guess, rather than style.
Most of the casual pieces I wear - a horsehide jacket, a western shirt - still have similar ideas of cut and proportion to tailoring. The jackets are waisted, the shirts fitted.
Most SEH Kelly pieces are not. The side seams are straight and pockets are quite large and low on the chest. Perhaps too functional, in a way.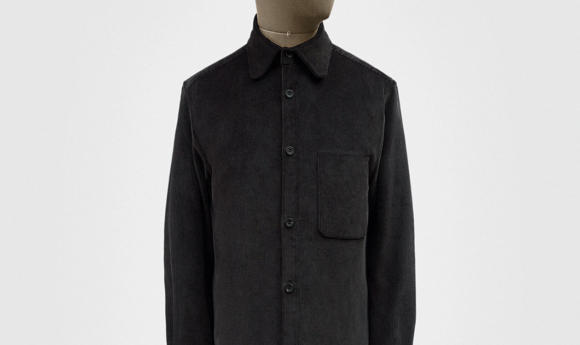 Yet I've been glad to find some pieces work for me. I love the cut on the Proper Trouser, which has a high, curving rise at the back; I have a pair in navy cotton.
And I'm a big fan of the duffle coats, as readers might remember from this year's Autumn/Winter post.
The horn toggles they use are beautiful, big and chunky - in fact, cut to be the exact same shape as the big traditional wooden ones.
Frankly I think SEH Kelly designs are some of the best I see in menswear.
I'd draw parallels with Agyesh at Stoffa. Both are obsessed with product and functionality; both create genuinely original pieces from menswear standards.
Both exactly what I'd want a menswear designer to be.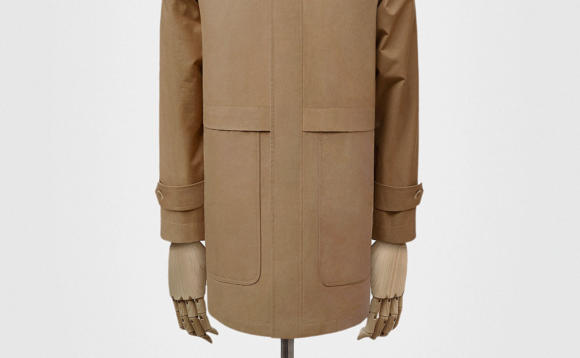 Paul has a real thing about pockets. Take the car coat, for example (above). Most brands would just slap on a couple of patch pockets here.
Instead, Paul has a curtain of cloth running around the waist that acts as the flap for those large, deep pockets. It makes the waist seam part of the design, and means both pockets feel like an integrated part of the coat.
It looks so clean, so functional, and yet distinctive.
He consistently cuts side-access pockets into the seams for the same reason. Indeed, they sometimes disappear into a patched hip pocket (below), so the end of that cut is hidden away.
On the trench coat, the pocket (shown below) does three different things.
The belt of the coat runs underneath the pocket flaps, but in a channel so they don't get in the way.
There's a large, yet neat bellows pocket accessible from the top. And finally, an almost hidden entrance to a separate pocket from the side.
In the work jacket there's even an entirely hidden pocket, which I was proud to find after only a couple of minutes of searching.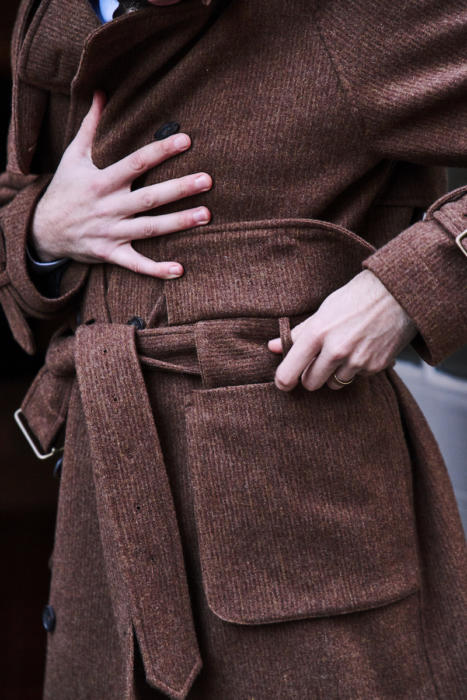 Paul has a similar obsession with shoulder constructions.
Different pieces have set-in shoulders, raglan shoulders, half-raglans, a dropped raglan (bizarre, that one) and a set-in shoulder with a lapped seam (on the work jacket, similar to a Loden coat).
It is, of course, one of the great pleasures of menswear that products can be an investment, designs are not seasonal, and therefore a designer can spend their time playing with all these little, functional, details.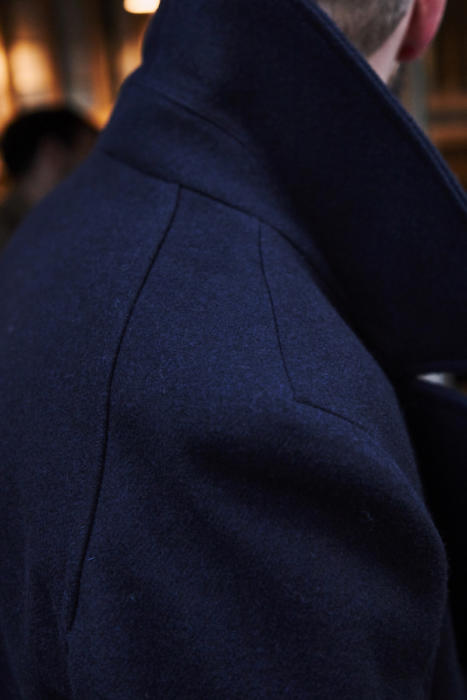 SEH Kelly has been around for nine years, with occasional exposure in the mainstream fashion press.
But for the large part it's been an underground story, at least in the UK.
In Japan the brand is better known, and in fact UK sales have reduced in recent years, to be just 10% of the total.
Still, there is a small shop-cum-workshop in Shoreditch which is worth a visit. It's the first in the Cleve Workshops line, off Boundary Street, and is only open on Sundays and Mondays (a recent change from Saturdays and Sundays).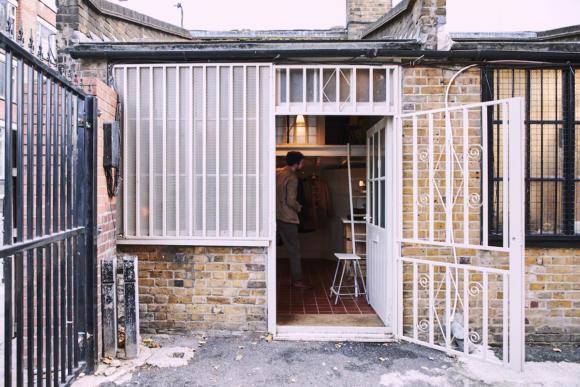 Finally, I should say a short word for Paul's writing, which he is very modest about but I think is some of the best in menswear.
Somehow he manages to be eloquent yet accurate, distinctive yet straightforward, and each description gets across exactly the purpose of the design, or the beauty of the material.
For instance: "The buttons on the trench are large, and are horn - dark in colour and matte in finish - and each is a little different from one to the next. They are in that regard as if alpha-keratin snowflakes - such is the beauty of being a product of a high-grade natural material, rather than, say, a plastic replica."
It makes me want to never buy a plastic button again.
The writing is also a powerful form of branding: I'm not sure I'd want to buy anything SEH Kelly sells until I'd read what Paul said about it.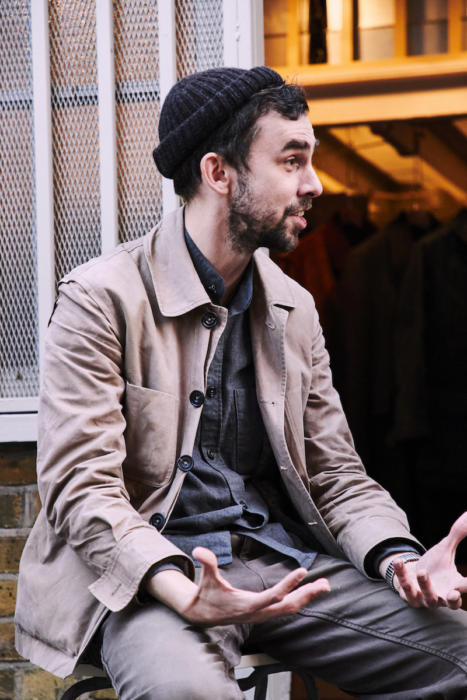 The SEH Kelly website is good, full of those descriptions, technical explanations and back story.
It could do with some more navigation though - I'd recommend using the links on the left-hand side of the shop page, to browse particular product categories or particularly sizes.
The latter is especially helpful, as batches are small and pieces often sell out in at least one permutation.
Start with the coats, then move onto the jackets, followed by shirts and trousers. I've got my eye on the new 'dark natural sheep' trousers.
Photography: James Holborow or SEH Kelly.