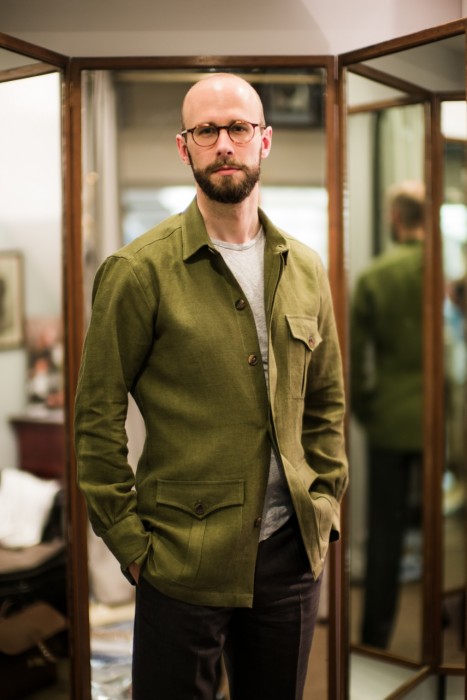 This safari jacket, made by London shirtmakers Budd, was born out of a desire for a soft, unstructured layer I could wear over a shirt or T-shirt in the summer. Often such things are referred to as shirt-jackets. They have no structure whatever, like a shirt, but have external pockets to perform some of the practical duties of a jacket.
The problem with safari jackets is that they often look rather colonial, and middle-aged. That is partly down to colour, which is usually sand for authenticity. Another, perhaps more important reason is the fit. Presumably in the belief that such jackets must be 'easy' fitting in order to remain cool, they rarely have any suppression in the waist and large, blooming sleeves.
The way to avoid this is to go bespoke. With tailoring that's a rather expensive choice, but with a shirt-jacket it's not. My jacket from Budd cost £395. Still a lot of money, but a lot less than a £3000 suit and not much more than a £225 Budd shirt.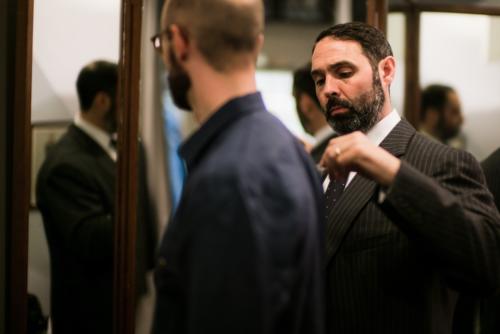 Darren Tiernan, the head cutter at Budd, was clearly interested in my suggestion of a safari jacket, but also understandably wary. Few bespoke craftsmen like stepping outside their comfort zone, usually because the refinement of their craft is concerned with perfecting an established process.
We started off big. A test shirt was made in cheap, navy linen, with Darren cutting most of the measurements a size bigger than a normal shirt. At the first fitting we then cut a lot of things down: the shoulders, by a quarter of an inch, the chest and waist, by around a half, and the length, by a whopping two inches.
It was worth being conservative with the initial shirt for two reasons. One, because of the sheer uncertainty of how we both wanted it to fit. And second, because as with any shirt it is always a lot easier to reduce the size than to increase it.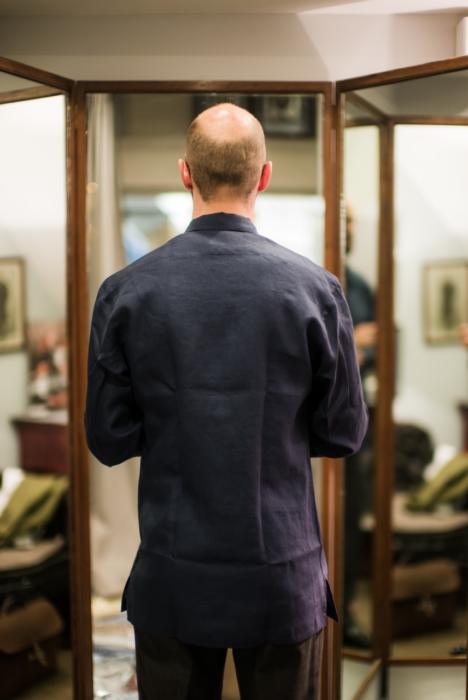 At the second fitting, things looked a lot better. The length was more that of a jacket, rather than a shirt. The pockets had been moved up in proportion, and the hip pockets enlarged to be more similar to jacket patch-pockets. We also shortened the sleeves and took some of the fullness out of them.
The only thing we couldn't change was the button placement, because the buttonholes had already been cut for the first fitting. That's why their position looks rather odd.
I have to say that at this point I was very interested by the project, but a little uncertain as to whether I was going to like the final result. That all changed when we had the shirt made in the final material, a 265-gramme army-green Irish linen from John England. Suddenly, it all fell together. A little more slimming in the waist (two darts) some more out of the top of the back, and it was complete.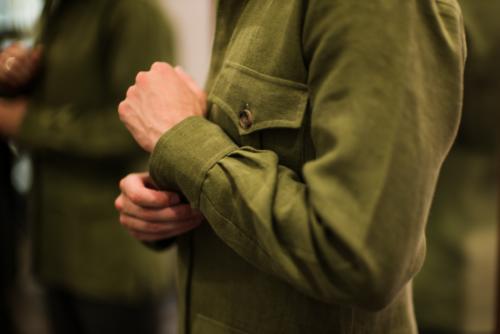 We had trouble finding that linen. There are only a couple of bunches of decent-weight ones and neither offered a satisfying green. I credit Darren with finding the John England samples, which for me really made the garment. After a dozen wears so far (and one wash) it has softened nicely and feels extremely comfortably over either a T-shirt or shirt.
The key to wearing it seems to be undermining those colonial associations, by loving the wrinkles, leaving most of the pockets unbuttoned, and often leaving the cuffs loose. I'll take some more photos to demonstrate in a week or two.
More back story in my How to Spend It column.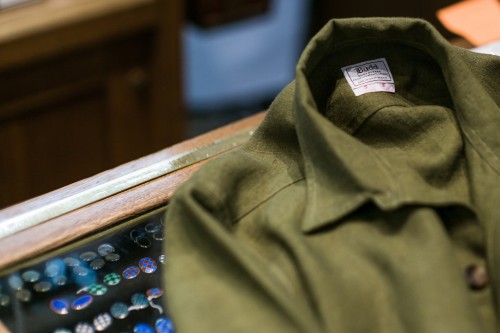 Photos: Luke Carby