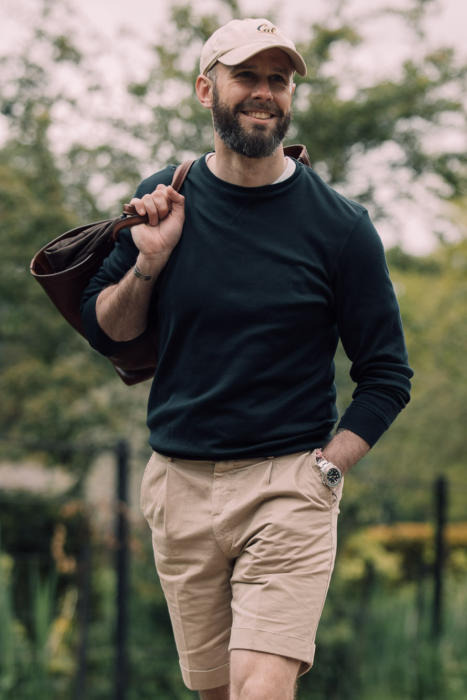 The PS Shorts go on sale again today, in the same colours as the past two years: khaki, olive and navy. Thank you to all readers for their patience waiting for the restock.
There is only one major change, which is that the shorts are 1.5 inches shorter than the previous iteration. The inside-leg measurement has gone from 10 inches to 8.5.
I made the tweak because I felt the shorter length would be more current, and so achieve the core aim of the shorts: to be classic, moderate and easy to wear. Almost anonymous.
It's not a big change - shorts these days are trending much shorter, like 6 inches. But I think it means they look average, and everyday. Whereas the old length might now stand out by looking long.
Savile Row tailors always used to say that they never ignored trends, they just moderated them.
So if lapels on mainstream suits went from 5 inches to 2 over the space of 20 years (perhaps, from the 80s to the 2000s) theirs would go from 4 to 3. And most of the time they would be somewhere in the middle, say 3¼ or 3½.
I think the change to the PS shorts is doing something similar.
When we launched them in 2018, I said I was tired of most shorts being extremes. On the high street, everything was tight to the thigh; in classic menswear circles, it was all repro-vintage, with big legs and gurkha tops.
The aim was to be something in between: well-made, but easy for a normal guy to wear. The new design simply renews that aim.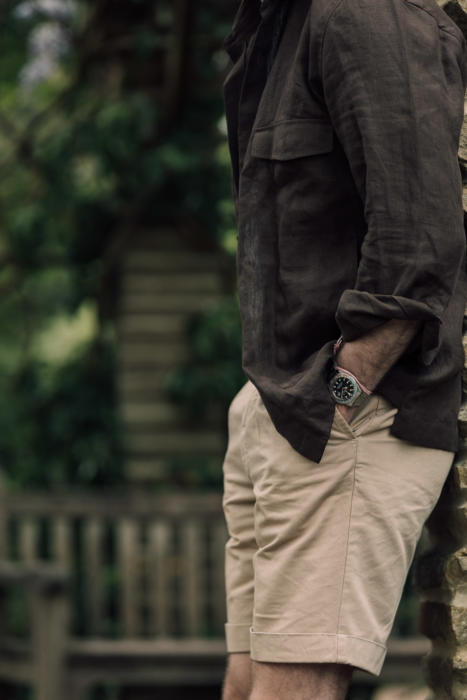 I'm sure some people will say this is a case of overanalysing. But I find the topic interesting, even just academically.
Every year, brands tweak their styles, materials and colours based on trend reports or on what 'feels right' given everything else in the market. Forecasters earn a lot of money from predicting these things and telling those brands what to do.
I have no plans to change anything else in the PS range for those reasons. It's just as important to wear clothes that are distinct - particular styles which express one's personality.
But where the aim of the item is to be distinctly average, it's something to keep in mind. Tailors generally change their lapel widths because they don't want the lapel to stand out. The fit can, and certainly the cloth - but they don't want a statement lapel.
Shorts, for men, are the same. For many guys it's enough just to be wearing them rather than trousers. And there's plenty of room to be expressive elsewhere - with printed camp-collar shirts or old-fashioned sandals - if you want to.
Or you can just be well-dressed, with a well-fitting linen shirt and espadrilles. As I try to be.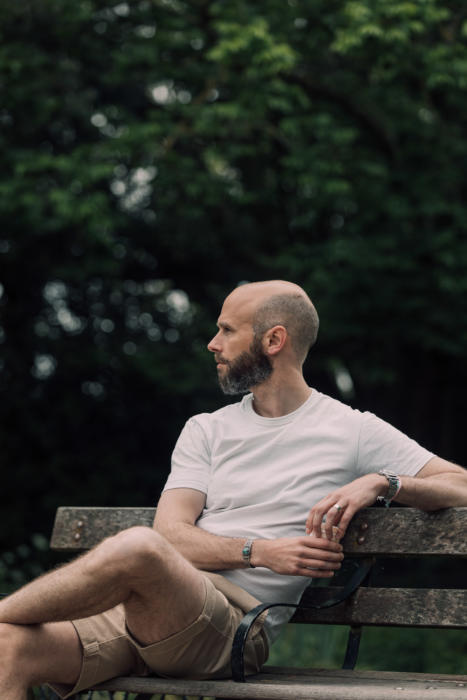 In the photos here I've shown the PS shorts with a few more casual clothes than in the past - to mix together with those other, smarter shoots and demonstrate the versatility.
In the image above, the khaki pair are worn with a simple white T-shirt. I wear collared shirts and polos more, but when I do wear a T-shirt in Summer it tends to be something like this - white, simple and quality (usually a circular knit - here from The Flat Head).
They're worn with black espadrilles, from Diego's, which I find surprisingly versatile. You wouldn't think black would be that useful in a casual shoe, but a reader commented last year that he wears nothing else in the Summer, and he's right - they go with almost everything.
It helps that a lot of my clothes are darker, colder colours like the dark-brown linen overshirt the outfit is also shown with above. That's our upcoming collaboration with Luca Avitabile, about more soon.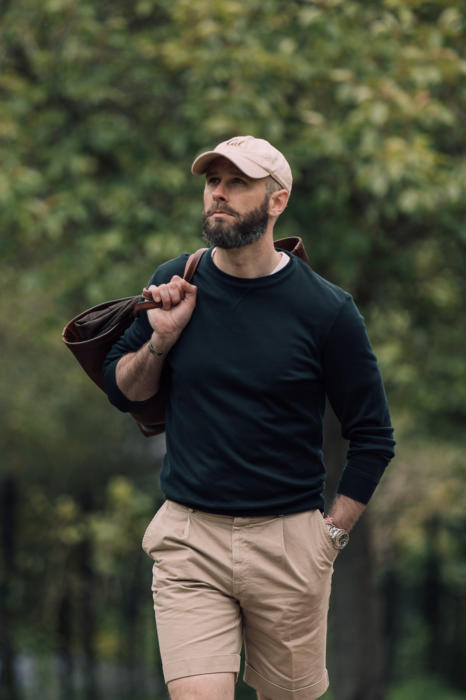 Next I've shown the same outfit with a cotton sweatshirt, from Dunhill.
There's been friendly mockery in the past about showing 'Summer' outfits that feature knitwear, but it's something I regularly find I have with me, if only because you're often met with air conditioning when you go indoors.
And of course, in the evening there are few things more pleasant than putting on a jumper with shorts, as the sun dips gently below the horizon.
Dunhill don't do this sweatshirt anymore, which is a shame. It's styled like a sweat, but uses a very light, fine cotton, which makes the hand wonderful, look a touch smarter, and feel pretty cool.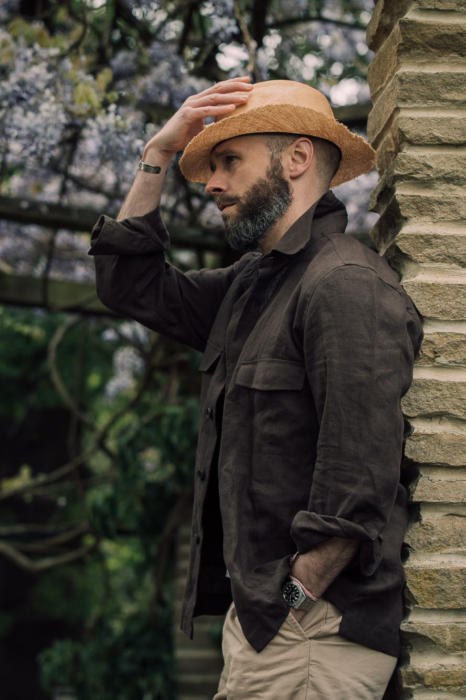 I'm wearing my old Berkeley cap with that outfit - a gift from a friend years ago - which does well for Summer headwear with casual outfits.
Summer hats aren't easy, unless you're smart enough to wear a full panama. So I often switch between a baseball cap and a cheap, beaten-up straw hat - which is shown with the linen overshirt above.
Stylish beach homes seem to be full of old hats like this, but it's not an easy thing to actually buy. I recommend getting something you like the shape of, but can afford to mess up, and then treating it very badly.
Sit on it, even stand on it, cut off any ribbon or edging, and pack it in anyhow with your other clothes. You can reshape it quite easily (use steam if needed) and the ill-treatment is the best thing for making the hat look suitably old and familiar.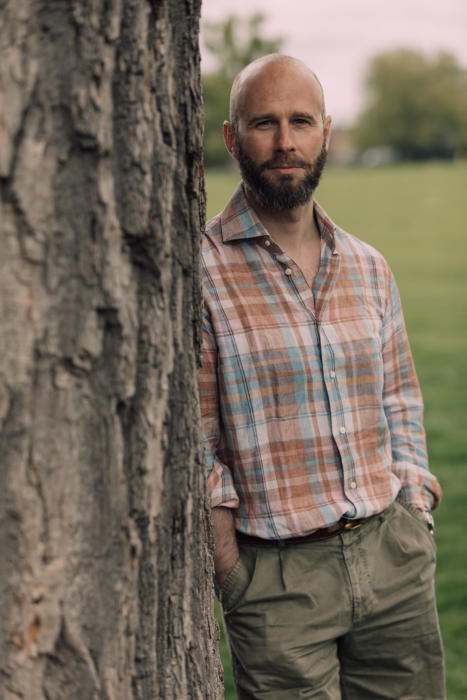 The last outfit shows the green shorts with our Madras-check linen.
Apologies to those that wanted this shirt ready-made, rather than bespoke using our cloth. There seemed less point when it was available RTW from some other brands; but now it's not, as far as I'm aware, we could make it for next year if enough people still want it.
Wearing a shirt with shorts is a good way to retain some elegance in Summer. To avoid the look of shapeless, untucked polo and cargo shorts that often seems to be the default for men over 40.
Not a business shirt, of course, but something in linen or linen/cotton, whether classic white or blue, or a bolder check or awning stripe.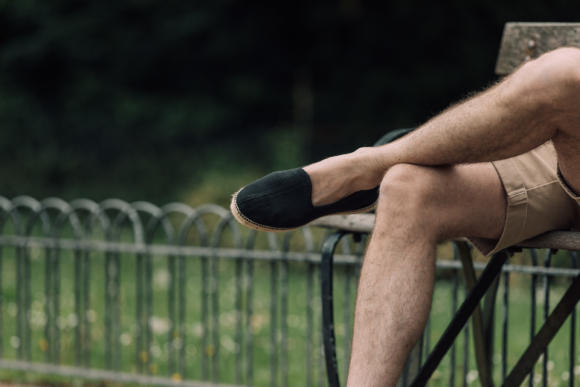 I'm sure most readers will be familiar with the shorts and their basic design, but for those that aren't, here's a summary:
The shorts are 100% cotton

The green and khaki have belt loops and washed, 'sport' finish. The navy has side adjustors, so is smarter, and no washed finish

They have a coin section inside the right-hand pocket and one rear pocket on the right, fastened with a button

They are made by Italian factory Rota, who readers will probably be familiar with and make for several other high-end brands

The make is a good level for ready-to-wear, with great hardware, linings, buttons, and finishing. A machine make, but with a high level of precision

They are available in four sizes - small, medium, large and extra-large - equivalent to Italian sizes 46, 48, 50 and 52

They should be washed cool, at 30 degrees, and hung to dry before ironing.

Shipping is from the UK

Price (£175) does not not include VAT, as most PS customers live outside the EU. Taxes are added at checkout.

Available on

the PS shop site here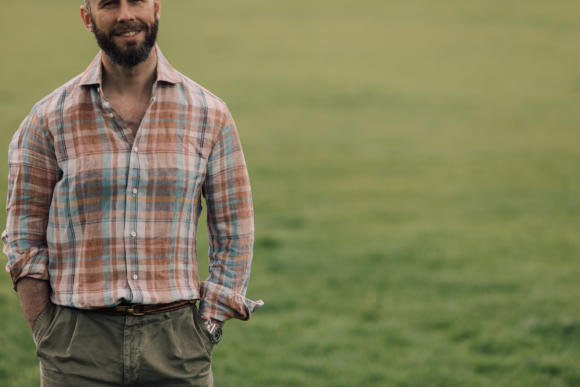 In terms of alterations:
All the shorts can be taken in considerably at the waist, by 5cm (2 inches) at the most. It helps here that there is only one rear pocket, as large alterations won't push two pockets oddly together. On the green and khaki shorts, such a reduction in the waist would also require the rear two belt loops to be taken off, and reduced to one, over the back seam.

The navy can also be taken out in the waist, by at least 3cm (1.25 inches) as there is considerable inlay there and running down the leg. However, the green and khaki cannot be taken out as this would leave lines around the old seam (as they are garment dyed and washed).

Both shorts can be shortened in length, at least by 5cm (2 inches). The bottom of the leg is obviously smaller than the thigh, but there isn't much taper at the bottom. At the worst, the leg might need to be narrowed slightly as well. The green and khaki pairs, however, would require the turn-up to be cut off and machined on higher up, as again there are fade lines at the top and bottom of the turn-up.

The navy short can be lengthened, by at least 2cm (0.75 inches) by either reducing the size of the turn-up or changing the way the turn-up is made (currently it is folded over, making three layers of material. The folded layer can be reduced.) The other two cannot.
Photography: Jamie Ferguson @jkf_man
Below are pictures from previous shoots - demonstrating other ways to wear them. Note, though, that these all have the old, longer length.