Black corduroy suit from Zizolfi/Pommella: Learning how to wear it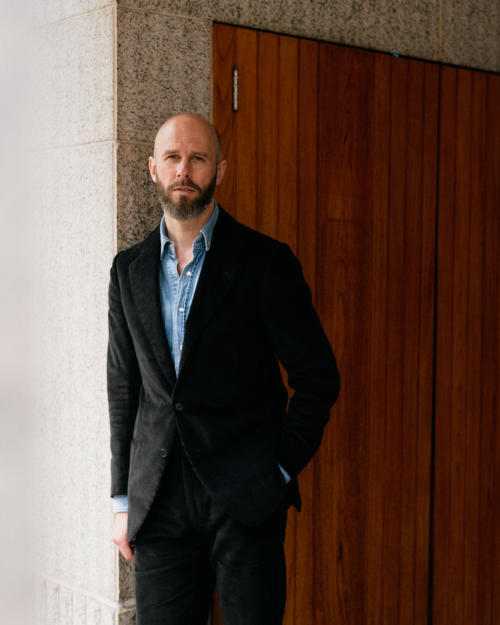 In my continued exploration of all things the colour of mourning, I commissioned this black-corduroy suit from Pommella (trousers) and Zizolfi (jacket) last year.
The logic seemed sound: if black is going to work in tailoring, I'd consistently found it works better in more casual materials like tweed, cord or linen, rather than fine worsted wool. (Outside of black tie, of course.)
The black tweed jacket I had from Jean-Manuel Moreau confirmed that: although it's far from a versatile, everyday piece, that tweed (below) has been really nice to wear as an alternative to my more common browns and greys.
I also had the specific example of Gianluca himself - the proprietor of Pommella. He regularly wears a black-cord suit, with a boldly striped shirt and pop of handkerchief, as we featured and discussed in the 'How to dress like' article profiling him.
So I wasn't just going off a swatch - this was something I had seen made up, and liked - and it was in line with previous experiences. And yet I've found the suit quite difficult to wear.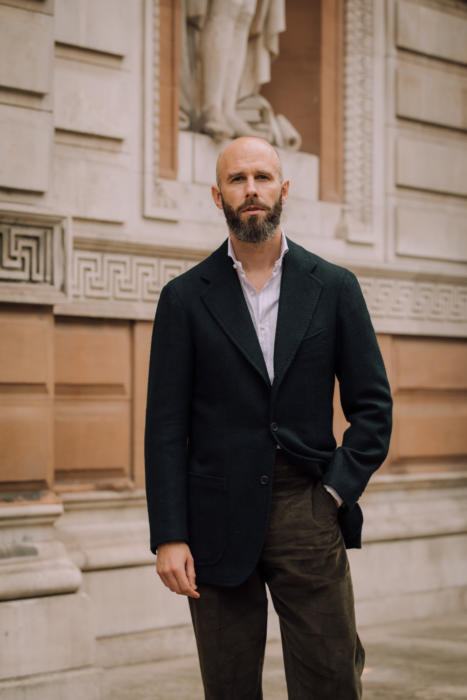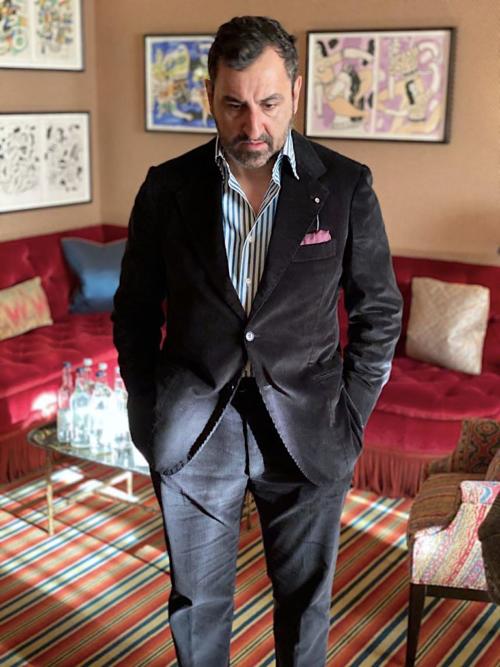 The first thing that was established, early on, was that Gianluca's particular combination (above) doesn't work well on me. Perhaps it shouldn't be surprising, given his different colouring and generally bolder style.
But even more muted colours of stripes proved tricky. The pale lilac stripe that I enjoy wearing with the black tweed jacket (above), for example, seemed bolder against a full black suit. Clearly the different trousers were doing something to soften the overall impact.
Over a few weeks I then tried all the shirts that I had found worked pleasingly with the black tweed. They were:
Pink/lilac plains or stripes, as mentioned

Yellow plains or stripes

Denims and chambrays

Cream (not white - too stark)

Beige or khaki (eg

this vintage one

)

Dark olive

Grey or grey stripe

Black (for events/evening)
But with the cord suit, the colours had the same effect as the lilac, and cream wasn't great - again cream with the black jacket was easier because there was another colour in the combination, in the trousers.
Beige and olive weren't bad, but the only combination I really liked was the suit with a denim or chambray shirt.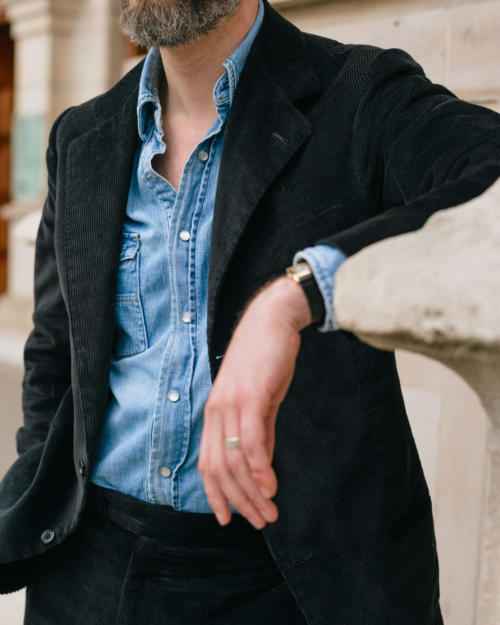 Even with these shirts, specific versions were better than others. More muted and lighter ones worked well, more than something like a Bryceland's sawtooth. We're talking small differences, but that blue felt too strong.
The light-denim western shirt shown here, a dark washed-out linen, my old favourite from Al Bazar or a PS Lighter Everyday Denim - all of these were good.
The thicker western shirt provides more visual interest, which is helpful if you're wearing a suit without a pattern and no other real accessories.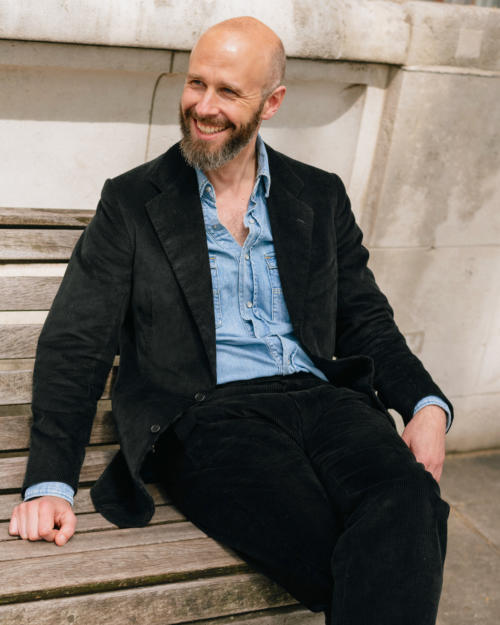 The shirt is an old one from Niche, via No Man Walks Alone. It's a good colour and wash, and I think it's a particularly nice look on its own with just a pair of tailored trousers - a good high/low combination. The style is not hard to find, via Polo or Purple Label for example.
I do prefer less-artificial fading in denim these days, however. I think it's a result of spending more time with natural fades on vintage jeans, on new jeans like my Rubato, or on denim shirts like the Bryceland's. They have more authenticity, but also more character and depth.
Unfortunately you can't get naturally faded mid-blue denim unless something has been worn and washed dozens of times, so most of the time these artificial washes are the only option. Or a vintage one, if you can find it.
The suit itself is well executed. I haven't done close-ups or fit-comparison shots, just because they're the same as my previous Zizolfi and Pommella pieces - see full articles on them at those links.
The only change here was that I asked for the Zizolfi jacket to be made with no padding whatever in the shoulder, and frankly it made no difference to the fit, just a little one to the lightness.
I also went with black-corozo buttons on the jacket, thinking it would be good for them to be as subtle as possible. But in reality, I think the shine of corozo looks a little plasticky, and you don't get the nice lined texture of corozo in a colour this dark. It's especially dangerous with black clothing to have anything shiny on it, as it can easily look cheap.
So I'll swap those in the future - either for a black unpolished horn, or a dark-brown one. I'll put both on the cloth and see which I prefer. Both could add some nice depth and interest.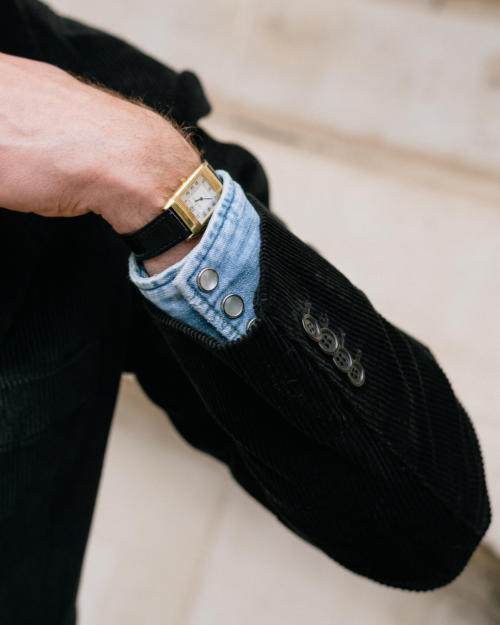 I do think black corduroy is a nice tailoring option for someone that wants the informality of cord but wants to get as far away as possible from its sometimes old-fashioned associations.
I love dark brown cord, dark olive, caramel and others - you can see many of my commissions on this article looking at the material in depth. But I understand why they can feel too rustic for some people, and black is definitely not that.
If you're after a black suit, this also, probably, is one of the easiest ways to do it. I've just found it a tricky one to combine. A step less versatile still than the black-tweed jacket. Not everyone's after versatility, but if you are, I wouldn't recommend this one.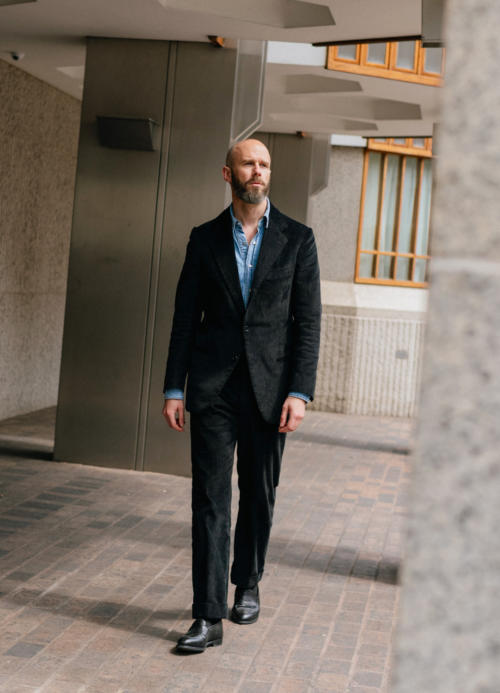 Other clothes worn:
Piccadilly loafers from Edward Green
Reverso from Jaeger-LeCoultre with black alligator strap
Current prices:
Zizolfi jackets start at €3000 and suits ¢3600
Bespoke Pommella trousers start at €850
Both Pommella and Zizolfi plan to be back in the UK in September