Sartoria Melina nubuck bomber jacket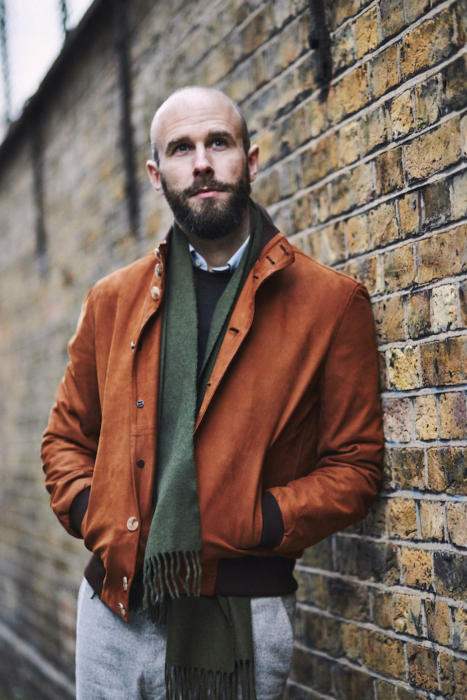 I liked the made-to-measure jacket I got from Sartoria Melina in 2017 so much, that last year I commissioned something new.
This is it: their bomber-jacket style, in a tan colour of their signature nubuck leather.
Having worn it for a few months (these shots were from earlier in the year, when a scarf was required) I think I prefer it to the first in terms of fit and style, but probably not colour.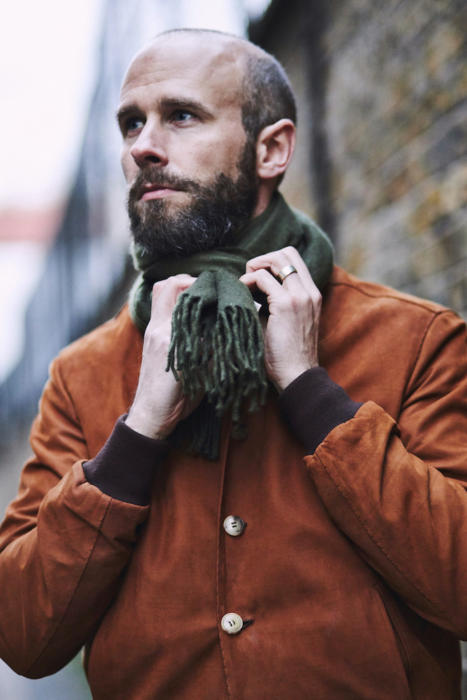 The problem with making a blazer-style jacket out of leather (or suede) is that your expectations are at the same level as bespoke tailoring - or made to measure at the least.
But leather doesn't work like that. First, it just cannot be fitted as well and shaped the same way wool can - even my Cifonelli suede jacket, made on my bespoke pattern, doesn't fit the way wool does.
Then second - and more importantly here - most leather and suede jackets are made to measure, not bespoke. This is partly for reason number one: there is less point doing all the extra pattern development and internal handwork of bespoke.
But this means you can't expect the same type of fit. It can be right in everything two dimensional: length, chest, waist, sleeves etc. But not in the trickier 3D things, like the twist of a shoulder.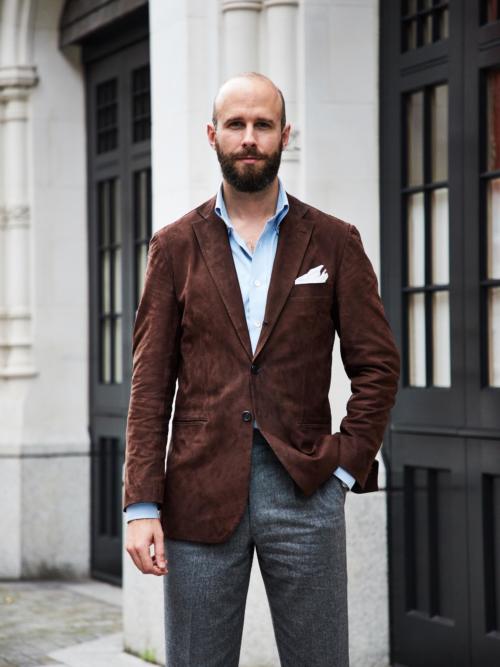 So while I still like that first blazer (above), I should probably have had it fitted a little looser and changed my expectations to something more relaxed and casual.
A bomber jacket is much easier to fit.
It is meant to be a little blousy in the body, and the length and sleeves even have some leeway, given the ribbing.
I know from experience that I am basically a size 50 in the chest and shoulders for a jacket like this, but 48 in the waist. And that's what we did with Melina: I tried on both sizes, checked I liked the chest of one and the waist of the other, and then made that (with small adjustments for the body and sleeve length).
Indeed, in general this would be my recommendation for any made-to-order leather or suede outerwear.
Make sure you can try sizes, and pick elements from each one. It makes it much more likely you'll get what you are expecting. Which is important, given adjustments are largely impossible.
The element of this bomber I'm less sure about is the colour.
The same dark brown as the blazer would have been very versatile and classic. But it felt a little boring, and I already have a brown suede from Valstar.
So I went with this tan colour, with a similar classic Valstar colour in mind: that tan or tobacco, which looks great with jeans or chinos.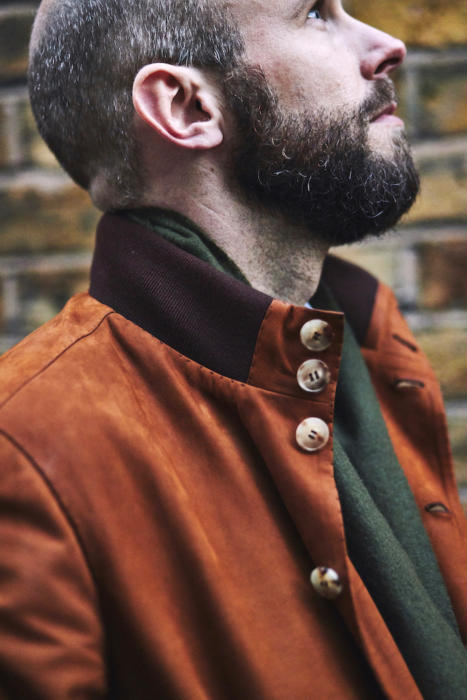 In nubuck, it doesn't quite come out like that. The colour is a little stronger, a little deeper. It's more orange and more unusual.
That doesn't mean it can't look great. It does, just with a smaller spectrum of colours.
In terms of trousers, I've found it works with light and mid-grey, with cream or pale beige, and with some dark greens. But not with denim or other strong colours.
It's also particularly nice with green accessories, as you can see with the scarf here.
I would still really recommend it as a colour - but only if you had something similar in dark brown, and perhaps navy, already.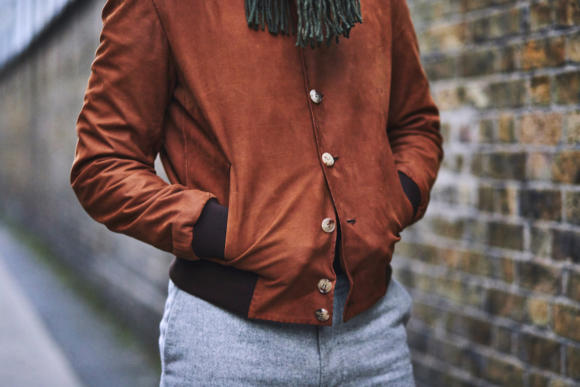 The fit, on the other hand, was exactly what I wanted: more fitted than a normal 50 off the rack, but still blousy in the waist as the style should be.
For those that remember it, that was an issue with another jacket, from Ralph Lauren Purple Label.
In that case, I bought the 48 rather than the 50, prioritising fit in the waist over length and shoulders. That was the wrong choice, and in the end I gave it away to a friend.
A shame - but it did make him very happy.
(As a passing note, it's worth saying again that if you have the same issue, always buy the right size for the shoulders and chest. A leather specialist like Cromford can always take in the waist. It's not an easy job, as you have to take all the ribbing off, but it can be done.)
Of course, the craftsmanship on this Melina jacket is far better than that Purple Label one. The edges and the external seams are all sewn by hand, as are the buttonholes.
For more on that beautiful work, see my first post on Melina here, when Jamie and I visited them in Naples.
It's also worth looking at that and my post on the first jacket, the blazer, to get a sense of the nubuck leather. It's not only buttery soft, but has a matte texture that makes it subtler than the vast majority of leather jackets (close-up below).
Overall then, a beautiful jacket from Melina that is slightly limited in its usage. But then, I already have too many leather jackets: one unusual one is no bad thing.
If anyone is interested, the Melina team are back in London next week - June 26-27, at The Langham. Contact [email protected]
Jackets start at €2900 - this includes pieces like mine, just not alligator, fur or other exotics.
Photography, James Holborow. Shot in and around the SEH Kelly shop in London.