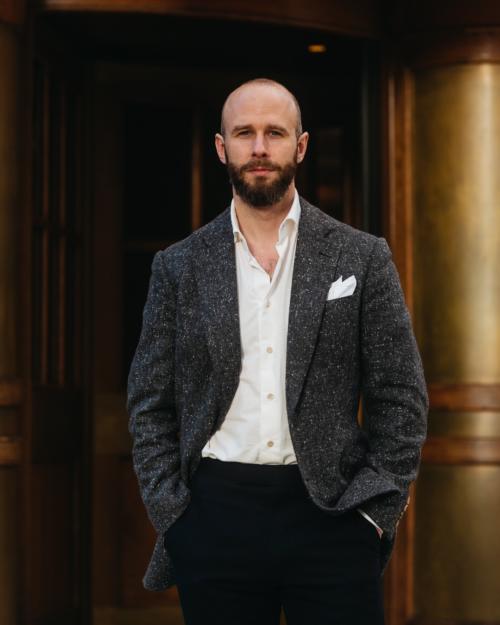 There is a certain type of gentleman who swears by the cream shirt. Who argues passionately for its elegance over that boring, corporate alternative: white.
When I say there is a type, I am basing this on three men, all of an older generation, who have put that argument to me over the past year. It's not a large pool to draw on, admittedly. But it is consistent.
I can see the attraction of cream. It's the kind of subtle styling point - the kind others don't notice until they're close enough to catch a virus - that I normally revel in.
But most experiments with it over the years haven't been successful. Certainly, not enough to become a regular part of the wardrobe rotation.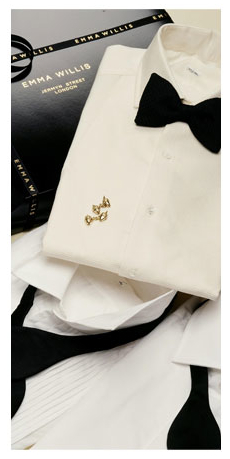 I had a silk dress shirt from Emma Willis (above), which did look nice with black tie, but never had the nice, sharp contrast of white, and wasn't worn that often.
There was a brushed-cotton shirt from Luca Avitabile, which I have worn and liked. It was shown in this article analysing the cut of a Steven Hitchcock tweed jacket.
But while that did show how cream can complement the country colours of tweed and moleskin, the overall look didn't appeal enough to be worn regularly.
I think it felt a little bit rural and stodgy. The kind of look, in fact, that those three chaps would have worn. With a cheap burgundy-silk handkerchief puffed in the breast pocket.
(I apologise in anticipation of offence, for these generalisations. But as we've discussed before, whether things 'look good' is heavily dependent on such personal, subjective, broad associations. They are rarely fair.)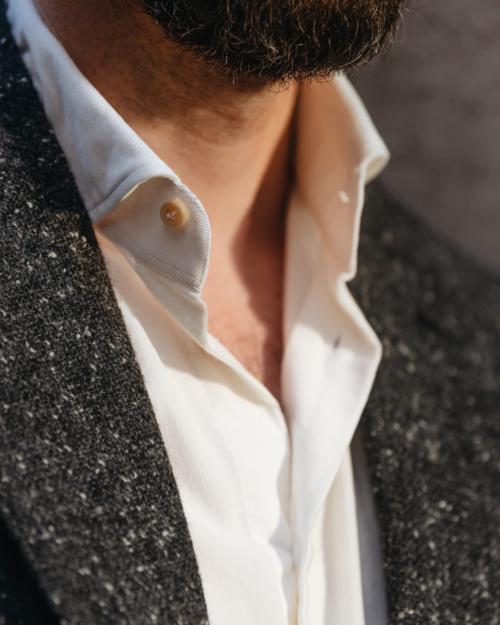 Third time lucky.
The cream shirt pictured, made by Simone Abbarchi from Thomas Mason needlecord fabric, has won a firm place in my wardrobe.
I decided to get Alex (Natt) to shoot it, back in February, when I realised I'd worn this outfit, or something very similar, almost every week for the past two months.
These things sneak up on you - they are what you grab and put on when time is short and the baby is crying - but when they have snuck, they deserve recognition.
The jacket is my charcoal donegal from Steven Hitchcock, of course. And we've also covered before how I like that jacket with navy serge trousers (unusually).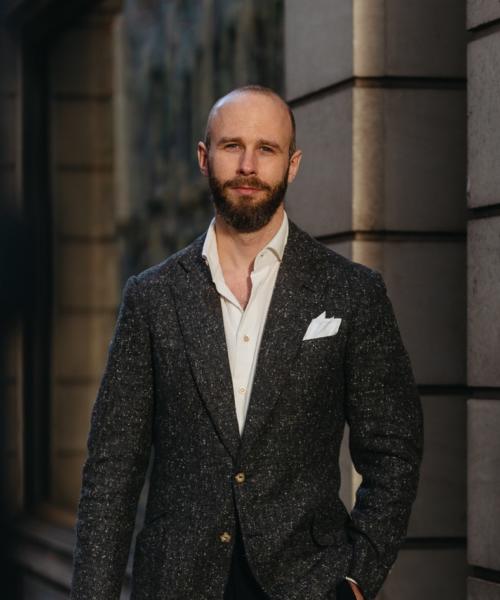 But the cream shirt adds a rich richness to the whole which I have really enjoyed. It is smart and luxurious, but not corporate: Mayfair, not the City.
I think the texture of the corduroy has something to do with it.
Cord is, after all, a form of velvet, and there is always a little lustre in there, which the cream benefits from. Where the cream silk was very flat, and the brushed cotton more fluffy, the cord creates depth and richness, without being either shiny or showy.
The smart jacket and trousers, in their dark cold colours, also help. They suggest formality, despite the texture of the jacket and the lack of neckwear. The navy serge in particular: cream is very happy with something rich like this as a partner, and a cashmere navy jacket would work nicely too.
On the feet are black tassel loafers.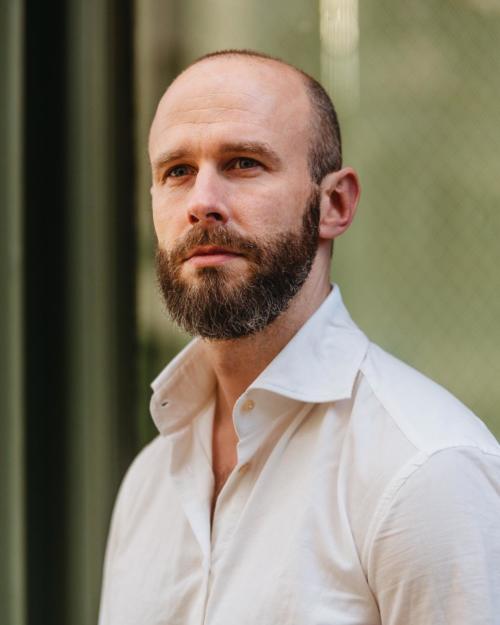 I'm sure there will be some who can't tell the difference between this and a white shirt. It is a subtle difference, as mentioned, and always dependent on the light.
I think that's one reason the white-linen handkerchief is nice - it shows that the shirt is not the same by contrasting with it. Those that can't see the difference here might find it useful to actively compare the two.
As to needlecord shirts in general, by the way, I find they're pleasurable for their texture and warmth against the skin, but can also be a pain.
The texture of the cord makes the material stick. Only jackets with full linings are really practical, and even then they don't slide on and off easily.
That rules out lots of casual jackets that aren't lined, and all knitwear.
So not practical in many respects, but still a nice alternative. I have another in black which makes that colour easier to wear too.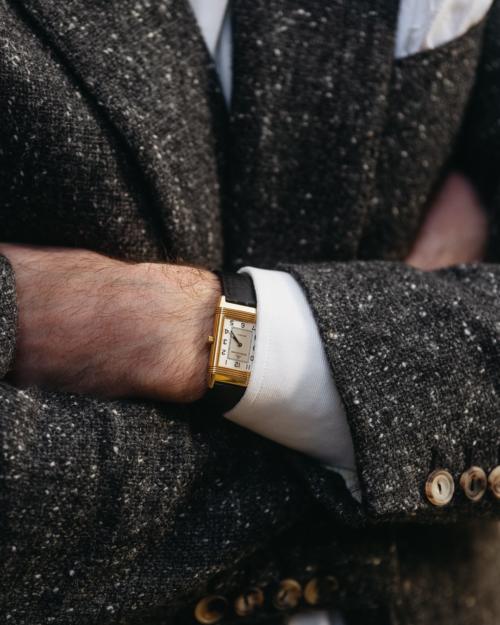 The watch is my JLC Reverso, in yellow gold, with a new black alligator strap. It was made to measure for me (I need it, I have tiny wrists) by Jean Rousseau in London.
They have a good, reliable service, and have made three for me now.
Photography: Alex Natt @adnatt