Steven Hitchcock is perhaps still best known as the son of John Hitchcock, long the head cutter at Anderson & Sheppard. Steven trained there, and his style is similar to A&S.
But it's not quite the drape cut that A&S is famous for, and which we analysed in this series when we looked at my blue-linen jacket cut by Hitchcock Sr.
The shoulder is a little smaller; the length a little longer; the drape slightly less pronounced.
It is, in other words, slightly less stylised than A&S – and even though Steven's cut has developed over the years, his subsequent jackets for me have been similar in their understated style.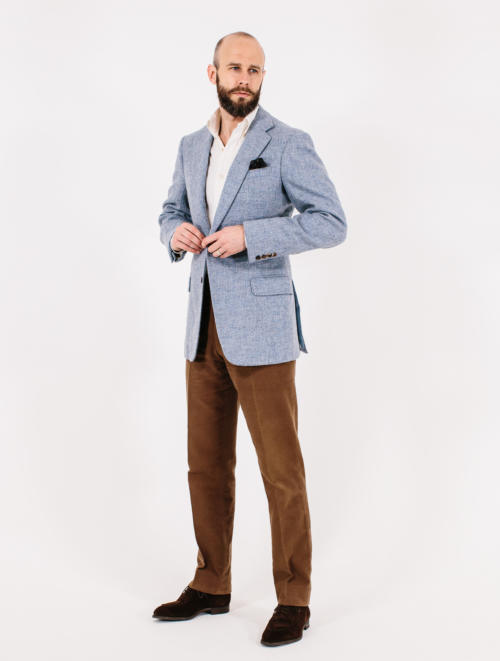 House: Steven Hitchcock
Address: 13 Savile Row, London

Site: thesavilerowtailor.co.uk
Cutter: Steven Hitchcock

Price of jacket and trousers (at time of writing): £4320 (incl VAT)
Steven cut this jacket and trousers for me back in 2012, when he was still in a basement on Savile Row, before he moved to St George's Street and then to Chiltern Street recently.
I've always liked the drape cut, primarily because it's sharp English tailoring but more relaxed, and more comfortable. The combination of the small armhole and larger drape makes for a jacket that I can work at a desk in all day.
I also find that drape rather flattering, as I don't have a large chest – more flattering than alternatives like built-up shoulders or a roped sleevehead.
And I've come to positively like my sloping shoulders. English tailors often want to square them up with padding, but I actually think a slope looks better. Square shoulders can look boxy and confined unless particularly wide.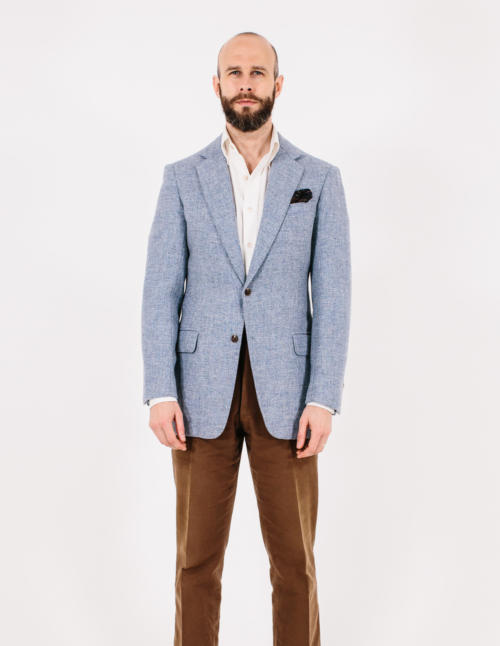 It wasn't until I started comparing the measurements on this jacket with my Anderson & Sheppard that I realised how consistent that point about understated style is.
In almost every aspect, Steven's cut is more restrained. The shoulder width is 6½ inches rather than seven. The length is 31¾ inches rather than 31¼. The lapel is 3½ inches rather than 3¾.
The buttoning point is still relatively low compared to other jackets we've looked at (19¾ inches from the shoulder seam). But not as low as the A&S, and of course that effect is greater relative to its longer length.
Even the opening of the quarters (below the waist button) is the same: more open than most English, but ever-so-slightly more closed than that A&S jacket.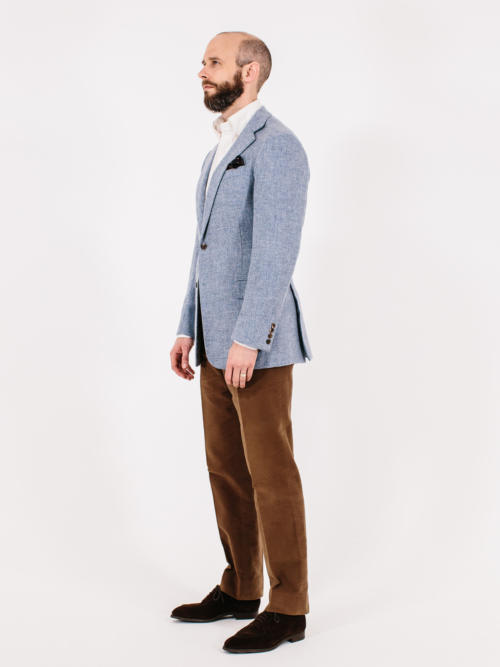 These are small points, but the overall effect is tangible. The kind of thing you notice but can't quite find the reason for, until you get to this level of detail.
Of course, Steven's style is not set in stone. As with almost every tailor in this series, working with him is an interactive process and the customer can alter everything listed here by small amounts, if they wish.
But, I also always recommend that a bespoke customer not try to change a tailor's style. Don't go to a structured tailor and ask them for a drape cut. It's just insulting.
And, just as importantly, you don't know enough to start designing a jacket from scratch. If you start altering many things but not everything, you might end up with a dog's dinner.
Part of the point of this series is to see the default styles of every major tailor, and consider which you like most. When you know you're happy with that, then you can start tweaking things like the length or the lapel width.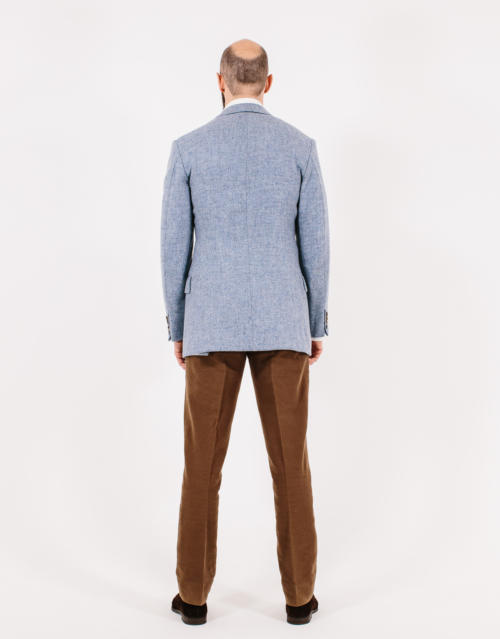 Other style points worth noting here are the flat run from the shoulder into the sleevehead – there is no roping there – but that the sleevehead is quite wide, adding a little width.
The sleeve is pretty classic, with ample room in the upper arm and a slight taper to the cuff. There is definite suppression in the waist and back, but not extreme.
I think the length is actually a tiny bit longer that it seems in the photo of the back, above. This might be due to stance or camera position, but the jacket is longer than the A&S linen, yet here doesn't seem to quite cover the seat of the trousers, while the A&S does.
One more reason not the judge too much directly from the photos, but rather see them as illustrative of the points made in the text.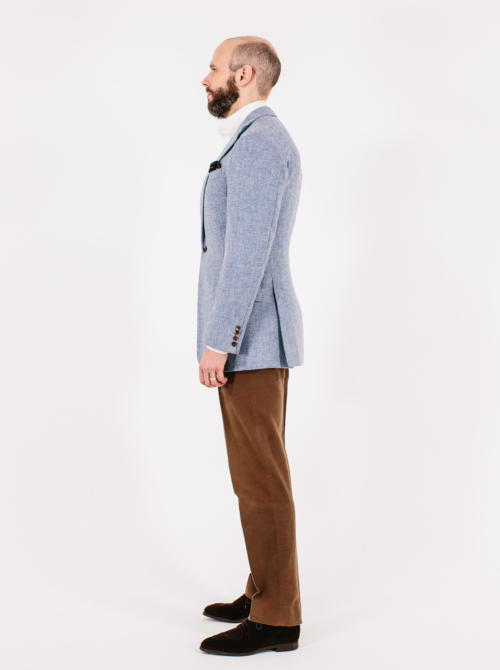 The cloth of the jacket is an 11oz tweed from Holland & Sherry's SherryTweed bunch. I've always liked the colour for how unusual it is, without being that bright or showy.
But it's not the easiest one to pair with trousers and accessories. It's best with brown or charcoal trousers, I find, and is too similar to blue shirts to wear one underneath. So I normally wear white or strong blue/white stripes.
The shirt here is actually a cream brushed-cotton, which I think is again nice for being a little unusual and not as corporate-looking as white.
A white shirt is also a little cold for the outfit overall, given the warm tone of the brown moleskin trousers (which Steven also made me at the same time, perhaps need taking in a little to hitch them up, and which today I would have with turn-ups).
In fact, overall this could be seen as an update on a rather English, old-fashioned look: tweed, moleskins, cream shirt and suede. The kind of colours and textures your grandfather might have worn – if not the cut.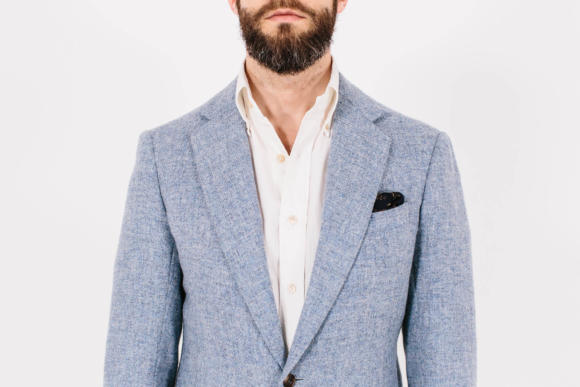 The navy wool/silk handkerchief is from Anderson & Sheppard, the shirt was made by Luca Avitabile, and the shoes (below) are the unlined Dover from Edward Green, in mink suede.
Those Dovers are still the most comfortable dress shoe I've ever worn, with the luscious single layer of suede and thin rubber sole.
It might be fashions changing, but they also don't look as round-toed to me as they once did (the 202 last). They almost feel pointy. Perhaps I've been wearing too much Alden recently.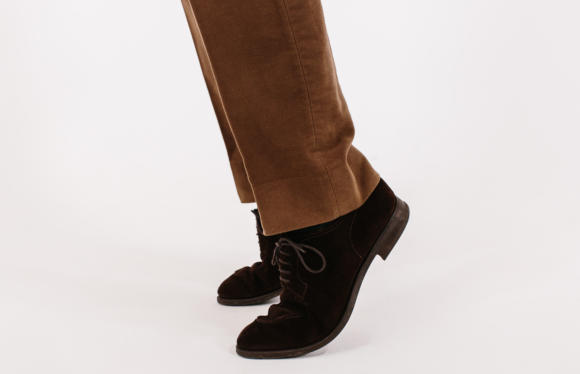 Style breakdown
Shoulder width: 6½ inches
Shoulder padding: Moderate, three ply
Sleevehead: Flat
Sleeve: Classic, slight taper
Cuff width: 11½ inches
Lapel: 3½ inches
Gorge height: 3¾
Drape: Moderate
Outbreast pocket height: 9½ inches
Buttoning point: 19¾ inches
Waist suppression: Slim
Quarters: Quite open, straight
Length: 31¾ inches
Back seam: Suppressed
Vent height: 9¾ inches
Trouser circumference at knee: 21 inches
Trouser circumference at cuff: 15 inches
Photography: Jamie Ferguson @jkf_man