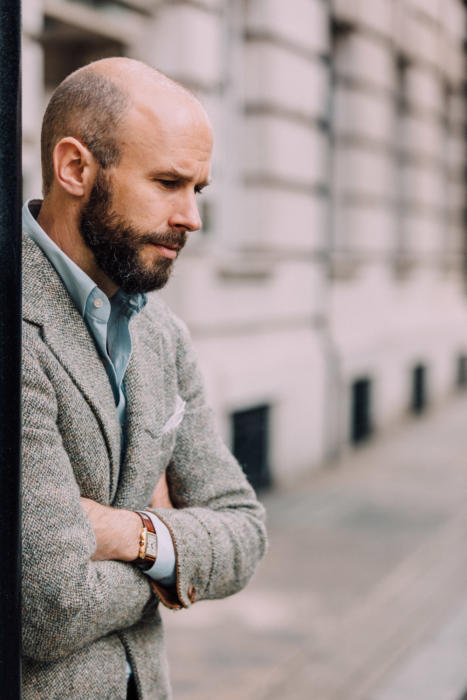 It's that time of year, and new things are all arriving at once. Today it's a new, lighter shade of the Everyday Denim.
Everyday Denim shirting went down really well with readers, both as fabric and finished shirts, and several asked for other variations.
I think this, Everyday Lighter Denim, is the best addition: a paler shade in more standard, business-shirt blue.
Denim's normal rich, indigo-type colour has a deep appeal, but is not always that versatile. It's a mid-tone and stronger than most menswear shirtings, which can make it hard to pair with some jackets and knitwear.
This new, Lighter Denim is more standard.
Its pale colour means it can go with any colour of tailoring, just like normal pale-blue business shirts. But it still has the texture, twill and fade of denim, to set it apart from anything actually corporate.
Other than the colour, Lighter Denim is the same in every way as the original Everyday Denim.
It is available on the shop site now, in the normal 2m lengths: shop.permanentstyle.com/products/lighter-denim-cloth
The slight downside to a lighter shade of denim is that it won't fade quite as much as the deeper blue.
Darker indigos always fade more dramatically, as anyone that has worn raw denim or anything in a deep indigo dye can testify.
But the Lighter Denim still fades noticeably and achieves a similar effect to Everyday Denim.
In the images here, you can see how my shirt in it (about 10 washes in) has faded nicely around the colour edges, cuff, and front placket.
Having put this post together, I realise it would have been good to show the two shirtings alongside each other, to demonstrate the difference.
Apologies for that - I'll try to take some shots and correct the omission later.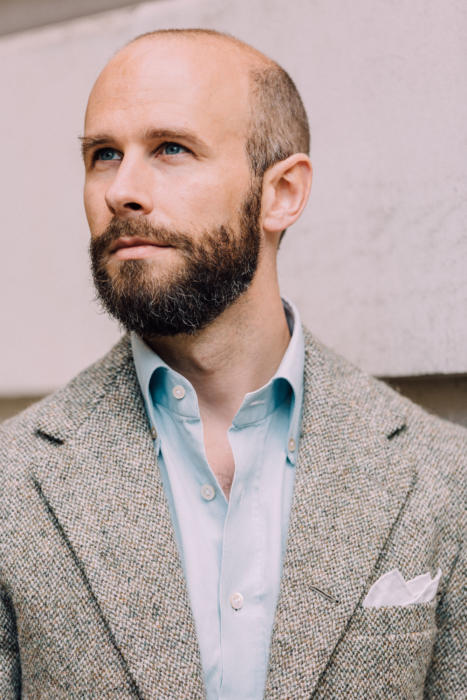 Interestingly, when I was talking to the designer at Albiate recently (the Albini brand that designs their denims) he said either side of the fabric could be used.
This is a useful point, because I know a few readers asked with Everyday Denim which was the 'face' of the cloth - the one intended to be on the outside.
Denims, given their weave, always have a paler shade on the inside and a darker one the outside. Normally the darker shade is therefore the 'face'.
However, there is no other difference between the two (such as a different finish). So if you want to, you can use the other side. It's a small difference, but there is a choice.
There will be finished shirts in this Lighter Denim by the way, as well as in the standard Everyday Denim, at the end of the year.
For more on the background to the Everyday Denim shirtings, read the backstory here.
You can buy the Lighter Denim shirting here.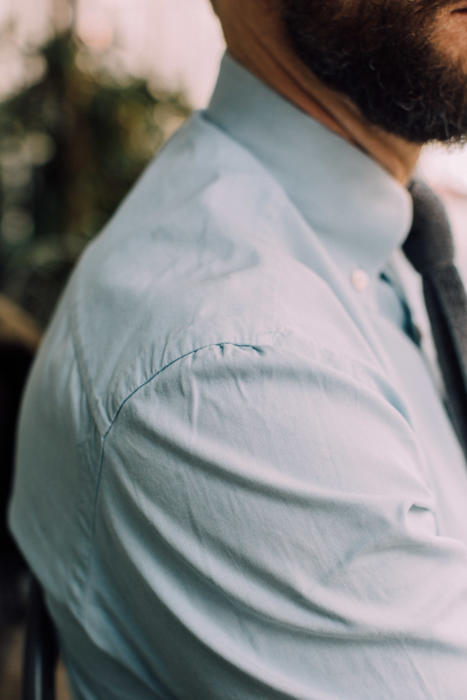 Worn elsewhere:
Green-corduroy suit by Ettore de Cesare

Grey cashmere tie by Hermes

Silk pocket square by Ralph Lauren

Green Harris-tweed jacket by Cifonelli

White-linen pocket square by Simonnot-Godard
Photography: Jamie Ferguson