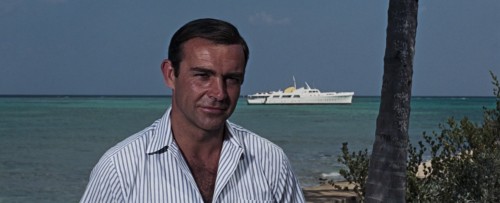 If you feel like adding a little strength to the stripe in your shirt this summer, the best option is a wider, butcher's stripe.
I can't stand the multicoloured and multi-width stripes that were fashionable a few years ago – you know the ones, sold a lot in Thomas Pink, looked a little like a faded version of the Paul Smith stripe, seemed to be worn by everyone that either worked in marketing or lived in Islington.
No, keep the colours simple and ramp up the scale. That creates a look that is classic yet bold.
I particularly recommend a strong stripe like this if you tend to wear your shirt open-necked. There is something a little sad about a shirt that would look so much better with a partnered tie – and yet is denied it. Especially if the lack of decoration around the neck is not made up by colour and pattern in a pocket handkerchief.
Not that the butcher's stripe cannot be worn with a tie. As long as it is plain in colour, or the pattern is sufficiently different, that's fine (as in the image – where the spots are sufficiently different and an almost equal scale).
You'd struggle to have a pattern with a bigger scale than the shirt, and even if you did (a widely spaced club stripe, for example) the effect may be for the combination to overwhelm everything – you included.
By the way, it is consistently surprising the assumptions that Americans make about the traditions of Jermyn Street and how they affect men today. In Esquire's recent Big Black Book, for example, it says: "Bolder stripes are rarely seen in the American workplace. In London's financial district, it's the polar opposite. The classic City trader's shirt might carry half-inch stripes of pink, red, yellow or sky blue."
I'm not sure the writer has ever worked in the London's financial district. What he describes may have been the tradition (and how Jermyn Street got started) but it is hardly the case today. Yes, Americans still wear a lot more plain white shirts than us. But there is still a depressing number of Englishmen working in the City that express their personality in their ties and little else.
By the way, because I know you want to know, the butcher's stripe is so named because it recollects the size of stripe traditionally worn on a butcher's apron.