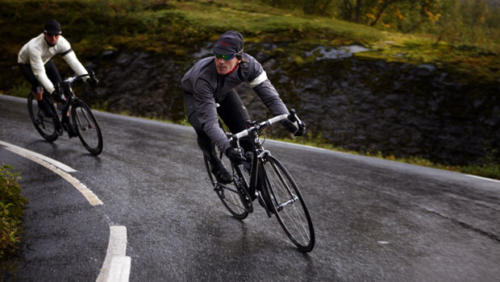 Cycling clothing has come a long way in recent years. A market dominated by cheap, mass-manufactured jerseys has broadened into high-tech racing gear, east-London fashion and practical commuter clothes.
Cycling gear used to be garish and cheap because that was what the professional cyclists wore. They went through dozens of jerseys in any long race such as the Tour de France, and the priority was prominent sponsor logos rather than technical proficiency. Few people commuted by bike, and those that did wore the same disposable kit.
One company has arguably been most responsible for changing that attitude in recent years: Rapha. A British brand launched in 2004, it has consistently raised the bar for the quality of cycling clothing through its research and innovation.
Rapha jerseys (from £130) include a high proportion of merino wool, which is more costly than most synthetics but also more effective at wicking away sweat, allowing moisture to evaporate and reducing odour. Its gloves (Grand Tour gloves, £100) and shoes (Grand Tour shoes, £130), on the other hand, use lightweight leathers such as goat and hair sheep to produce pieces that are just as breathable as synthetic products, but adapt to the wearer.
Rapha's success has demonstrated that there is a market for quality, largely among affluent, savvy men who are already investing in other aspects of their wardrobe.
Other companies make merino jerseys, such as Woolistic in Switzerland (jerseys from £89) and Velobici in the UK (jerseys from £140), but not with quite the same attention to finishing. Rapha also has competition for quality racing apparel from Assos of Switzerland, whose jerseys (from £140) are highly recommended.
Rapha's commuter clothing – its City range – is also designed for racing bikers, rather than those who ride the upright variety. These cyclists, including all users of Boris Bikes, have several clothing brands that cater to them, but the finest is probably the John Boultbee line from Brooks England.
In its own way, John Boultbee clothing is just as technical as Rapha, but with the focus on traditional English materials and casual style, rather than performance. The Criterion jacket (£800), for instance, is made from Ventile, a cotton material that was originally designed in the UK. Its dense weave makes it highly water resistant despite no coatings or lamination.
Designed by London tailor Timothy Everest, the Criterion is also lined with tweed from Fox Brothers, the Somerset mill, and has a host of practical features, such as storm pockets and a fold-out seat panel. The range, which is sold in Everest's shop on Bruton Place in Mayfair, also includes a simple shell jacket called the Blackwell (£470) and a more formal tweed version, the Elder (£595).