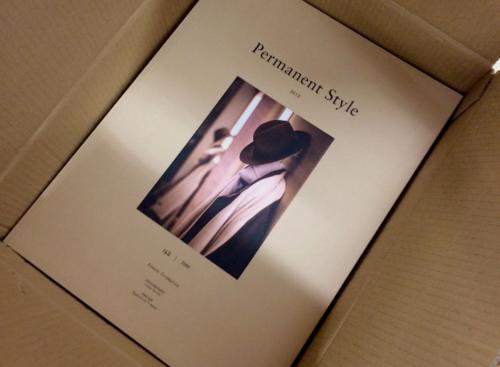 We received the first few copies of Permanent Style 2015 yesterday, and they look fantastic! They're thick, they're substantial, and the production is beautiful.
Relief, pleasure, excitement: all bundled into one.
The official launch of the book will be next Wednesday, the 29th, in Milan. Vitale Barberis Canonico, who kindly sponsored it, will be holding an event at their new exhibition space below A Caraceni – 16 Via Fatebenefratelli.
If any Permanent Style readers would like to come, there are 10 places available. Please email me at [email protected] to reserve one: it would be great to see you there. There will also be an event in London (and probably Beijing) though, so there will be other chances.
Permanent Style 2015 will be limited to 2000 copies, and each is individually numbered. (Although I really wish I'd considered how long it takes to hand-number 2000 books. Clue: it's a really long time.)
The books will be available to buy online soon after the launch, and there will be distribution from both the UK and US – cutting down on shipping rates.
It is also being stocked in small numbers by the shops of those included, so you should be able to see a copy whether you live in Melbourne, Madrid, Florence, Beijing, New York, Hong Kong, London or Paris.
Thanks again everyone. This is what a labour of love looks like.
UPDATE. A few people have asked about how and where the book will be available, so to clarify:
It will be available to buy primarily online, through Permanent Style and the Hanger Project (who are doing all the delivery and fulfilment)
It will also be stocked in around 20 shops worldwide, as mentioned above. A full list will be published next week. Thanks