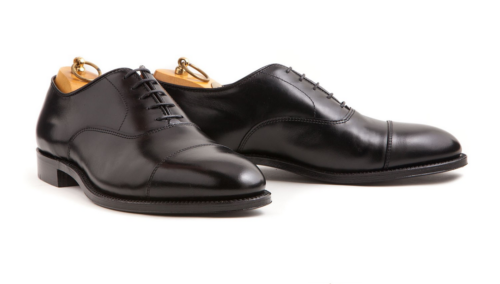 As with many reader questions, this one evolved over several email messages back and forth. I know Joel won't mind if I restructure that exchange into a conversation, in order to put the inquiries in the right order. And add a little narrative.
Joel: I am about to buy a pair of black shoes, so your 29 June 2012 post about buying a versatile black shoe was really great, as that is just the kind of shoe I need. Based on that, I've planned on buying the nicest cap toe I can manage, which I decided to make this Alden.
But then when I reread your post I noticed that it described its versatility as running from the more formal to the office. However, I never wear suits (once or twice a year at most). Is this still a wise choice?
Simon: Well, what do you normally wear day to day?
Joel: I teach at a university where the dress code is a bit more casual, so I tend to wear blazers and sweaters with trousers, cords, chinos, etc. This made me wonder if the black cap toe might be slightly too smart; if so, I wondered if I should get the blucher oxford instead.
Simon: It sounds like brown shoes are probably more suited to your daily wardrobe, particularly with cords and chinos. Do you have brown shoes already?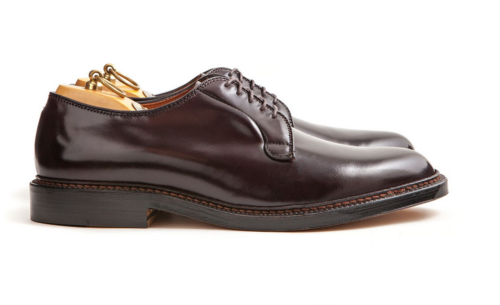 Joel: Actually, one of the reasons I was thinking about getting black shoes was that I now have a pair of dark-brown long wings that I love, a pair of mid-brown bluchers, and a pair of light brown/tan oxfords. But when it comes to the few times I want to wear black (when I am wearing charcoal flannel), I am forced to wear my black Chelsea boots, as I have no black shoes at all. I do think the boots work, but sometimes I wonder if they are not quite right.
Simon: As in, not quite formal enough for the flannels, being boots rather than shoes?
Joel: Exactly. I've been building up my wardrobe for about two yeas (and your blog has been invaluable!), and have put off black shoes for the various reasons you suggest in terms of what to prioritise. I just thought that it was now the time for the versatile pair of black shoes. Which then brought me to the question I wrote to you.
Of course, if the style I'm building does not really require or work with black shoes, I could just continue to wear the Chelsea boots when needed and put the money I've saved into other things (I am starting to move away from chinos, for example, although that might bring me back to the black shoes!).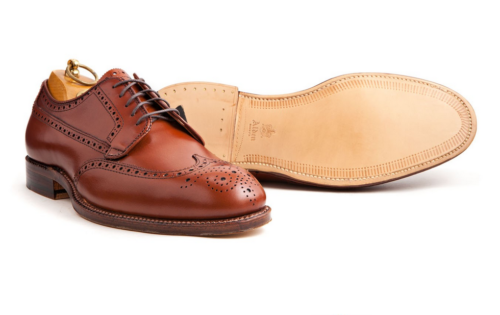 Simon: It sounds like the wardrobe is ready for some black – particularly if you start to dress smarter, as you say. Wearing flannels rather than chinos can make a big difference to how smart you look (and perhaps therefore how serious/professional) but with quite a subtle change.
It's usually worth having a good pair of black shoes, as for smarter or more formal evening occasions, even a dark brown isn't quite right. And I can see how Chelsea boots could look too casual. (Incidentally, I like black boots with denim and an otherwise simple outfit – blue button-down shirt, grey or charcoal sweater. It can smarten up an otherwise casual outfit.)
As to which black shoes you should buy, I do think a cap toe would work well. The blucher wouldn't make much difference to formality, and unless you're going to wear them with black tie, the cap toe should bridge most formalities of outfit.
As your shoe wardrobe expands more, however, don't feel bad about buying more dark brown or mid-brown shoes. I obviously have a lot of shoes, but I probably have 10 brown for every one black.
Hope that's helpful
Simon
(Pictured: three Alden shoes, all from Leffot. Black calf cap-toe oxfords, dark-brown cordovan bluchers/derbys, tan calf wing-tip bluchers/derbys)