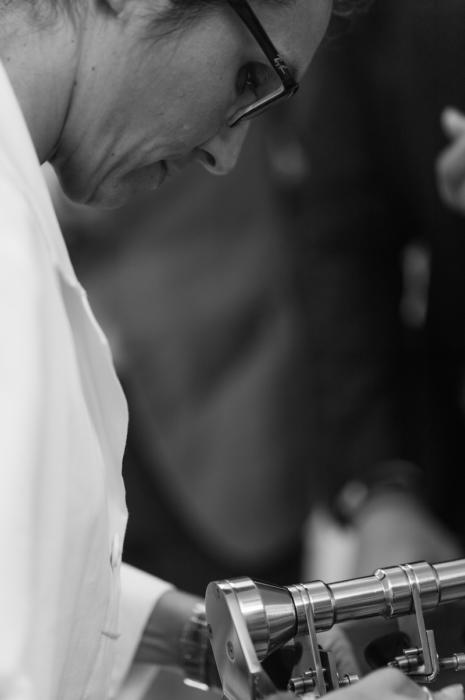 The Mont Blanc leather facility is in an industrial park just outside Florence. All the big names of fashion are here. Gucci is across the road, Prada a few blocks down. Only Hermes from among the top brands is missing.
Mont Blanc used to made its leather goods in Germany, but moved three years ago. "It's just far more efficient," said Giacomo Cortesi, the head of the facility (pictured below), when we visited in the summer. "There are about 150 tanneries in the area, and they all supply everyone already. Plus all the other suppliers, for hardware and so on, come here too."
Efficiency was a theme we would return to frequently. Because while Mont Blanc retains the same level of craftsmanship as all the other brands in the area, it mixes in some rather special touches of German management and quality control.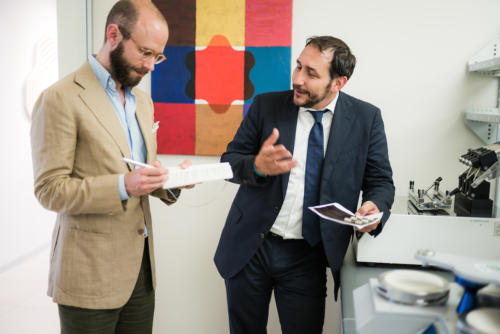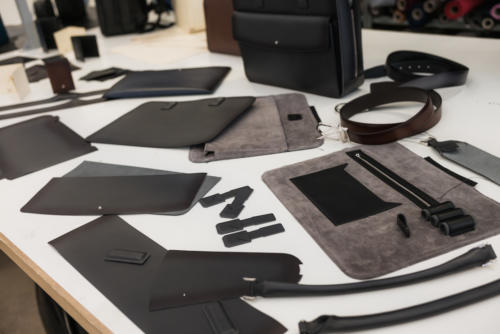 "All the talent is here, the workers we hired to create this facility," continued Giacomo. "That was an interesting process – hiring from everyone else. And of course having everything on site means we can develop and adjust new pieces quickly. You can't do that with a pen or a watch."
As Giacomo talked to us, in the stark white reception room, there was a rather distracting mechanical arm moving up and down behind him. On the other side of the corridor, a big yellow machine was lifting and turning bags repeatedly, twisting them and replacing them on the floor, only to wrench them up again.
That machine – a mechanical arm stolen from the auto industry – is pictured below. You can see a video we took of its operation here as well.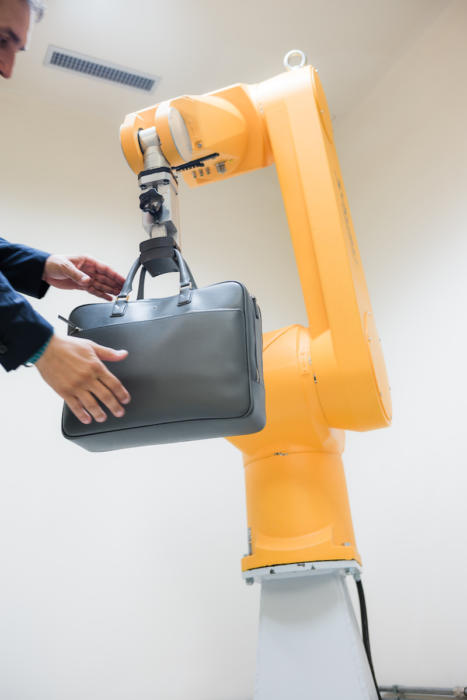 Eventually, we had to explain why we were constantly looking over Giacomo's shoulder. And that led to a discussion of the quality control at the pelleteria.
There were several great machines. One tests hardware for resistance to heat and humidity (think someone dragging their suitcase on wheels through the streets of Singapore). Another tests for salinity (perhaps a wash bag carried to the beach). A third looks at how colour fast leathers are under light (sitting in the front seat of your open-topped car. A lot).
Not all pieces are tested – merely a sample. But they are tested regularly and consistently. That colour-fast machine tests leather for three, six and twelve-hour stints. And a product line will go through the process every 1-4 months, depending on the piece.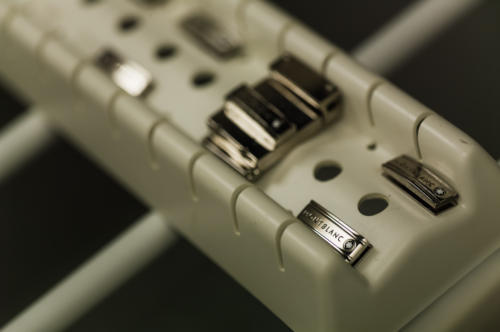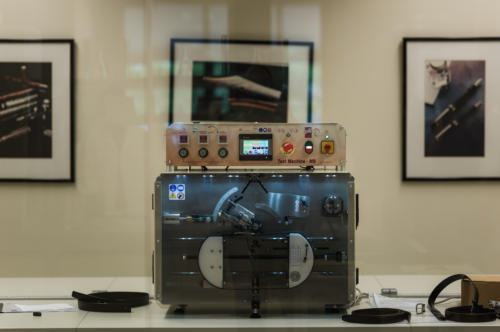 "It's not necessarily a problem if the colour does fade over time," said Giacomo. "It happens with veg-tan leathers But the key is to know that, so we can communicate it to the customer or, if we don't like it, reduce the effect. If you don't know, you're always at risk."
Often, these machines have been brought in to look at a particular problem. The mechanism inside a lock, for instance, is particularly susceptible to heat and salinity. All it takes is a little rust or distortion to the metal inside, and the lock will stop working. "I've seen that happen on other products in places like Malaysia," said Giacomo. "There's often 70% humidity there and you're right by the sea."
How does gold, rose gold and silver tarnish? (It always starts at the corners – where it's hardest to get a consistent level of coating.) How will the gusset of a wallet react when it has been bent 100,000 times? How abrasive are different leathers when rubbed against a pair of jeans again and again? The list of scenarios seemed to be almost endless.


All leather producers do quality control. But Mont Blanc does more of it (according to those workers from other factories) and creates its own, bespoke machines.
The machine below for testing leather belts, for example, is a one-off. It opens and closes a buckle on a strip of leather, seeing when it (and the inking at the edges) cracks.
My all-time favourite, however, was the simplest. "We spent a long time trying to work out how to test a buckle when it has been dropped repeatedly – when you undo your trousers, or chuck the belt in a draw," said Giacomo. They finally came up with a set of steps, about 20 of them going down about 6 feet. And they just drop the buckle down it. Again and again. "It's very simple, but it works. It breaks things," concluded Giacomo.
As I've said before, not everything in the Mont Blanc leather range is to my taste. I tend to prefer brown, natural leathers with brass, rather than blacks and blues, with silver hardware. But after many years (and many factory visits) it was wonderful to learn so much about something so innovative.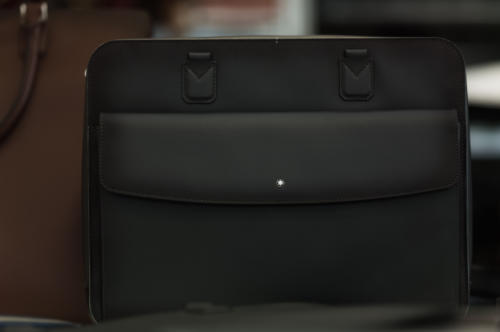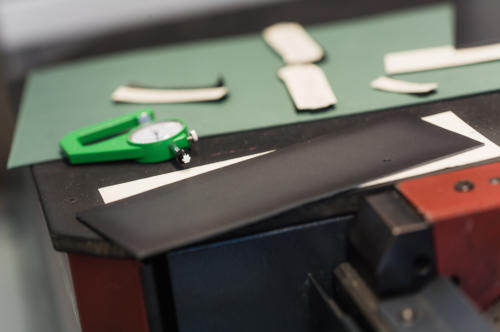 My outfit in the picture (as a reader requested recently):
Tan summer jacket by Elia Caliendo
Blue chambray shirt by Luca Avitabile
Green linen trousers by Paul Stuart
Honey-framed glasses by Francois Pinton