Come to the next Symposium: The future of independent shops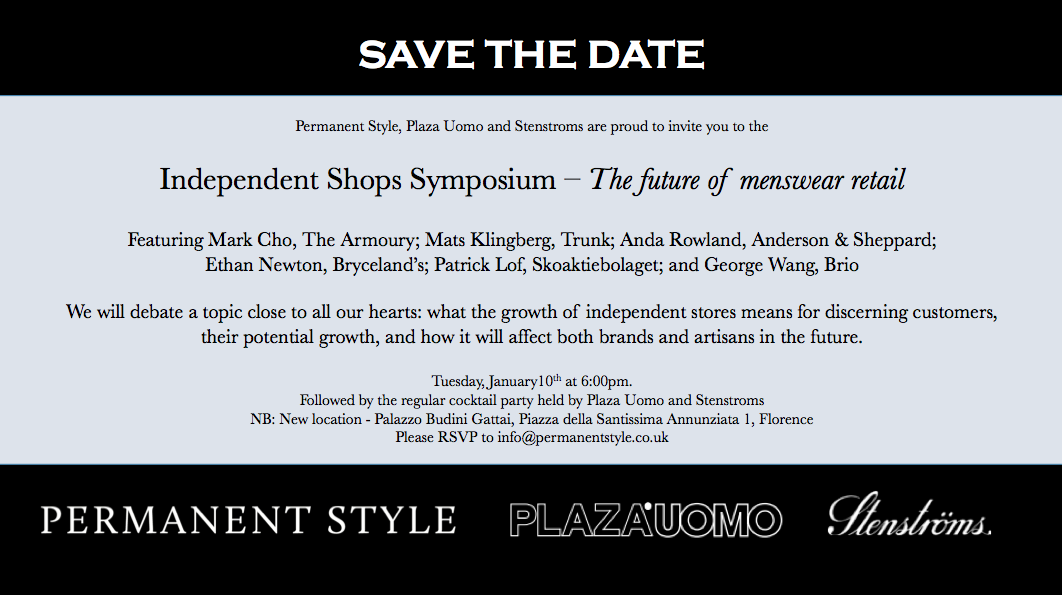 I'm really excited about our next Symposium, scheduled for Tuesday, January 10th.
First, because while it brings together some of my favourite people - as with all the symposia - the subject is very different.
It will not be about artisans, but rather about the people that help sell and promote those artisans around the world.
These are the independent retailers, who set up a physical shop to present their dream - their vision of menswear - and in the process do a lot of the discovery, support and promotion that brings the artisans to us.
These shops have enjoyed huge growth in recent years, after a long decline. The question is, what does the future hold for them?
During the Symposium we will discuss many things, such as:
How do you evolve a 'vision' over time, particularly as others begin mimicking your ideas?
How do you address what customers, often with little knowledge of the costs of retail, see as a 'fair' price?
Does a long-term plan have to involve growth - new stores, more online sales?
How do you approach the web, given you are expected to have an online shop, but then compete with others who don't have your costs?
I couldn't have asked for a better line up. It is:
Mark Cho, The Armoury
Mats Klingberg, Trunk Clothiers
George Wang, Brio
Anda Rowland, Anderson & Sheppard
Ethan Newton, Bryceland's Co
Patrick Lof, Skoaktiebolaget
I'm excited to hear what they all have to say. If you would like to come, please do RSVP to [email protected] to make sure we have you on the list.
The second reason I'm excited about this Symposium is that we are moving locations, for convenience and for space.
We are now joining Plaza Uomo magazine and Stenstroms shirts in Palazzo Budini Gattai, on Piazza della Santissima Annunziata.
This location gives us more space to spread out, and means we have a ready-built party for after the event - I know many will have been to the Plaza/Stenstroms cocktail event in recent years.
I would also like to take this opportunity to thank Stefano Bemer for all their help and support with the Symposium over the past two years.
I look forward to seeing everyone in Florence.
Simon