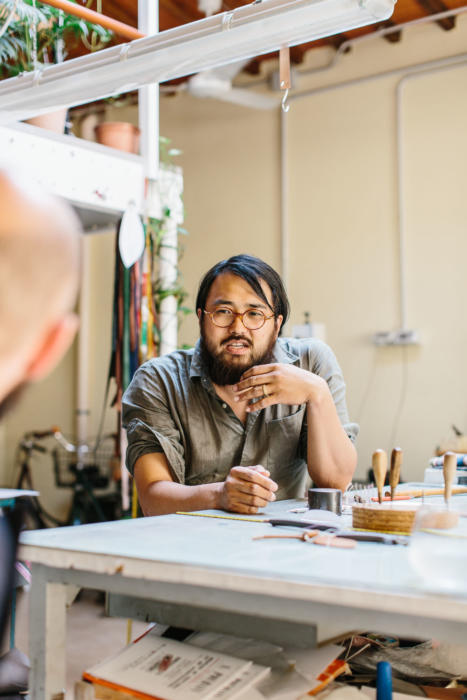 There is no shortage of Japanese artisans in Florence. But one that hasn't garnered much attention yet is Hiroyuki Murata, who goes by the brand name Saic Firenze.
Hiroyuki-san and his wife have a small workshop outside Florence. It's on a lovely little pedestrianised cul-de-sac, but not walkable from the city.
Here he makes some beautiful men's and women's bags, in quite original designs - mostly machine work but nice hand sewing on handles and elsewhere.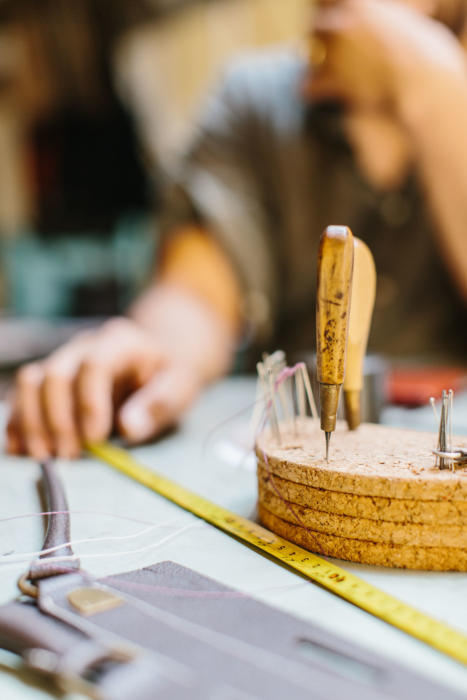 Hiroyuki has been in Italy for 8 years, and in this particular workshop on his own for the past two.
He originally learned leather work in Japan, having studied architecture at university but keen to do something equally structural with his hands.
"I liked big, practical bags - totes, pieces in heavy canvas," he says. "Today we make some much finer pieces, quite French-inspired, but I think they all have a focus on practicality as well."
Hiroyuki worked for Felisi when he moved to Italy - a Ferrara-based manufacturer that produces some nice bags, including the backpacks at Anderson & Sheppard in London.
When Hiroyuki set out on his own, he wanted to include more handwork, and focus on bespoke.
That's still the plan today - his only ready-made bags are part of a small collection for George Wang at Brio in Beijing.
But he admits it's hard. "Even trying to charge a good price and develop a strong clientele, bespoke is really hard to support us," he says.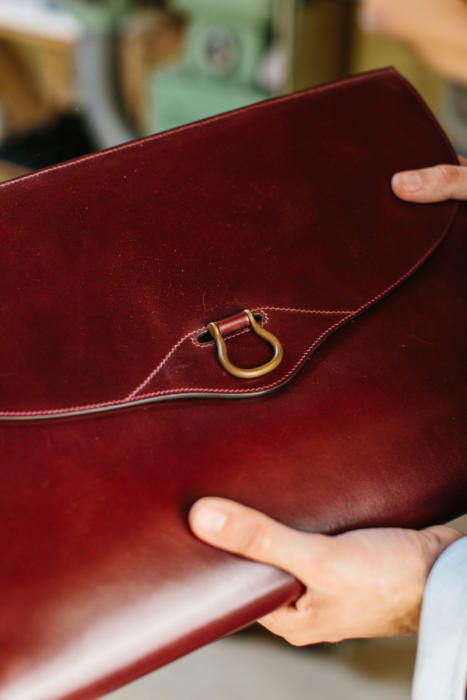 Hiroyuki generally charges between €1500 and €2500 for a bag, depending on size and design (and with exotics considerably more); but he is likely to have to put up prices soon.
His personal designs include a folio with a curved brass closure - pictured above. This folds down neatly to close the case, and is initially stiff but softens up as the hard bridle leather softens up.
There's also a lovely backpack in grained calf (above) that has a similar closure, and his other bags are full of little innovations - such as the four-leaf-clover-shaped fastening on the bag below.
Every piece is characterised by delicate, curving lines - in the flaps, the handles and the internal pockets.
Some of them become a little effeminate as a result, but the simple pieces such as the folio are definitely enhanced by it - and look lovely in greys and browns, whether bridle or calf.
[You can see a few more on his Instagram feed here]
Hiroyuki currently does trunk shows in Tokyo and Osaka, but sadly has no plans to travel elsewhere.
If the designs appeal - and they are more affordable than hand-sewn versions, by Ortus for example - then it's worth getting in contact with him in Florence. Be aware that his English is functional, but not great.
He can be reached at [email protected]
Photography: Jamie Ferguson @jkf_man