The aim of a shirt bought for summer might seem easy: to stay cool. But there are several variations here, and crossovers with styles and other functionality.
This, then, is our substantive yet focused guide to buying a shirt fabric for the warmer months.
As ever, it is not aimed at recommending specific cloths, because the mills don't vary that much in the things discussed here – fibres, weaves and finishes.
Rather, it should enable you to know whether you want a linen, a muslin or a zephyr, and why. Then you can pick what weight and colour you want.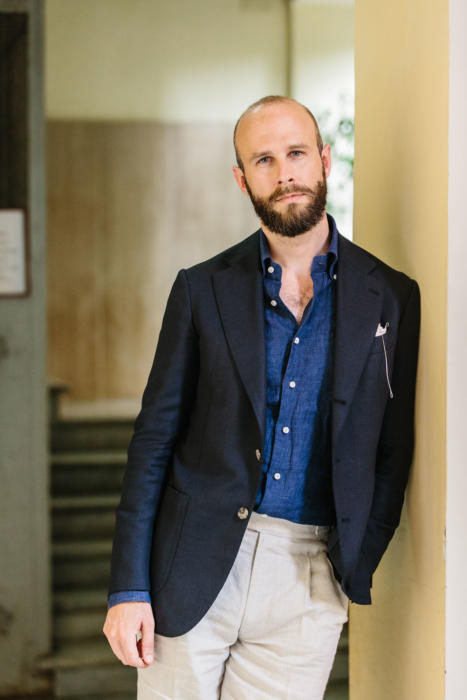 So, how do you make a cool shirting fabric? Well generally you want it to be breathable – that's the priority, rather than being lightweight.
Superfine fabrics, for example, are often lightweight. But they are also densely woven, which makes them not very breathable and so not great in warm weather. (See our Superfines article here.)
That breathability will come from three things: the fibre, the yarn or the weave.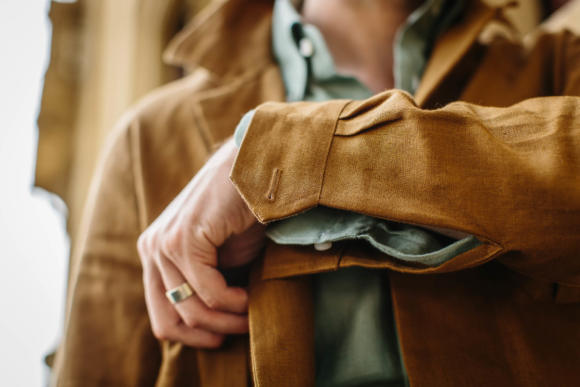 First, the fibre. Most shirtings are cotton, and this is pretty breathable and cool – certainly more than fibres like wools, cashmere or synthetics.
However, linen is better. Linen is such a strong fibre that it can be woven quite loosely, making it breathable. It is also cool to the touch, because the fibre is a good conductor. (Metal feels cool for the same reason.)
Linen wrinkles of course. For some, that's part of the charm, but it might also make it too casual for smarter shirts.
In that situation it's worth turning to linen/cotton mixes, which balance the sharpness of cotton and the breathability of linen.
In fact, I'd recommend linen/cotton through most of the year, because it has that breathability (but not too much) and because it looks more casual than cotton (but not too much).
And while you do often need a cooler shirt in the summer, in the winter it's easy to just wear knitwear or heavier tailoring over the top.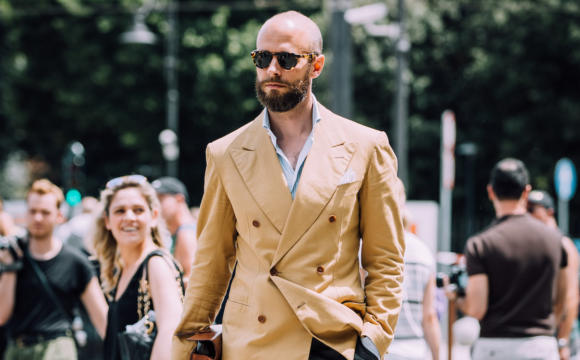 Next, the weave. In general here you want a more open, less dense weave.
So in a basic cotton, a plain weave (or broadcloth) is more open than a twill, and will breathe better.
Then there are more specialist warm-weather weaves, such as zephyr. Zephyr has a square weave construction, with an almost equal number of threads per inch in warp and weft, which makes it very breathable.
Specialist cotton yarns can also make a difference. So voile, for example, uses a high-twist yarn. This gives the yarn extra strength (like linen) and enables it to be woven more openly.
Muslin, on the other hand, uses a normal yarn but a very lightweight one. This makes it softer, but also quite liable to wrinkle, and therefore not as smart. Both voile and muslin are more commonly used in women's clothing.
The biggest problem with some of these cotton weaves and yarns is that they can become sheer, and transparent. Not good for a formal shirt, for those with a lot of dark body hair, or perhaps from a style point of view.
The best way to mitigate this is to only use them in darker colours. This is the same for lightweight pique cottons used for polo shirts, and some jerseys (though jersey isn't usually that breathable – it's more used for stretch and comfort).
However, dark shirts are also quite limiting in terms of style, which is a big reason linen and linen/cotton continue to be so popular.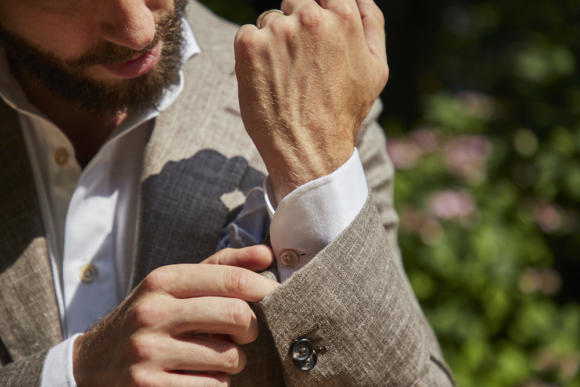 Two other options to throw in are seersucker, and chambray.
Seersucker is more usually seen in tailoring, but its waffley weave does make it light and breathable. The only disadvantage is style: not everyone wants a bubbly-looking shirt.
Chambray, meanwhile, isn't necessarily light and breathable, but it can be, and it's a good summer alternative for those that wear a lot of denim the rest of the year.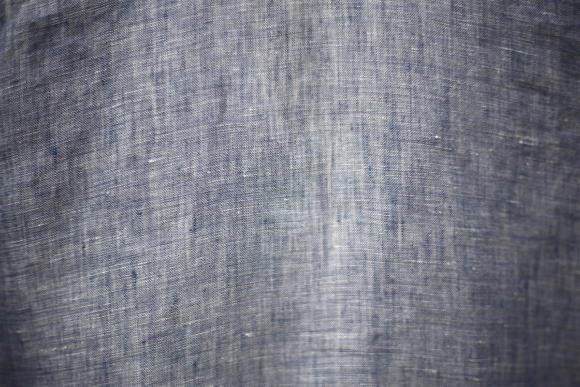 Finally, finishing on shirts can help in hot weather, either in terms of reflecting UV rays or in 'thermoregulation'.
Both are treatments that are done on the cottons – and something we covered more extensively in our article on performance fabrics. Linens are also available with anti-wrinkle treatments.
These options should not be simply dismissed, as they have greatly increased in quality over the years and often now have the same feel and breathability as regular cottons.
But still, personally I'd use fibre or weave to remain cool, unless you particularly dislike wrinkling (an issue with anything that has any linen in it) and any suggestion of transparency.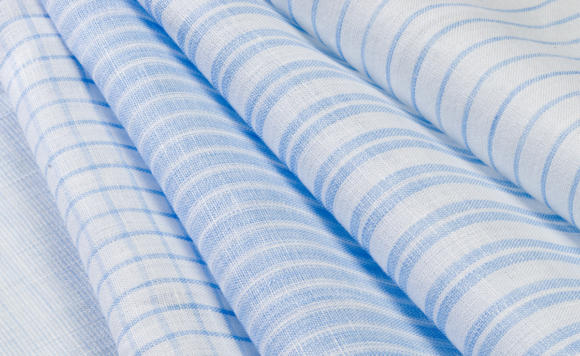 Treatments can also help deal with odour, but these suggested linens and cottons are so breathable that odour isn't usually more of a problem in the summer than the winter.
A bigger issue is longevity: being lighter and more open, a lot of these fabrics are more delicate.
But again, that's an area where linen comes into its own. Being such a strong fibre, it should last better than almost any cotton, and doesn't pill.
Linen also takes colour well, particularly natural and earthy colours – which can be an aim with summer shirts.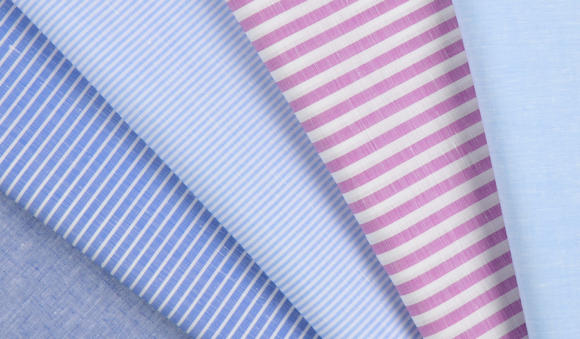 Overall, I'd say cotton/linen is the best general option for a versatile summer shirt, but it's worth having some shirts in other fibres for particular situations.
Linen is beautiful when freshly ironed, and perhaps best for holiday and other casual occasions. A weave like Giro Inglese is amazingly lightweight and suited to those that really suffer from the heat, or humidity. And zephyr can be both breathable and unusual.