The Permanent Style readership survey (with prize)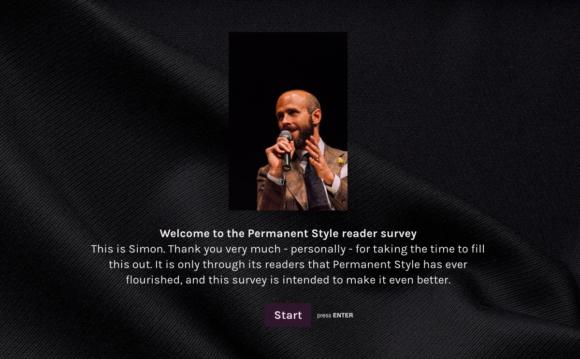 *Note: The competition is now closed, and the winner will be announced soon. Please feel free to carry on filling out the survey, but you will no longer be entered into the competition*
Permanent Style has always been about the readers.
Word of mouth was what got us started, and shares and links are still our best source of loyal, long-term followers. Indeed, it's what powered us to our biggest month ever in October: 618,000 page views. Thank you for that.
Feedback in the comments is also great: every post seems to generate at least two suggestions for future ones. At that rate coverage could grow exponentially.
But a lot of this personal, and anecdotal. Twenty commenters or fifty pop-up visitors don't speak for the hundreds of thousands that actually read the site every month.
So in an attempt to get more comprehensive, structured input, I've put together a readership survey for the first time - it is available here.
It asks for your opinion on what we should be covering, how we should be covering it, and in what format you'd best like to receive it.
It also includes some questions on spending and demographics, intended to help us show the real depth and power of the PS readership.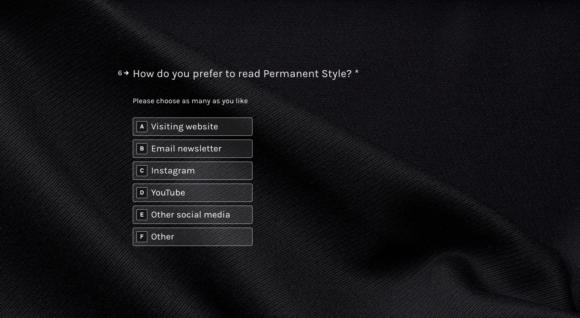 I would be enormously grateful if you would take 10 minutes to fill it out.
There are 32 questions, and you can rattle through them pretty quickly - or if you prefer, take your time and leave some very detailed thoughts.
As an extra incentive, everyone that completes the survey will be entered into a draw, with the winner receiving £500 to spend in the PS shop. Just in time for Christmas.
Of course, this will be just a sweetener to the dedicated Permanent Style reader - who likes nothing more than being asked their opinion about every brand, article and piece of clothing.
To everyone - whatever your motivation for completing the survey - I would like to repeat my personal, heartfelt thanks.
You are the reason this site exists, and I am deeply grateful. The survey closes in a week.
Simon
Use of data
The data received as part of this survey will only be used by Permanent Style and not communicated to any third parties.
(This is not a 'please take my watch survey' - which seems to be the latest way influencers are trying to make money.)
Aggregated data might be used in public information about Permanent Style - for example, saying in our media pack that the average reader age is 45 - but no individual information.
Email addresses will be used only to enter readers into the £500 draw. They will not be added to any newsletters or subscriptions.
(Though if you want to sign up to the weekly newsletter, of course, you can do so here)