The pop-up is back! With Bryceland's and more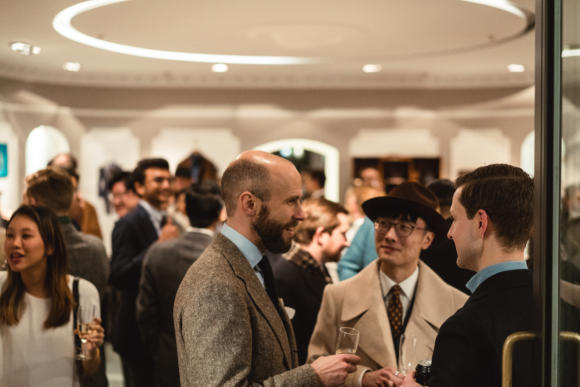 *UPDATE: Just to clarify, anything that is not available as stock in the shop, and so has to be shipped to a visiting reader from either PS or Bryceland's, will have free shipping. So no extra charge there. Thanks*
Some readers might have already seen the recent announcement that the 'Permanent Style Presents' pop-up is back. It starts in three weeks' time, in The Service on Savile Row.
We're taking over the whole back of the cafe, alongside Bryceland's, for 10 days - Friday October 29th to Sunday November 7th. (Opening times: 10-6pm, Sunday 12-5pm.)
And then we're bringing in some partners for half of that period each. So in the first five days, we'll also have Tony Sylvester's brand AWMS (berets, slippers and all) and all the lovely knitwear from Colhay's. That's October 29th to November 2nd.
Then in the second five days, we'll be joined by Scott of the Scott Fraser Collection and by bespoke shoemaker Masaru Okuyama - who has just relocated here from Hong Kong, so is now one of the first Japanese shoemakers to be local in London.
Finally, there will be some opening drinks on the Thursday, October 28th, from 5pm. If you fancy browsing things with a glass in your hand, that's the event for you.
I also learnt just yesterday that Ethan Newton will be able to fly in for the event, from Tokyo.
That seemed unlikely for a while, with his partner Kenji (also now living in London - below left with Ethan) having to run the Bryceland's concession. But Ethan is able to come, so pop in for in-depth chats about any of the Bryceland's products.
As ever, I will be on site most of the time, and can't wait to see you all. As with many things during Covid, time seems to have been compressed: I can't believe it's been two years since our last shop.
We won't have James or any J.Girdwood products this time, but Lucas Nicholson will be helping staff the PS section - someone readers might remember from the old Drake's shop on Clifford Street, and may have chatted to about PS products over the past few months when emailing the support team.
One point worth noting is that quite a few of the products in the shop won't be available to take away, but will just be to try on sizes and styles, before ordering online.
This is how Bryceland's worked in its previous pop-up shop, and it's very effective. It means they can afford to have all the stock on display, rather than only bringing over part of it. And it's the same with PS: at this point we just can't fit all the products, with stock, in a pop-up like this. So be prepared that some items might not be there to take away.
Of course, this is how the Scott Fraser Collection works with nearly all products, and Masaru (below) is a bespoke shoemaker, so he will have only samples on display (really worth seeing if you can).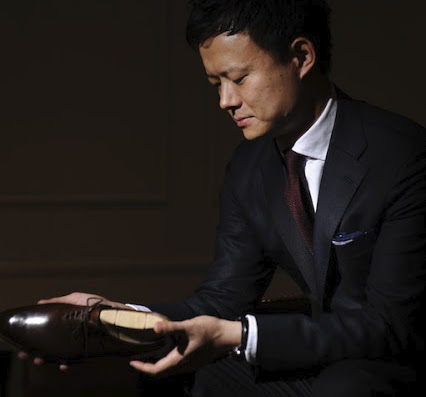 Colhay's will be the exception: it will have stock available of almost everything, the only ones requiring pre-order being the cricket jumper and the shawl coat.
If you have any specific questions, please ask below and myself or someone from one of the brands will answer.
Thanks again - see you there!