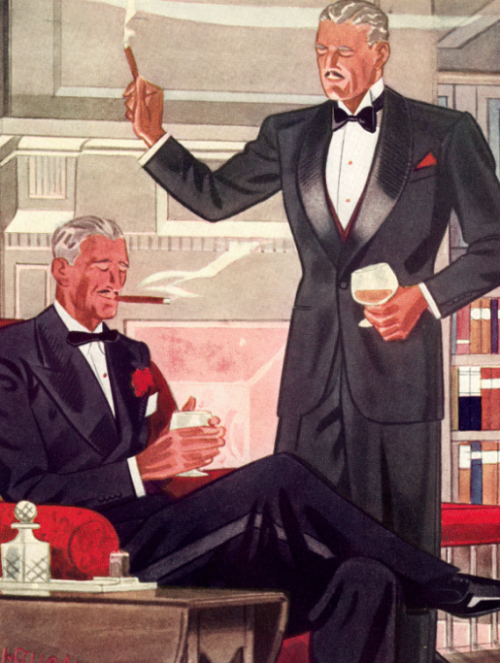 MC: Simon, I'm interested in your thoughts on a waistcoat pairing for my upcoming wedding. My tuxedo is single button, peak lapel (grosgrain). I have flexibility on the shirt style (wing or standard collar) and the waistcoat. Would you recommend a particular style to complement the single button, peak lapel jacket? Would a double-breasted waistcoat be out of the question under a single-breasted jacket? What about collar type and colour (black or white pique)? If you think a particular style of waistcoat would be best, I'd be interested in the style of shirt you'd pair with it as well. Thanks for your thoughts.
Right, let's start with the easy points. Most black-tie jackets have one button. So there is no specific style of waistcoat that is going to suit this style of jacket – they all will. The only thing to bear in mind is that you want the waistcoat to just peak over the top of the fastening of the jacket – not invisible but not protruding either. That will affect the height of the waistcoat you pick.
There is nothing wrong with a double-breasted waistcoat. A single breast is more conventional and normal, and a double is more formal – as it harks back to the waistcoats on full fig, or white tie, which were often double breasted.
As to the colour of the waistcoat, the normal and more conventional colour would be black. In the same material as the jacket, with the same grosgrain on the lapels (usually a shawl collar ending in squared-off ends). There is, however, a lot of flexibility here. The waistcoat could be collarless and it could be entirely in grosgrain. It could also be backless or not.
A white piqué waistcoat would be more formal and unusual. Nothing wrong with it, but generally white waistcoats were worn with white tie and black with black tie. But then, strictly speaking you could wear a white bow tie with black tie, as counter-intuitive as it seems. Personally, I would rather like a white waistcoat as it is not incorrect and is a little different.
However, the most important thing is the relationship between the waistcoat and shirt. The waistcoat is made to fit and suit a particular shirt, and this must be born in mind. So a white waistcoat, being very formal, must be worn with a stiff-fronted shirt and wing collar (also formal). Some may argue that the collar should be starched and detachable (very formal). With a black waistcoat you have a little more freedom – fold-down or wing collar is fine.
Also bear in mind the shape of the shirtfront – an oval front best suits a waistcoat with an oval neckline. And a straight up-and-down, pleated shirtfront usually suits a cummerbund best – both being less formal than the options just mentioned.
So the key is balancing the formality of your outfit. And match the waistcoat to the shirt, not to the jacket.