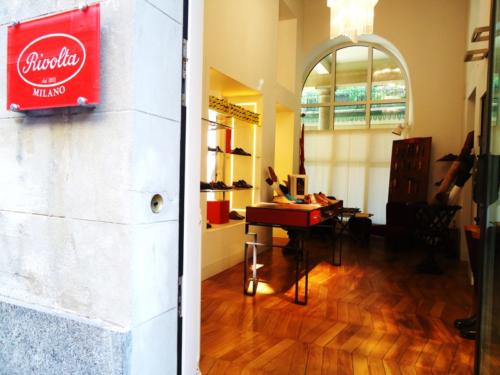 Milan can easily be underrated by men who love classic style. Given the choice of Italian cities to visit, they would always pick Naples – the home of soft tailoring, that very distinctive shoulder and companies like E Marinella and Kiton (not to mention all the dozens of smaller, local tailors). Even Rome, the home of Brioni and the original Caraceni, often gets more attention. Milan can easily be dismissed as the (albeit worldwide) centre of ready-to-wear, disposable fashion.
It deserves better, if only for houses like Bardelli, Larusmiani and Al Bazar – which mix the traditional, luxurious and idiosyncratic sides of Italian style respectively. But it should also be known for its shoemakers. In particular, the very traditional firm of Rivolta.
Sitting on Via della Spiga, in the centre of fashion's Golden Triangle and surrounded by Roberto Cavalli, Dolce & Gabbana and the rest, Rivolta is quietly trying to start its own little revolution in men's shoes.
Rivolta is an old, Milanese name. The company was founded in 1883 and survived both world wars making bespoke shoes for a strong, loyal client base. But it was forced to close down in the 1970s under pressure from mass-market producers.
Then in March this year, it was bought and relaunched by the son of the Rivolta family. He fitted up a new store in Milan, complete with a mini-museum of old Rivolta shoes. He found an artisan factory outside Florence to begin making Rivolta shoes again on the classic round-toed shape that was the firm's trademark. And he did something a little bit different – he installed an electronic scanner that would enable Rivolta to make bespoke shoes in an entirely new way.
Shoemakers have many different ways to produce shoes that fit. Ready-to-wear shoes usually come in several different ranges, all on different lasts and so different shapes – some will suit men with wide feet, others will be best for those with high arches. Those lasts will come in different sizes – better shoemakers will have more variations in size and in width.
Bespoke shoemakers, on the other hand, trace your feet onto paper, measure them and produce unique lasts (shapes) that are used to create shoes. You will have more than one fitting, often with a half-made shoe that can be tried out before the final pair is made.
Finally, some shoemakers (such as Lodger) try to combine aspects of the two – the shoes are not bespoke, but they come in many different sizes, and an electronic scanner is used to measure every aspect of your feet to find the right last, length and width.
Rivolta is different again. It applies the same scanning technology but uses it to create a personal (plastic) last. That last is used by shoemakers to create bespoke, handmade shoes. No fittings, no paper measurements. Just bespoke shoes in 40 days, for around €1400.
Customers can pick from several different colours of leather, and between calf, suede, patent and cordovan. There is also a tumbled calf that the firm refers to as its English leather, and a waterproof suede. You can pick from Goodyear-welted, Blake or Norwegian (where the welt is sewn to the outside of the shoe).
There are several different styles, including two Oxfords, a Derby and a monk. The shape is quite classic and round – redolent to my eye of the Budapest shoe made famous by Vass. There is also a new last being introduced soon. The shoes are all hand-clicked, lasted and finished, with the welting done by machine.
Although still a little clunky, Rivolta also has a floor-to-ceiling computer screen that allows you to select your colour, model and leather, and see it transposed onto your feet.
Now critics will say that bespoke shoes need fittings. As I have written on my blog Permanent Style in the past, there are men that have their own last made (usually at Springline in the UK) and use independent closers and makers to make their shoes for them. This is usually cheaper than full bespoke from Cleverley's, Lobb or someone else. Plus you have your own last that you can take elsewhere.
The problem is, it takes a while to get that last right. It usually takes one or two attempts with a half-made shoe, and resulting tweaks to the last, before you can find a perfect fit. Just like having a suit made: bespoke means fittings, often a few of them.
So can Rivolta's scheme work? Well, store manager Elena Invernizzi says they have had several very happy customers already, some of whom had had full bespoke shoes made in the past. So the method is obviously living up to some people's standards. Personally, I'll wait until I try it myself – or know someone that has. In the meantime, plaudits to Rivolta for a brave and innovative move in men's footwear.
[I have also since been informed that you can see the Rivolta machinery at work here: https://www.youtube.com/watch?v=dKzmhxFRaJI]