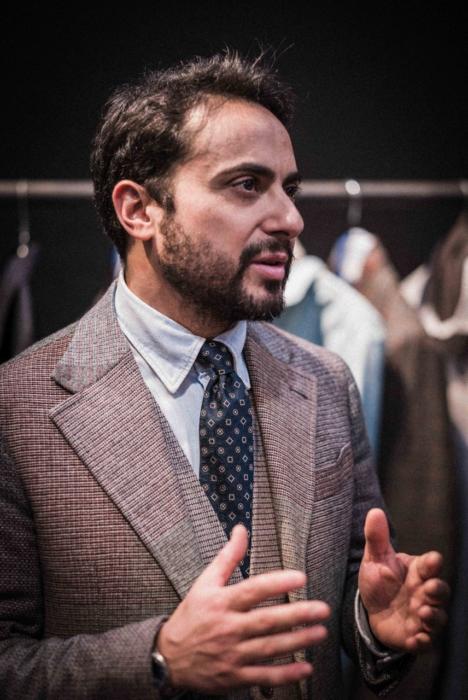 Salvatore Piccolo is best known as a Neapolitan shirt brand – his shirts and accessories are stocked in a few leading stores, including Trunk in London and United Arrows in Tokyo. But he started as a bespoke shirtmaker, learning from his mother, and still has several hundred bespoke customers around the world. Although RTW clothing is growing rapidly it is still almost half of the business.
I am always interested in companies that do significant amounts of both bespoke and readymade, and the way each informs the other. Turnbull & Asser, for example, recently introduced a slimmer shirt whose shape was based on analysis of recent bespoke orders. The only feedback most designers get is how many units they sell in each six-month season; bespoke customers tell you exactly what their perfect shirt is, day-in day-out.
Salvatore's shirts are all made to the same specification, whether bespoke or RTW. This means several aspects of handwork, about the minimum for Neapolitan bespoke: hand-attached collars, inserted sleeves, shoulder seams and buttonholes.
But he also adds in little points that he has learnt from bespoke orders. The sleeves, for example, all have a little tuck in the inside of the elbow so they are slightly bent. It's a tiny thing, but it makes sense: you rarely hold your arms dead straight.
Aside from the bespoke influence, Salvatore's biggest strength is his depth of involvement with cloth. His Oxford shirting, for example, is made by an Italian mill that had never previously made an Oxford; they came up with an original, ultra-dry finish together. The yellow shirt above was made with a cotton that used purely yellow thread where most others mix in white – as Salvatore wanted a highly saturated effect.
This is not quite the level of involvement of Charvet, for example, but it's a lot more than most shirtmakers, who just pick from mill's cloth books or occasionally design their own patterns.
I also like Salvatore's design aesthetic. Although most of the pieces are not things I would wear, they definitely have an internal consistency. I admire the whole if not the parts.
Note: Salvatore is not to be confused with Camiceria Piccolo, which is a shirting supplier in Naples that also makes bespoke shirts. Although the latter was founded by Sabatino Piccolo, its current owner is called Salvatore Piccolo as well – hence the frequent confusion.
Photos: Luke Carby