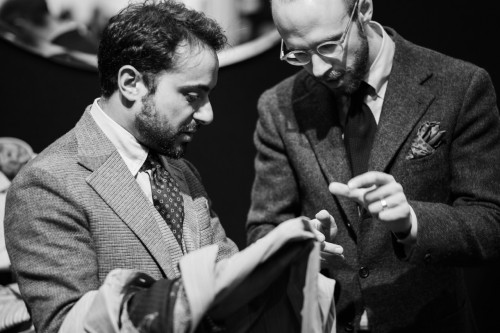 The comments section on each Permanent Style post is a good place to ask questions – ideally related to that post, but not always.
On Friday's post, for instance, a reader asked me where I had a particular coat made. On Thursday it was a discussion of the virtues of John Lobb. And on Wednesday I was asked why so few bespoke tailors are recommended between £1000 and £3000 (it's largely Graham Browne's rock-bottom pricing).
Readers also send me questions by email, and that is fine if they are long inquiries that may justify a post on their own. But most can be answered in a couple of sentences, and so are better suited to the comments section.
I value all these questions immensely, as they highlight areas I should be addressing and enable me to cover old ground in fresh ways. So thank you, and please do continue to comment. Even if you don't, it's always worth reading the comments yourself in case they answer your conscious or unconscious concerns.
Top: Commenting to Salvatore on the size of his stitching. Photo by Luke Carby