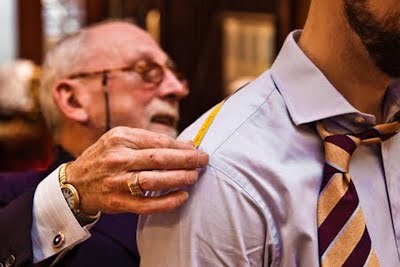 A reader recently asked whether he should have his shirt cuffs made bigger – or the sleeves shorter – in order to accommodate a watch. This is relevant to anyone buying a shirt, not just those commissioning bespoke.
The short answer is no, if you can help it. Unlike the sleeve of a jacket, a shirt sleeve relies on gripping the wrist to keep it at the correct length. This enables it to have excess cloth in the sleeve so that when the arm is extended, this excess is taken up and the cuff remains on the wrist. If a shirt cuff is made too big, it risks slipping too far down the hand, or compromising this excess in the sleeve.
Having a larger shirt cuff to fit over a watch is a poor functional solution in any case. The sleeve can often become stuck on the watch, or sit at odd angles. I learnt these lessons personally and painfully over several years of having shirts made at Turnbull & Asser.
At my first appointment with the lovely David Gale I was wearing a big sports watch (horrible thing) and he compensated by making both cuffs bigger, therefore sitting lower on the hand. Suit sleeves were subsequently cut longer too, to leave the required half-inch of cuff. They were even cut a little too wide, to accommodate enlarged double cuffs.
That cheap watch had far-reaching and long-lasting impact, one my wardrobe is only now, finally, shaking off. Shirt cuffs are now all considerably narrower, and the watches I wear with tailoring are slimmer and sleeker.
So I recommend against designing a wardrobe around a watch. If you have no choice – because your watch is large, and you will not sell it or cannot buy a second, dress alternative – be aware of the dangers of enlarging cuffs too far. Realise the dangers and do so in moderation. Then reconcile yourself to a lifetime of checking the time, then pulling your cuffs back down again.
[Pictured top: Mr Gale with a good dress watch, and effective shirt cuff, measuring me back in 2009]