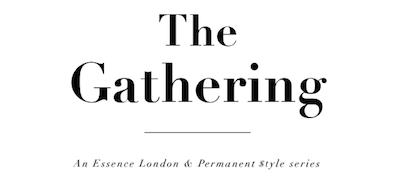 Next Monday I will be hosting the first in a series of dinners bringing together some of my favourite people across the industry. The event will be held at Club Cafe Royal, on Regent Street, and is co-hosted by Essence Lifestyle.
Essence Lifestyle is the luxury magazine (quarterly online, with an annual print edition) recently launched by Essence London, a club and concierge service for high-net-worth individuals.
The first installment of our series focuses on young designers, craftsmen and entrepreneurs. Many of the people you know or have seen on the blog will be in attendance, from Gieves & Hawkes, Levi's, Gaziano & Girling, Private White, Chittleborough & Morgan and Edward Green.
The event will be filmed and, in order to involve Permanent Style readers, will feature the attendees answering questions put by you. They can be about craft, style, the future of the industry or indeed anything else. Please make suggestions in the comments to this post, and we will let the guests pick which ones to answer.
There will also be coverage on Instagram – so keep an eye on our account on Monday evening.
Looking forward to seeing your questions.
– Thanks for the questions so far, in email and comments. Given less than half will be tailors, more on menswear or luxury more generally would be great. –