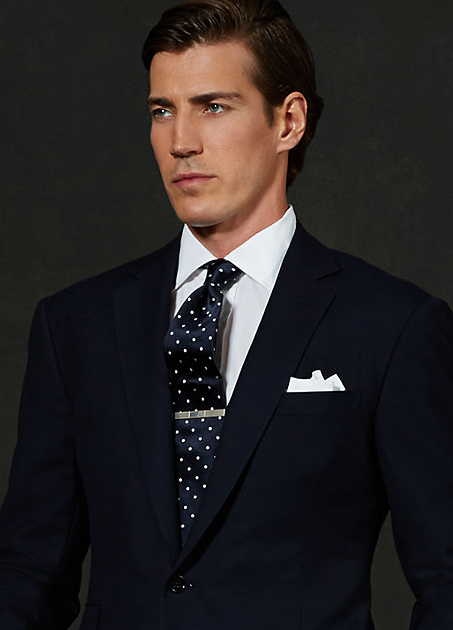 Not everyone can afford a bespoke suit, or even a top-end ready-to-wear one. But there are many things you can do on any budget to improve the look of your tailoring.
1. Buy conservative
If a suit isn't of the greatest quality, make sure it doesn't bring attention to itself in any other way. So buy single-breasted, notch-lapel, 2 or 3-button, plain grey or navy suits. Bright colours or patterns might seem like a good option for a cheaper product, but they will only highlight poor materials.
2. Ignore fashion
A similar recommendation goes for fashions. Watch out for lapels that are too thin, jackets that are too short or trousers that are too skinny. Not only does this bring attention to the suit, again, but it potentially shortens the suit's life if things become unfashionable or your tastes change. And if the suit only lasts two years you might as well have spent twice as much on one that would last four.
Remember, there's nothing wrong with a suit that goes unnoticed. Indeed to some students of elegance, good clothing should always do that. One should give the basic impression of being well dressed, but nothing more.
3. Buy for longevity
Many readers tell me they have been following Permanent Style for years. They often recount the pleasures of investments that accumulate, building up a quality wardrobe that only gets better as good things last longer. I'm sure they would all tell you to buy the best suit you can, and then to plan for longevity.
Ways to make your suit last longer include buying two pairs of trousers; brushing it down after every wear; hanging/packing it carefully; only dry cleaning it every 6 months to a year; and not wearing it when you're raging-steaming-falling-down-oh-there-go-my-legs drunk.
4. Have it altered
I say this all the time, but it bears repeating: find a decent alterations tailor and spend the money to have one or two adjustments made. The jacket should fit on the shoulders and neck primarily, and can then be altered in the body to fit. If there are big issues that affect the overall style of the suit – such as the width of the trousers – this might also be worth spending money on.
5. Wear decent accessories
Again, effectively a way to push the suit into the background. Don't buy cheap, loud ties. Invest in decent English-made shoes (and look after them properly too). Perhaps find some nice little touches that can be worn every day.
A friend of mine wears a vintage watch and his grandfather's gold cufflinks every day. The first was a birthday present, the second an heirloom. Neither cost him anything, but they elevate his business wear every single day. Such are the pleasures of being a man.