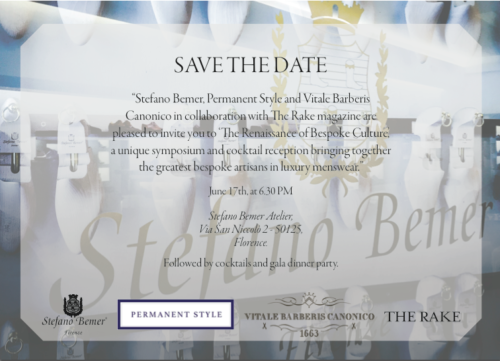 Next month, on June 17th, we will be holding a follow-up to our shoemakers event at Pitti in January.
This time we are focusing on the best tailors in the world, and I'm proud to say that we will have Cifonelli, Anderson & Sheppard, Panico, Liverano, Richard Anderson and Edward Sexton on the stage, presenting their bespoke cutting styles to the audience of buyers and media.
The event is being organised with Vitale Barberis Canonico and Stefano Bemer, and The Rake is the official publication.
As before, there will be a roundtable discussion and presentation at the Stefano Bemer atelier, followed by a party. If any Permanent Style readers would like to attend, we have 20 places available. Please email me at [email protected] if you would like one.