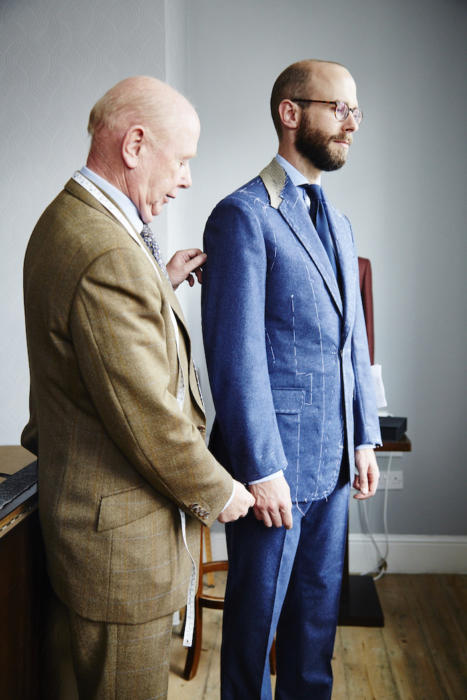 I recently had the basted fitting for my two suits from Whitcomb & Shaftesbury – the tailor that runs a workshop in India but has all the suits cut by the same person London.
They had offered to make me two suits – one put together in Chennai and one in Savile Row – in order to be able to compare them. There is a big price difference: £1360 for the former and £3040 for the latter (ex-VAT).
Of course, as soon as you know there are differences, you seek them out. You notice that the waistband of the trousers on the Indian suit is just canvas at the baste, where the London one has cloth over the top. It makes no difference at all to the final suit, but you focus on the differences rather than the similarities.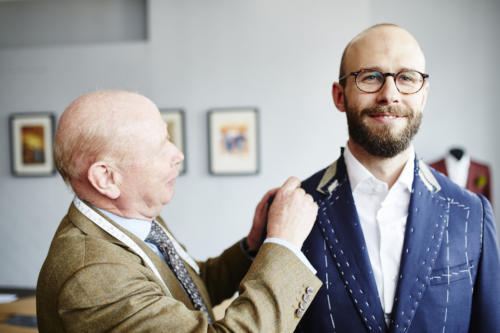 And there were a lot of similarities – pretty much everything was the same. The same hand-padding of the chest, the same canvas and horsehair, the same hand-sewn buttonholes.
This is no coincidence, as Whitcomb & Shaftesbury's coatmaker – Bob Bigg – has been going back and forth to India for years, slowly training the local women to sew in the same way he does.
"The biggest challenge was consistency and clean finishing," he told me over dinner that evening (with owner Suresh and cutter John McCabe, pictured here). "Their hand-speed was excellent, but they weren't used to having to sew with such precision. It had been more about volume, in the absence of any machinery."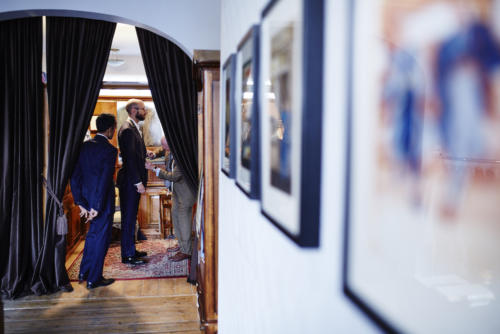 Bob, who has been a coatmaker on and around Savile Row for decades, wasn't sure he'd like India to start with, but has slowly taken to it.
"I just had to get used to the heat – and then the food," he recalled. "A lot of the locals found it surprising how I'd wear my jacket all the time, even when it was scorching hot, but I always find it cooler."
A lot of Bob's stories echoed things tailors have been telling me for years – in the UK, Italy or anywhere. How the hand holding the cloth is more important than the one sewing, as it sets up the cloth and maintains the tension. How it's always surprising how many ways there are to do the same thing, and usually one is no better than the other, just easier.
It's the same challenges, whether you're training an ex-fisherman in Chennai or a graduate in London.
It's still early days for the two suit, but signs are good that the Indian suit in particular (Whitcomb & Shaftesbury called it Classic Bespoke) will be a great value option for anyone looking to try bespoke for the first time.
Photography: Jack Lawson
More on Whitcomb & Shaftesbury, such as John's background at Kilgour, in the first post here