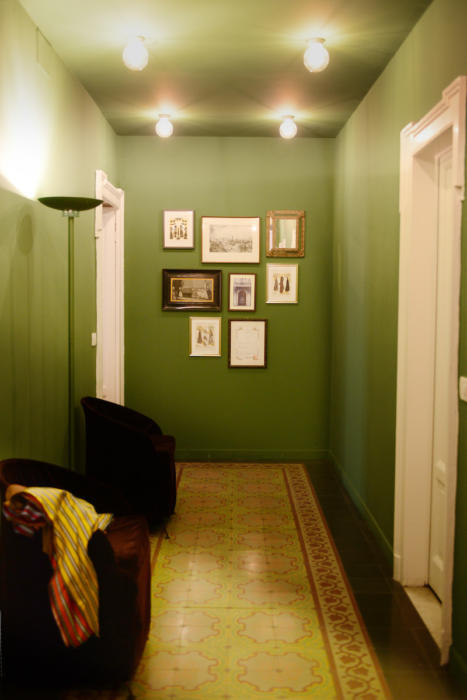 Bigi is in many ways what Drake's used to be before the expansion of its retail and collection: a small brand and a top-line tie manufacturer making for the world's top stores.
A third generation company, it has a workshop in the south of Milan run by Stefano and Paola Bigi.
Twenty-seven people work for the company, with 15 based in the workshop and a further 12 outside. Together they produce almost 40,000 ties a year.
My general awareness of Bigi was as an Italian tie brand that offered narrow ties - just because most of what I saw was 7cm, 8cm at the most.
But I've since learned they make every width (up to 10cm) and importantly the width doesn't vary much in the middle of tie - which determines the length of the knot (the key thing for me).
When I visited the workshop this month they had hundreds of designs on display, from big and bold to small and subtle.
A particular new area for them (as well as other tie brands) is variations on the plain grenadine, such as stripes and jacquard patterns. Given there are only four looms left in the world that can do a jacquard design on grenadine, it's an obvious selling point.
"We also try to improve little things all the time," says Stefano (below). "Paola and I look at a tie and ask ourselves, 'what can we do better?'
"So for the past two years, for example, we have been using pure silk in the tippings on ties rather than bemberg. It's a tiny thing, but it makes us happy."
The workshop is beautiful, and great to have so close to the centre of Milan.
Heavy doors, brass plaques and frosted glass. Walls filled with dozens of mementoes from almost 80 years in the business.
The wall of the showroom has an enormous piece of tapestry on one wall, which Stefano and Paola's mother created out of pieces of tie silk.
And in the hallway is a display which includes an exquisite piece of vintage silk weaving, depicting an Italian street scene.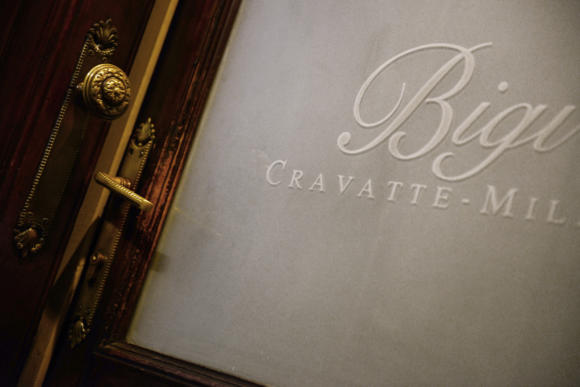 "There are maybe just four other people or workshops making ties in Milan now," comments Stefano Bigi - always the effervescent salesman, next to the quieter Paola (below).
"But most of those are getting on in age now; there is one across the street who works on his own, but he doesn't really take on any new work."
Stefano has been in the business long enough to recognise the virtues of ups and downs in the market.
"In the nineties there were lots of neckties around, but all the product was cheap," he remembers. "Now it's harder to sell ties because fewer people are wearing them, but the quality and appreciation are higher.
"I think I prefer it now. There are a few great competitors - like Drake's - but only a few."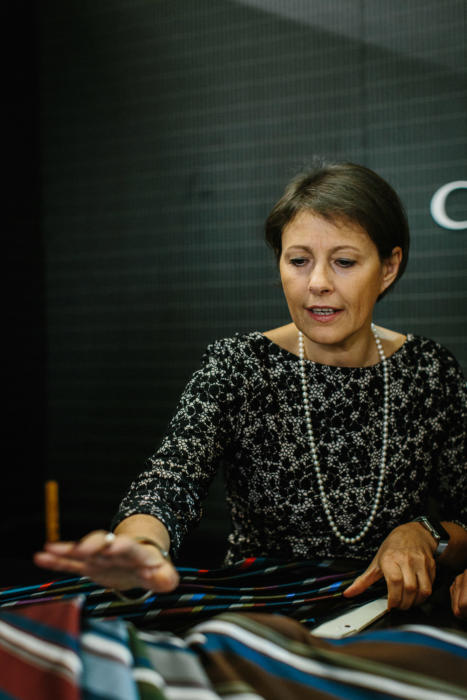 Oddly, Stefano says the Japanese market for ties took a big hit in the wake of the Fukushima nuclear accident in 2011.
In order to try and save power, the government suggested ("effectively an order, given it's Japan") that office workers should take off their jackets and ties so they could turn down their conditioning.
"It made a huge difference to the tie market - though thankfully not that much to us at the high end," Stefano says.
"Japan used to be the one place everyone wore a tie, but not anymore."
Stefano is also fond of quoting an old Italian saying about family companies: The first generation creates, The second continues, The third destroys.
"I only like it because hopefully Paola and I are proving it's not always true!" he says.
Although Bigi makes for United Arrows, Tomorrowland, Barney's and many others, many of the ties are under its own label.
There are in fact three names:
- WestPoint: The parent company, not used as a brand
- Bigi: Used in most places around the world
- StefanoBigi: Used in Japan as the Bigi brand was already in use
Bigi ties are also sold at No Man Walks Alone, Trunk Clothiers and Selfridge's.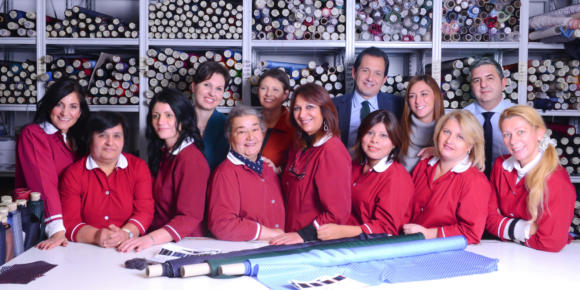 Photography: Workshop photos, Bigi; display pictures at Pitti Uomo, Jamie Ferguson @jkf_man