Shibumi ties, Burgos shirts and tebas – in the pop-up
I've noticed in the past year that a lot of my favourite ties are from Shibumi.
They're always on the end of the rail; they always get picked up first. Yet I haven't written about them for quite a while.
Having Benedikt (below) in the shop over the next three days is a nice opportunity to correct that.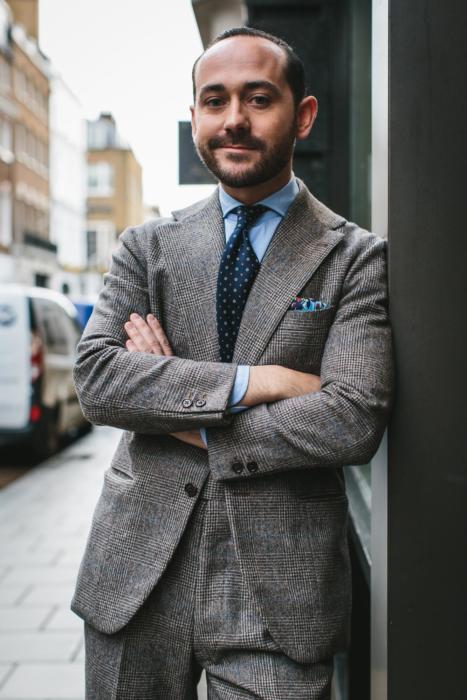 Although Shibumi offers a range of ties, a large proportion are made in a crisp printed silk that I find knot particularly nicely.
The knot sits well and stays in place. The dimples come easily. The blades hang rather than flop.
For those that like hand-worked details, the blades are all untipped and the edges rolled neatly by hand.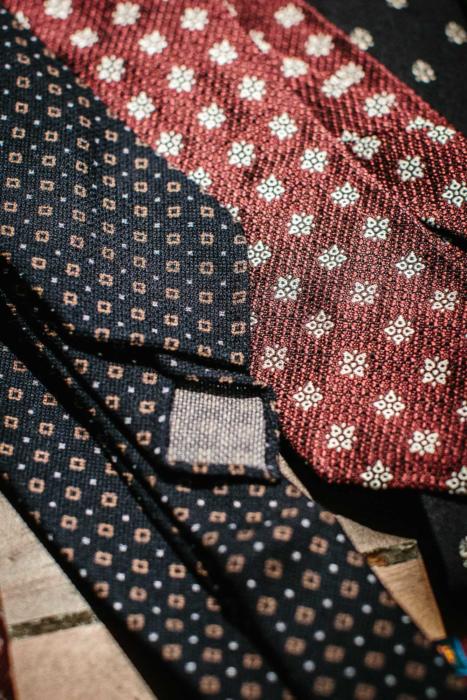 While it is these printed silks I'd recommend the most, there are also some unusual (but subtle) textured silks on display.
They're both shown above. The left-hand one is similar to a grenadine, woven in Italy, but with a little less texture and made in a silk/wool/cashmere mix that gives it a matte finish.
The right-hand one is what Benedikt calls an English grenadine: woven in England, it has similar texture to a grenadine but with a little more body and is a little denser.
The former is the kind of tie I would wear in day in, day out: dark enough to go with almost anything, a subtle pattern that will rarely clash with jacket or shirt, and with brown in the mix to pick up brown shoes.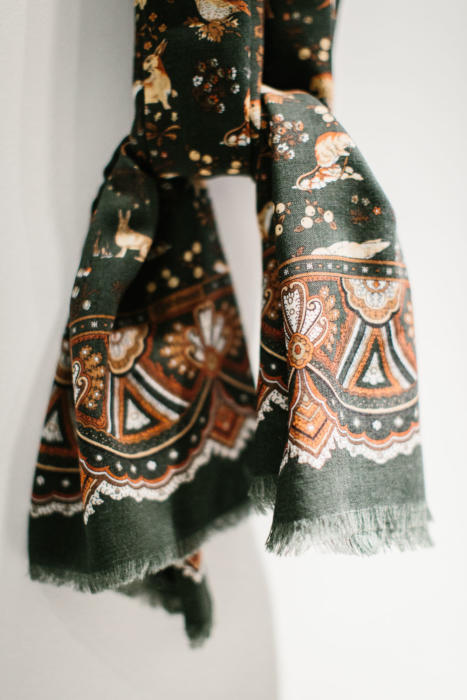 Benedikt also has some wool and wool/silk scarves (above), a big range of handkerchiefs, and some examples of his tailoring (below).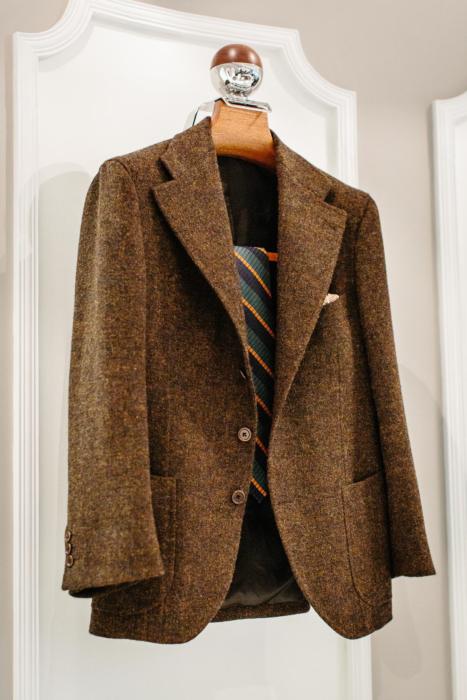 The last brand to feature on this - the last weekend of the pop-up! - is Carmen from Camiseria Burgos.
Carmen (below) was a last-minute addition, but it's lovely to have someone else coming in from abroad. The pop-up doesn't quite have the atmosphere of her storied shop in Spain, but her shirts and Teba jackets add a little old-fashioned craft to the place.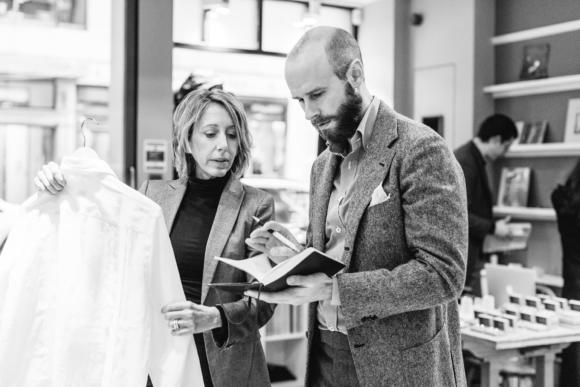 The pyjamas for example (shown below) have delicate hand-sewn buttonholes, instantly elevating them above most else in London.
The rest is machine made, but they're decent value at €284, and there are four sizes across a few blues and blue stripes.
Burgos is perhaps most famous for the Teba - an entirely unstructured shirt-jacket with a square shape and distinctive lack of gorge between the collar and lapel.
They're ubiquitous in Spain, worn over a shirt in the office in place of a jacket, and if you like the style, practical for anyone in a modern office.
Carmen has several colours, including navy wool with gold blazer buttons and cashmere jersey (€580).
There is also a new style of Teba, called the Domeck, which is a little more like a jacket - still no structure, but darts in the waist to give it a little more shape, two vents, and curved fronts rather than the shirt-like square cut.
It's a little more expensive, at €580 for wool.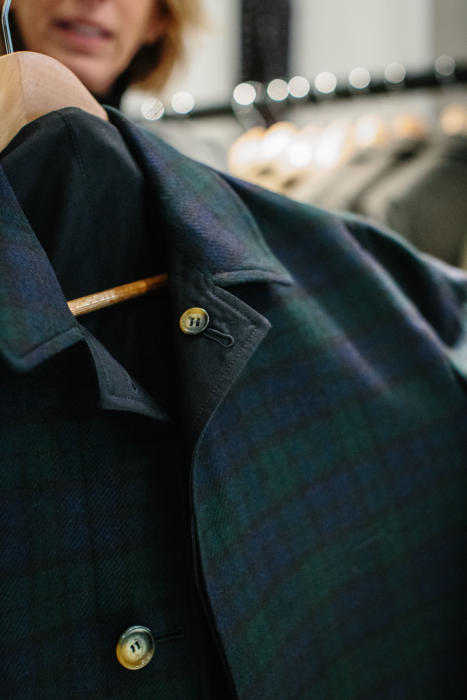 Carmen has brought over a range of reversible coats (wool to microfibre, €650) of which the Black-Watch tartan version is shown above.
On the shirt front, there are ready-made machine-made styles from €120, and both Guayabera and pop-overs. Plus boxers and safari jackets.
Together with Shibumi's accessories, Codis Maya's jewellery, and casual wear from The Workers Club, there's pretty much everything covered in the pop-up this weekend.
Remember, these brands are only here until Sunday, and then the shop itself closes.
I'll be in all day on Sunday (opening times 11am-5pm).
See you there.
Photography: Jamie Ferguson @jkf_man