First off, I would like to apologise to readers that this review has taken so long. There has simply been so much going on that it has been hard to find the time to prioritise it.
Now, to Charvet.
I had this shirt made last year, following two visits to Paris - one to be measured, and one for a fitting.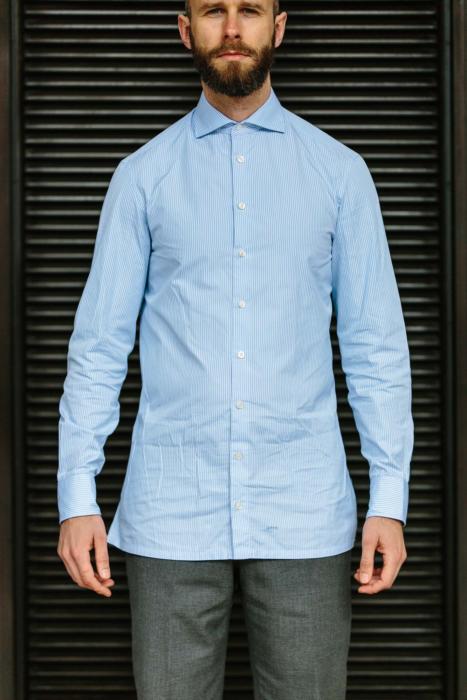 It was made in a fine cotton with a subtly shaded, closely patterned blue stripe.
The cloth is exclusive to Charvet, as most of the hundreds of bolts in the shop are, and this is undoubtedly one of the big selling points of the house.
You have to really care about your shirtings to want something that none of the standard books, offered by most shirtmakers, have available; but if you are one of those people, few places in the world compare to Charvet.
The staff, particularly Jean-Claude Colban himself, are also extremely knowledgeable, and can help the shirting obsessive get deep into shades of blue and casts of white.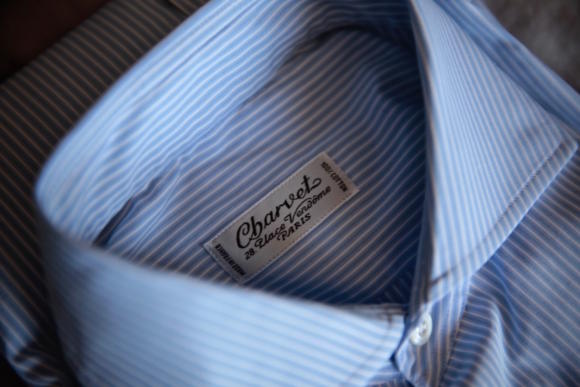 There is a clear attraction, then, in the materials and in the Place Vendome shop itself, which is one of the last great bastions of traditional menswear.
Charvet are also unusual in not requiring a minimum order for bespoke shirts - many require three, four or even six shirts the first time, to effectively cover the cost of developing the customer's pattern.
But beyond these points - and a last mention of how much I have appreciated the hospitality of Jean-Claude himself - it is hard to be that positive about the shirt. Particularly given the price point.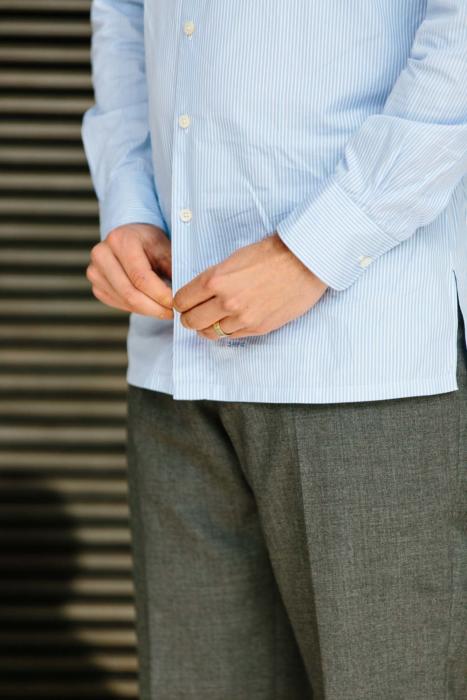 The fitting process at Charvet was more involved than any I have experienced elsewhere - as mentioned in my first post.
There was a fitting shirt in a cheap cotton, but rather than just pinning the changes on it or marking them on in pen (as others have done), the cutter used shears to cut away at the cloth, slicing sections and taping them back together.
This made it much easier to adjust the balance of the shirt - making sure the back and front were sitting at the same length.
And there is a noticeable difference in the fit of the final result. The balance is probably better than any other first shirt I've had from a bespoke maker.
But while the fit is very good, it's not perfect. The shoulders could do with being raised up a little, and being pushed back to avoid pulling slightly at the neck.
(Please don't try to read anything as regards fit into these photographs; if photos of tailoring can be misleading, those of shirts always are.)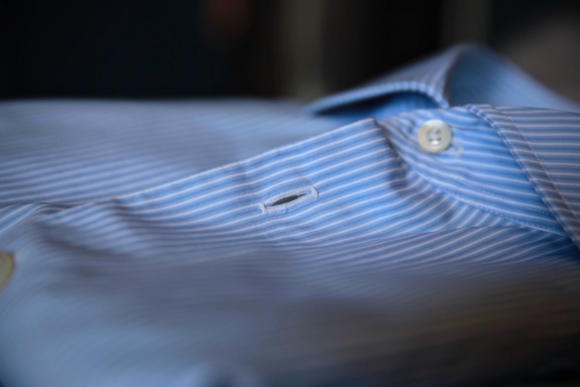 The area the shirt particularly suffers is make.
There is no handwork involved other than hand-attached buttons and hand-finished buttonholes. So the functional aspects (attaching collar, attaching sleeve) are all done (with great precision) by machine.
Attaching a collar in the round doesn't make a lot of difference (and certainly less than equivalent handwork on a bespoke shoe or suit) but it does make some.
The reason Charvet shirts don't have much handwork, of course, is that the shirtmaking tradition is more akin to the English one than the Italian, where everything is about the cutter and the fit, rather than the make. English bespoke shirts usually don't have any handwork at all.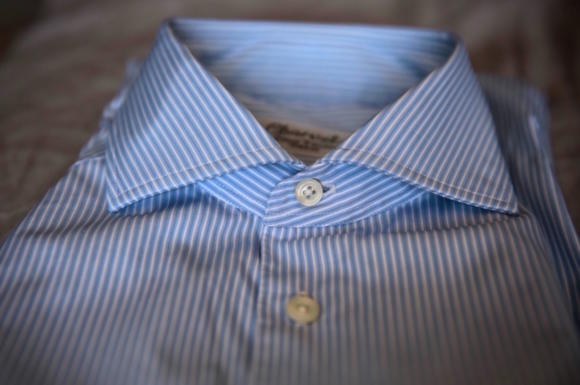 Lastly, I have some issues with the style.
We talked through many different spread-collar options - widths of spread, length of point, height of band - before settling on this one. Jean-Claude and his assistant suggested in suited the proportions of my face.
Having worn it several times, and considered their points, I believe it's a good option but I prefer my normal style with a higher band. You can see in the image above the height of the band, which is about 3mm smaller than my normal height.
(Of course, I could have chosen anything I wanted, but in order to create a useful review I usually go with whatever the tailor/cutter/maker suggests. Most men won't have used several shirtmakers and have firm opinions on what suits them, so the maker's advice is important.)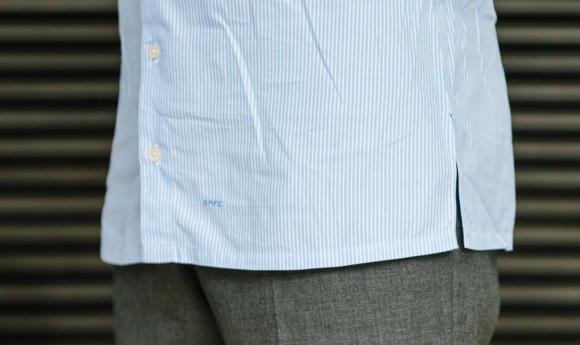 Again like English shirtmakers, Charvet shirts usually have floating linings in the collar and cuffs.
I tend to prefer the light fusing of Italian collars, because they are cleaner, no less comfortable, and adapt to how they are worn - a spread collar like this would roll around the collar of a jacket, for instance, and therefore look attractive even without a tie.
Jean-Claude suggested I try the lightest of their floating linings. But if anything that was the worst of both worlds: it still had the disadvantages mentioned above but with a softer, less clean finish as well.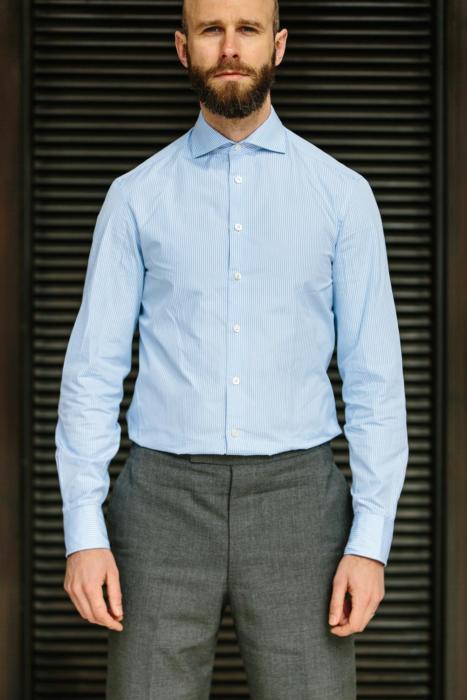 Finally, the price.
A Charvet bespoke shirt starts at €580 (made to measure €460).
Not only is that objectively a lot of money, but it is more than all the English competitors, and a lot more than the Italians I usually cover.
At the top end, a D'Avino shirt costs €350 (though with a minimum first order of three) and is simply a work of art in terms of the handwork involved.
Below that, Luca Avitabile is around €250 and Simone Abbarchi €150. All different services, all good value for what they offer.
Unfortunately, as much as I love Charvet and hope their Place Vendome shop is there forever, it's hard to say that about this shirt.
Photography: Jamie Ferguson @jkf_man
Shirt worn with navy-tweed jacket and grey Crispaire trousers from The Disguisery. Review of them coming soon.