Bespoke brass jewellery: Diana Maynard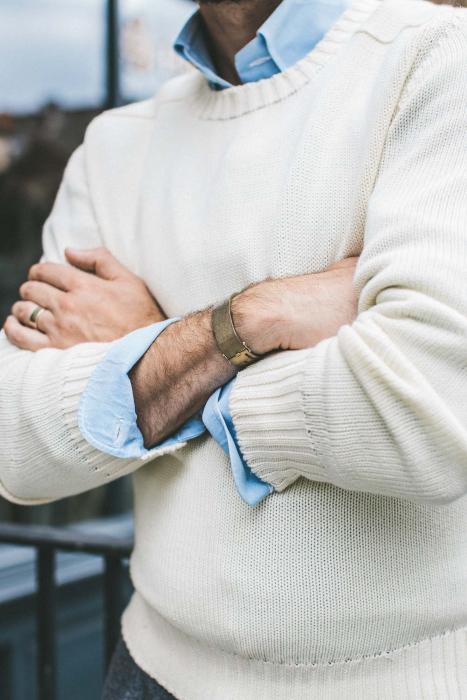 This probably won't surprise readers, but when I started looking to buy a significant piece of jewellery last year, I wanted something personal, bespoke and handmade.
I don't have anything particular against friendship bracelets; when I was a backpacking teenager I wore them, and my daughters occasionally make me one too.
But wearing 10 of them, when everyone else is too is a little sad.
Jewellery, in my opinion, should be personal.
It's something you wear next to your skin; that is warmed by it; that you will likely wear more often than any piece of clothing.
It's no coincidence that jewellery is often an heirloom, passed down through the family and therefore a real piece of who you are.
Or that there are traditions around jewellery that has to be given as a gift, rather than something you buy yourself.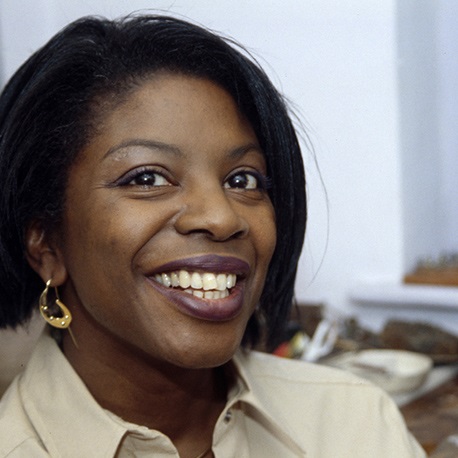 Looking for something unique and personal, I turned to my friend Diana Maynard (above), who makes our Permanent Style cufflinks but spends most of her time on bespoke jewellery commissions.
The bespoke process is perhaps harder with jewellery than anything else. The possibilities are endless, and the ideas highly emotional and often very abstract.
My rather abstract brief was that I wanted something finely made, but that would age well. That would look practical and natural, but still involve great craftsmanship.
This was not an easy concept, and we went through several sketches before we settled on a jointed, brass cuff.
The cuff would be made to the shape of my wrist, so it was personal and echoed the shaping of bespoke shoes and tailoring.
It would be made out of brass, as this would tarnish over time (though could always be polished up again if required).
Inlaid into that brass would be slivers of wood - irregularly spaced and in varying numbers on each of the four ends.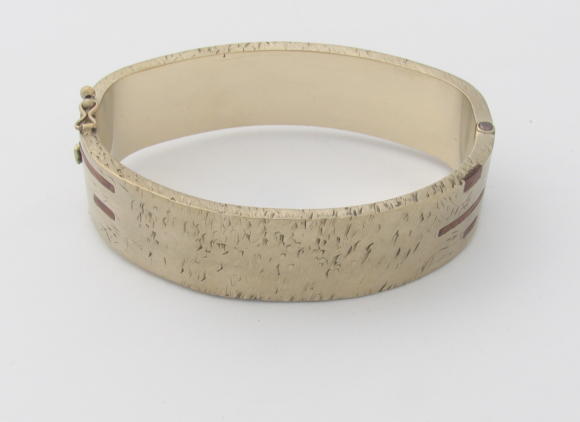 The shape and arrangement of these pieces of wood was drawn from old Art Deco designs - my favourite period for decorative art. (And fitting with the crenellated shape of the hinge.)
And the wood would also darken and age over the years.
The cuff was beaten by hand, creating a texture around the outside that was beautiful and unique, but also redolent of natural wear and tear.
And as final, guilty touch of luxury, there would be tiny diamonds set into the hinge.
The design worked well from the start. Once Diana understood what I was aiming for, the texture of the wood we chose and the beaten pattern came naturally.
The wood had to be soaked, set in and held to gain the shape of the cuff (see image with black pins above), but that only took a couple of iterations.
The hardest part was getting the shape right.
Your wrist is flatter on the top than it is on the bottom, but it also changes every time it rotates.
You wouldn't think it to feel your wrist in motion, but the changes are significant.
It therefore took rather longer to get the shape right, with several try-on sessions.
Thankfully, the result is perfect. On the hottest of hot summer days, my wrist swells and is too big, but the vast majority of the time it fits perfectly - clearly flush with the wrist, but with enough room to move comfortably.
I've had the cuff for a few months now, and it's also interesting to see how the materials have aged.
The wood has darkened slowly and with subtle variations. The brass as a whole tarnishes quickly and has a particularly nice pattern on the inside.
But interestingly, it doesn't darken more within the beaten pattern, which we both expected.
The cuff cost £2900. A lot of money, but still relatively cheap in the world of bespoke jewellery.
The whole process took just under a year, with several trials and prototypes. And it was this design time, consultations and particularly the handwork that were the biggest aspects of the cost, rather than the materials.
I completely understand if others don't like the result. They may well consider it silly, pretentious or overwrought.
But I love it. It achieved all my aims, and is a unique, highly personal piece of art that I wear every day. It feels part of me.
Diana's work can be seen at www.dianamaynard.com
Photography: Lifestyle shots, Jamie Ferguson @jkf_man; Studio shots, Diana Maynard