Artists' clothing: Comfortable, practical, modern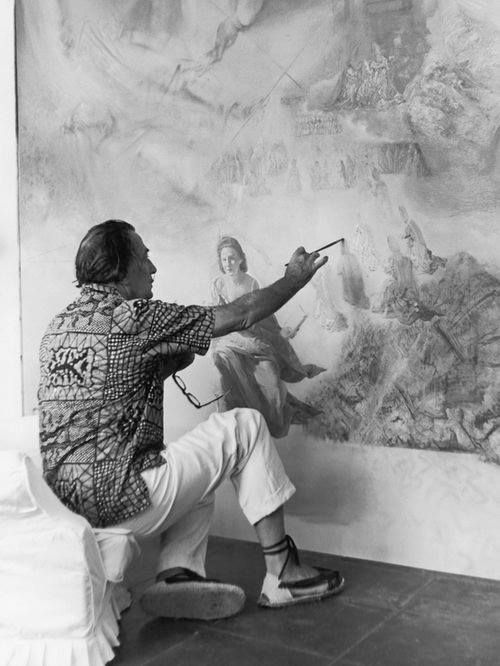 By Tony Sylvester
Sitting down to write today, I am wearing my favourite recent piece of clothing. Brand new from Bryceland's, the knee-length linen Farmer's Smock (below) might be a bit of a departure from what you expect from the design team of Ethan Newton and Kenji Cheung, but it nevertheless fits their manner of doing things to a tee. Similar to their Towel Shirt, it feels like an undiscovered item eager to be reinterpreted for the modern wardrobe, and I'm all in.
Despite the modest name that reflects its humble origin, the smock feels Bohemian in spirit rather than workaday. All the elements of the piece, from the bib front and stand collar to the gathering at the cuff and yoke, put one in mind of a fin-de-siécle painter more than the French labourers who originally wore such garments. But maybe that's no surprise, considering how 'workwear' has been co-opted by artists over the years.
I've tried the smock loose and billowing over old beaten-up jeans and paired with sandals one day, and tucked into a pair of high-waisted black-linen trousers with Belgian loafers the next, highlighting its similarities to a dress shirt. Or simply with pyjama shorts and grecian slippers, as today.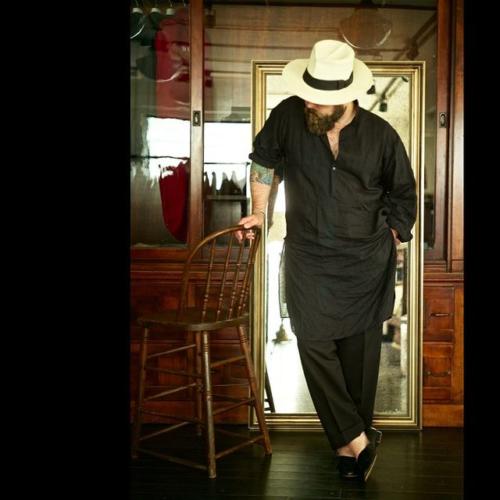 In the chapter 'Dressing like an avant garde artist' in his superlative A History Of Men's Fashion, Farid Chanoune notes that at the turn of the Twentieth Century, "a metamorphosis occurred under the triple aegis of youth, sport and art". The beginnings of this modern age were driven by a new creative generation, weary of the old world.
How did they dress? They "drew on workers' and tradesmen's attire - corduroy pants, blue smocks and overalls" in an effort to break free of bourgeois notions of class.
It didn't hurt that workwear was both comfortable and hard wearing as well as being 'of the people'; this was a functional as well as a creative choice.
This legacy is still with us today. I'd wager a lot of readers can get away with wearing navy 'chore coats' based on bleu de travail to meetings instead of sports coats or suit jackets, which to me speaks to the association with artists rather than the jacket's workwear origins.
I am fortunate enough to have never had a job that demanded a code or uniform - at least since stacking shelves as a teenager - so dressing has always been a question of personal aesthetics rather than a regimen. I have been lucky to be able to create my own image. With this in mind, I have purloined much from artists when it comes to my wardrobe.
I've pilfered Picasso's Orcival Breton Stripe (above), Joseph Beuys' Lock & Co felt fedora (also above), Dali's laced espadrilles (article top) and Jackson Pollack's Weejuns (bottom of the article). But probably none have taken such a prominent spot in my wardrobe as the Forestiere jacket by the sadly defunct Paris brand, Arnys (below).
Originally commissioned by the artist and architect Le Corbusier in 1947 as a uniform jacket, he took as the starting point the classic French gamekeeper's moleskin or cord jacket (in this case one worn by Gaston Modot in the 1939 film La Régle Du Jeu).
Simplifying its construction, he added a mandarin band collar, patch pockets, elbow pads and a kimono sleeve for ease of movement. Over the next 50 years, the Forestiere became a French 'Bobo' (Bohemian Bourgeoisie) staple, beloved by politicians and men-of-industry alike.
My cream-linen summer version (below) is simplicity personified: loose of fit and 'worn in' (a polite way to put it) where the winter iterations are plush affairs in autumnal colourways with contrasting linings. Mine came from the Paris-based vintage dealer Chato Lufsen, who also make a spot-on repro version called 'La Bores'.
This is an article of clothing that can slot seamlessly into a wardrobe, taking on a similar role to a chore coat or unstructured sports jacket.
Most of the modern brands I admire give a nod to these artistic traditions, whether it's implicit mood-board aspiration or explicit pieces named for a painter or poet.
Kentaro Nakagomi's label Coherence is one that makes no bones about its mission: a series of seriously quality coats taken directly from portraits of 20th century artisans and writers; Duchamp, Corbusier (again), Camus and Hemingway have all featured heavily.
One of the most eye-catching examples from the past year is the 'Mitsou', an oversized coat in sailcloth canvas that owes as much to a craftsman's shopcoat as an overcoat (below, top), and is based on a particularly splattered, wrinkled and threadbare coat worn by the Polish-French painter Balthus in a portrait in 1948 by Irving Penn (below, bottom).
I've always loved this photo. The defiantly louche artist reclining, cigarette in mouth, his disheveled coat tied up with string and buttoned to the throat, perhaps to keep the cold at bay in his garret.
A much more enticing inspiration for an overcoat purchase than some aristo horsing it up on the polo field.
On this theme, the fashion journalist Charlie Porter has just published What Artists Wear on Penguin. The clean stark cover features Georgia O'Keefe's suit seemingly floating in the void, the graphic design consciously echoing the secondary school curriculum fave Ways Of Seeing by John Berger.
There is a lot of Berger's tone in Porter's writing here too. It has a breezy, conversational style, heavy on opinion. He elects to cover a lot of ground rather than going in depth, giving the book the feel of a transcribed lecture or a BBC4 mini-series.
It is most certainly a book about art rather than 'style', but its sentiments echo a lot of what we've discussed above. The concerns of practicality and function, the idea of dressing as role play, the symbolism of how we present ourselves to the world.
I especially enjoyed the delve into the lounge suit as the "standard of authority" in male dress - a benchmark to be subverted or accepted, as Porter puts it.
Of particular note is the quiet surrealism of Gilbert & George's complimentary, but not identical, check suits, and Alberto Giacometti's "clothing of Male respectability: tweed jacket and flannel trousers" (above): a conservative sartorial choice undermined by the fit and condition the sculptor elected to wear them in.
As Porter writes "Giacometti's jackets have style from their spacious cut, the aged softness of the cloth, the wilful shambles that overrides any smartness, the relaxed balance of his baggy pants".
As a man who wears extraordinarily nice clothes in an almost inelegant manner, this resonated with me deeply.