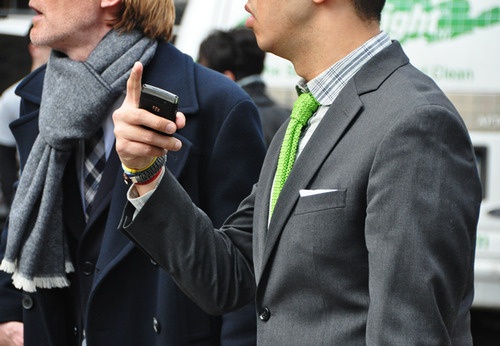 I'm in New York and spring is in the air. To be fair, spring was in the air last week in London too. Suddenly everyone seems that little bit more optimistic, as they stand on the street with their upturned faces bathed in sunshine.
Sartorially there are many ways to celebrate this change of the seasons. Brighter light means brighter clothes or lighter clothes.
I tend towards the lighter colours in my wardrobe. Out come the biscuit-coloured linen jackets, the pale ties and the white trousers. For a precious day or so (or less than that, this is England after all) I can pretend I live in Naples and am sipping espresso or wandering boulevards in the sun.
But a colleague recently reminded me of the power of brighter, rather than lighter colours. Strong, fruity shades of orange, pink and green are pretty much impossible to wear in any other weather. They stick out like a sore (glowing) thumb.
Bright colours require careful handling though. The key to wearing them well is grey.
Grey is the most versatile and kind of colours. That's why a mid-grey suit will flatter more skin tones than navy (the two standard base colours for men's suits). Navy looks smarter, is perhaps more slimming and is usually the default choice; but grey flatters more people.
The contrast is lower. Those with pale skin are less likely to look washed out. It makes pasty skin and tanned skin alike look darker and healthier.
So a mid-grey or light-grey suit is the best accompaniment for bright colours. It provides a neutral background for the bright oranges and greens to hammer against. In fact, the Express website (where the images pictured are taken from) automatically suggests mid-grey or light-grey worsted trousers as the ideal match for its bright shirts. So someone there has obviously got their head screwed on when it comes to combinations.
The addition of a white handkerchief or a dark, striped tie enhance the effect, containing and controlling the vibrancy.
When I do wear bright colours, I tend to do so in a handkerchief or a tie. I have always been a big fan of green or orange ties, for example, worn with a Bengal-stripe blue-and-white shirt. Or a bright paisley pocket square brightening up an otherwise conservative grey suit/white shirt combination.
But if bright shirts are your thing (and you're part of a long, distinguished history of men on Jermyn Street) then grey is the background you're looking for.