Rule 6: Black tie should follow the rules

In my previous post, one reader commented: "You did a good job of pointing out common 'sins' of black tie attire, yet I feel you could explain better why these things are sins.
"I understand that you might call tradition the entire point of black tie, but I'd be interested in hearing what the actual downsides of breaking these rules would be."
This is a great point. Yes, to a certain extent tradition is the point of black tie. It is one of the few last bastions of dictated dress, where an actual sense of propriety bounds one to wear certain clothes.
Beyond some award events, balls and Ascot, nowhere is the modern man more restricted to one particular mode of dress by his fear of offence.
Whether that is good or bad is debateable. But like all the rules I have described in this series, the rules of black tie are there for practical reasons.
Black tie aims at two things. First, make the man look as smart as possible – to be appropriate to the importance of the occasion. Second, create contrast in material and texture – to create striking effects in dark rooms or under bright lights.
So what makes a man look smart? Well, custom has always been that a shirt is less smart than a jacket. And you can see why: thicker, less crumpled material in a darker colour.
So keep the amount of shirt on display to a minimum: keep your jacket on and wear a waistcoat or cummerbund to cover the triangle of shirt material that appears below the button.
This is also because the messiest part of a man's shirt tends to be around the waist, where it untucks, and the untidiest part of the trousers is the waist where they fasten.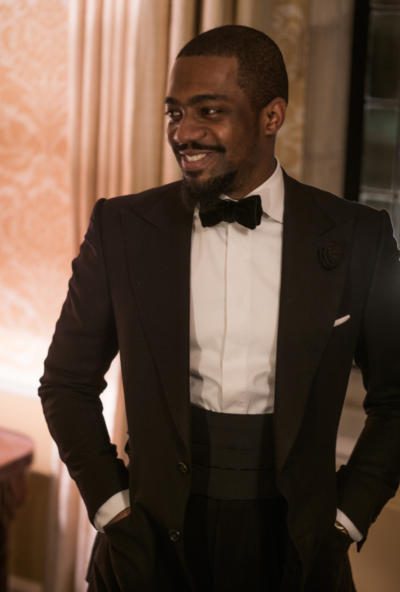 It is hard to dispute that a long, clean silhouette created by a waistcoat and trousers is smarter than one without the top half.
Other things that make a man look smart are a stiff shirtfront (stiff being smarter than soft) and calf-length silk socks (a smoother texture and no wrinkles).
The second aim of black tie, to create contrast in texture, is achieved by a matte finish to the suit and trousers, contrasting with shiny lapels, trouser seams, bow tie and shoes. Hence the reason for patent pumps or Oxfords.
(Also note that the seams to the trousers are covered as this is considered smarter: reveal as few of the fastenings and workings of a suit as possible. This is also why the buttons are usually covered in the material of the suit.)
As to my second sin, notch lapels, this holds no practical purpose other than to distinguish black tie from the lounge suit. It is sharper and more rakish. I think it is worth maintaining these differences, but worth recognising that there is less practical reason for it.
So when you break the rules of black tie – by leaving the cummerbund at home for instance – you should now be aware what you're lacking in the overall sharpness of the look.