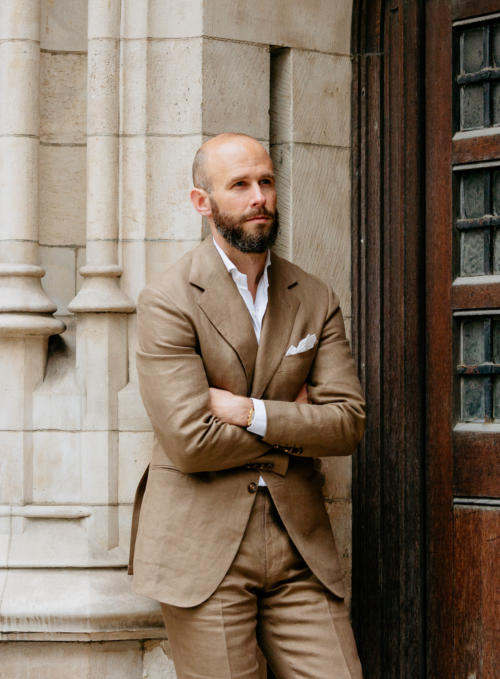 This is a new installment in the series 'The rules and how to break them', which has been a little neglected in recent years.
It's a great little guide, exposing myths of menswear and calmly explaining the rationale behind advice that is normally just shouted (with a surprising amount of consternation and no nuance).
The guide – which you can see here – explains conventions such as 'no brown in town', 'no white after Labor Day', and others. As I write this I can think of several more we should add.
Today, we're going to talk about wearing suits without ties. Why some say you should never do it, the reasons behind the opinion, and as a result the ways it can be done intelligently.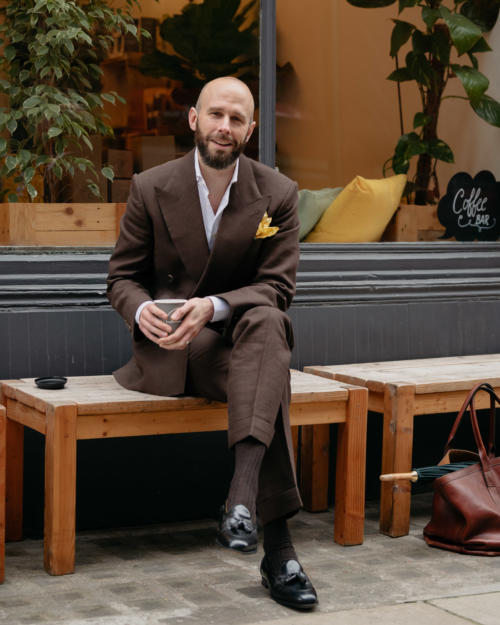 Three years ago, when I still worked at a financial magazine in the City, the tieless look was in full swing. On a Friday night after work, bankers and lawyers would be standing outside the pubs, pints in hand, wearing dark suits, white shirts and no tie.
It was a terrible look. They were all the same and they were all boring. Without a tie, they had lost the one thing that forced them to make a choice in the morning, and express some personality.
Suits and shirts had to be conservative, but the tie was a shiny, patterned and even brightly coloured decoration. And now it was gone.
This is one good reason people dislike suits without ties: the tie is a beautiful thing, and its demise is a loss to culture. When will so many men wear such delicate, decorative pieces of clothing again?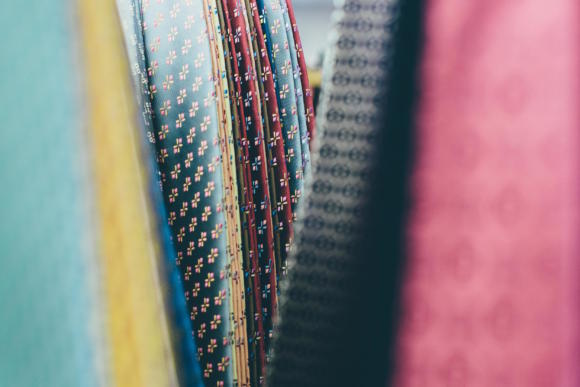 The bigger argument, however, is that a suit is simply incomplete without a tie.
This is also part of the reason those office workers looked so dismal: they gave the impression of having just left off one piece of clothing out of laziness.
The suit is a big dark block of colour, tailored to lead the eye pleasingly towards the face. As we go up there is a pale shirt, and then usually a necktie as the triumphant end of the journey.
Without a tie, it can genuinely feel like something's missing from the top of the outfit.
I don't think this is just a question of convention – of what we're used to. There is something about the architecture of a suit that looks best with a neat tie at the collar. Separate jackets and trousers don't have that problem, as the outfit is broken up.
For that reason, they're often a better choice if you're not going to wear a tie.
A suit is also, usually, a sharp and finely made garment, kept pressed and buttoned. An open-necked shirt can seem out of place with that aesthetic, in the same way as a suit that is misshapen, badly fitted, or never done up.
These are all good and valid reasons for wearing a tie with a suit. I think they should make any well-dressed man think twice about not doing so, and take every opportunity to add one.
But, as with all these rules, that's all there is to it: there are no absolutes. A suit can happily be worn without a tie, and the key to doing so is to consider these same reasons of why a tie looks good.
First, a tie accentuates and finishes off the sharp, smart look of a suit. So if the suit in question is more casual, the reasoning loses power.
A cotton, linen or woollen suit looks much more comfortable without a tie than a worsted one. The same goes for a suit in a more casual colour – basically, not navy or grey.
With my linen from The Armoury above, for instance, the suit looks great with a tie, but also very natural without one, given its material and colour.
The suit below from Kenjiro Suzuki in Paris is more borderline: it's cotton, a casual material, but dark navy in colour. I was fine wearing it here without a tie, but I was conscious that it would have been very plain without a pocket square or some other decoration.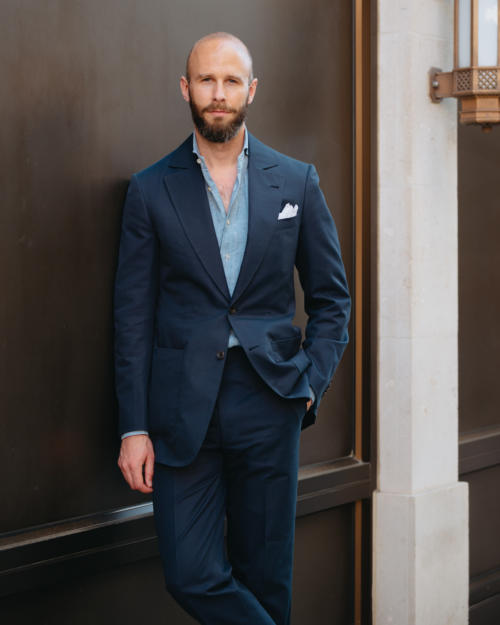 These two examples also point to another good reason for wearing suits without ties, which is temperature.
Exposing your throat to the air is very cooling, given the veins that pass close to the surface, and a bigger factor in the Summer than an unlined jacket. So it looks and feels far more natural to be tieless in the heat.
The same goes for your ankles, actually, which is why being sockless is so practical as well. And in fact a suit and tie with bare ankles is often an odd look (a mistake I've personally made in the past).
Good reasons for going tieless with a suit, therefore, include trying to being casual and trying to keep cool. I do so much more in the Summer, as demonstrated by the fact that most of these PS images are of Summer suits.
I do wear Winter suits without ties as well, however, as with the example below – my brown donegal-tweed suit from Dalcuore.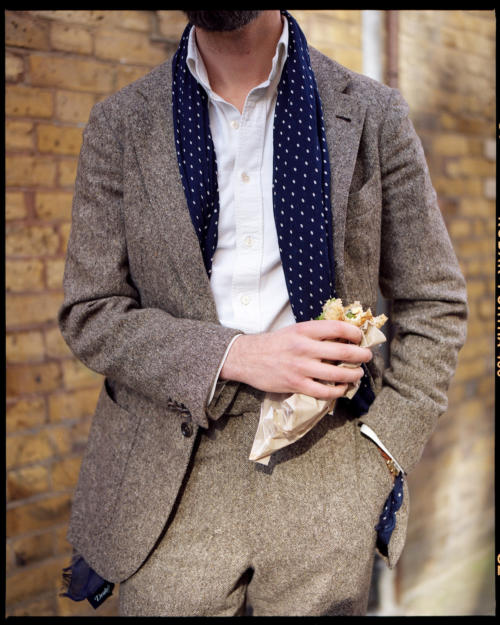 This outfit illustrates a last aspect of suits without ties, which is that it helps to replace the tie with something else.
Those City men looked drab without their ties, but they could have compensated by wearing more interesting shirts, a piece of knitwear, or another accessory like a scarf or handkerchief.
This might have been tricky given their dress code, of course, but where permitted an alternative accessory can make a big difference. That Suzuki suit of mine might have suited a more colourful pocket square, and it helped that the shirt was indigo linen.
The donegal Dalcuore suit is much improved by the navy spotted scarf (modal/cashmere from Drake's).
The particular advantage of a scarf, of course, is that is not as flamboyant as a pocket square, nor as smart. The suit can remain much more casual and everyday.
Indeed, the scarf can look purely practical, though I'd encourage men to explore scarves that aren't only required to keep their necks warm.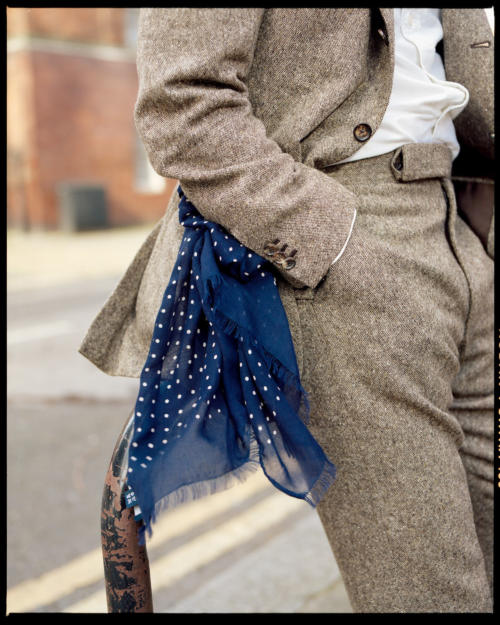 Other accessories that can help include pins, sunglasses in the breast pocket, and a sleeveless cardigan.
Casual shirts help too, like the black Friday Polo worn below with my Vestrucci flannel suit below, or a denim Western shirt.
Patterned shirts can also be good, though personally I find they work best with Summer suits. Somehow with a Winter or smarter suit they don't quite dispel the impression that something's missing.
I'll close with the mantra that began this series of articles, back in 2008: "Rules are there for a reason, but there is nothing wrong with breaking them. It's often only when you understand the rules that you can break them effectively."
I've paraphrased slightly (I think my grammar might be improving), but still it's nice to know that 13 years later, the mantra still holds.