This is Seb. Sebastiano really, but Seb to us. Because we're just that fond of him. Sebastiano is head of shirtmaking at Kiton, overseeing the 40+ team of cutters and sewers that makes all of Kiton's shirts in Arzano, just outside Naples. His full name is Sebastiano Borrelli. He is a scion of the famous Borrelli shirtmaking family, but left to join Kiton because of an encounter with the rather inspiring Ciro Paone, Kiton's founder.
"He said to me, 'how do you make the best shirts in the world?'" Seb recalls. "After some discussion of technique and manufacture he stated, 'I want you to set up a shirtmaking department for me. You will have complete freedom to do whatever you want; cost is not an object. Just make the best shirts possible'."
That kind of offer is inspiring, but it also brings a sense of responsibility: "I remember that always, that desire and trust in me," Seb says. "It's what drives me to innovate constantly."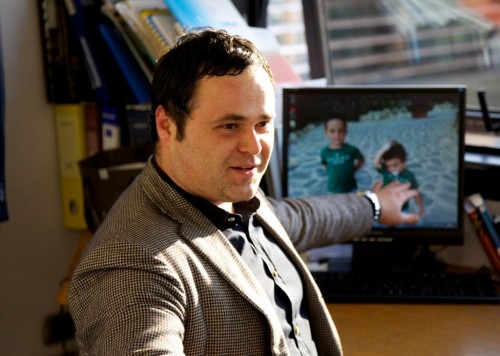 Recent innovations around the department include a long-sleeved polo shirt in gossamer-light cotton. Cut exactly like a shirt but with a short, square body to enable it to be pulled on over the head, the model was designed to commemorate the recent anniversary of Italy's independence. The gussets and cuff plackets are finished with hand-sewn silk in red, white and green. Seb is also experimenting with thick shirt-jackets in woollen flannel and jersey cloth. The former look like good old American workwear, but in cashmere and hand sewn.
Seb's department is on the first floor of the second of the Kiton buildings. It is connected to the main building (which houses all administration, cloth and tailoring) by a modern walkway that houses Paone's collection of clothes belonging to the Duke of Windsor. Ties used to be on this floor as well, but they recently moved to a brand-new, third Kiton building, along with shoemaking and the tailoring school.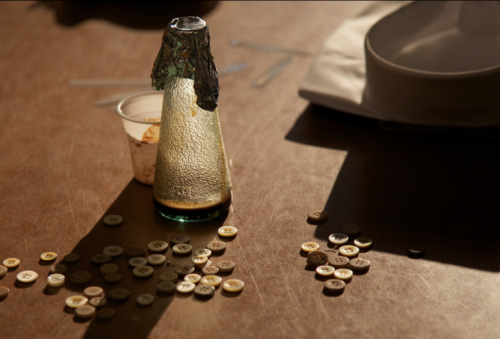 Both times I have visited Seb here it has been late afternoon, after the workers have gone for the day. Low sunlight streams through the first-floor windows at that time of day, casting long shadows and throwing objects into stark relief. Seb will sit at his desk and order coffee – Neapolitan coffee, very short and very sweet, brought in a glass bottle and served in plastic cups – and, obviously tired from the exertions of the day, talk about shirtmaking, Italy and his two sons.
Seb is obviously a dedicated craftsman, and takes inevitable pride in his work. But there is another energy, a restless curiosity that I particularly identify with. The best tailors have this quality as well. No matter what their experience, they remain interested in the thoughts of the young and the writhings of the fashion industry they are tangentially connected to. They continue to believe they can learn and be inspired. When craftsmen lose this they become arrogant, or bored. I'm not sure which is worse.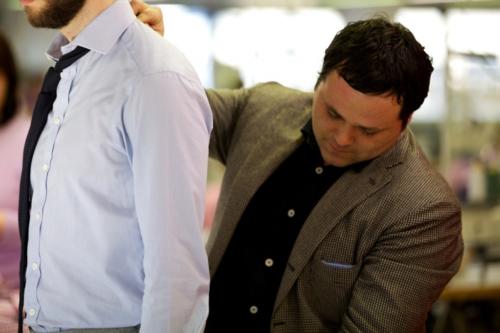 I will write more in a later post about how Kiton shirts are made. They are obviously items of beauty, as all good Neapolitan shirts are – much more than the functional, machine-made English shirt. But they retain innovative functionality as well. Seb talks with particular passion about the way the collar is put together, the combination of the best of a fused and floating construction: fused points, for sharpness, and a floating piece in the neck for comfort. The light webbing around the neck portion is, to the best of my knowledge, unique.
Thanks for the coffee Seb.