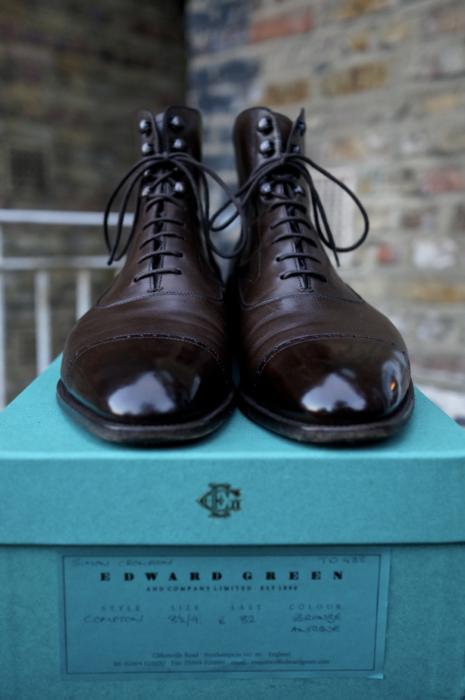 An archive-trawling reader recently reminded me that back in November 2011 I wrote about my new Edward Green Top Drawer boots, concluding that perhaps it would be best to wait two years and then see how the boots had worn.
So what have I learned in that time? Well, the leather continues to outperform that of other Edward Green shoes. It takes a polish beautifully, instantly bringing up a rich shine and achieving a mirror-like finish with a little extra work. The only shoes I have that are comparable in that regard are from Corthay, though that construction is also rather stiffer.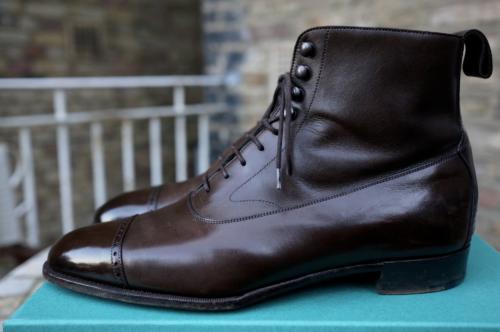 The waist treatment continues to appeal. I like the rounded shape more than the sharp angle of some Gaziano & Girling shoes, for example. It feels natural and less affected. However, close as the waist is, it does not compare with bespoke shoes, and neither does the pitch of the heel.
As I have written before, those two things are what give bespoke shoes such elegance and grace, and for me are a greater draw than bespoke's superior fit. If I could find such work on a RTW or MTO shoe, that might be the ideal.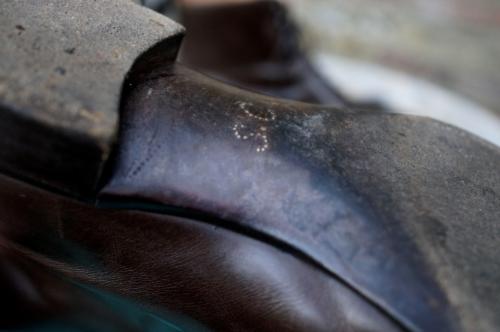 The boots have worn well, though no better than any other of my Edward Green shoes. Perhaps two years is still too short a time, though. I rarely wear boots for the middle six months of the year, and the rest of the time they must compete with a large shoe collection.
The only thing that was slightly disappointing was that the loop for pulling on the boots came off at one end. I haven't seen any other signs of poor workmanship – quite the opposite in fact, in everything from the heel build to the waist-to-heel transition to the linings. But it shouldn't happen nonetheless.
I can see how a Top Drawer shoe would appeal to a long-time fan of Edward Green who wanted something just a little better. You definitely get that. But, with Top Drawer starting at £1350, you'd need to not miss the extra £600 or so. Top Drawer also shouldn't be seen as halfway to bespoke, either in make or obviously fit.