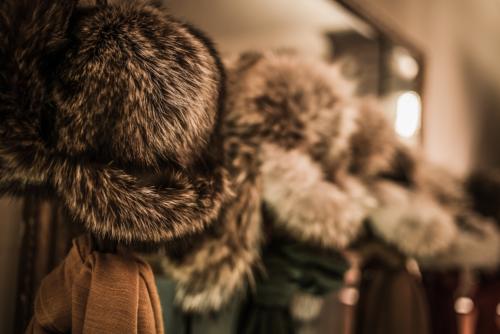 A reader recently asked me what hat I wear during the winter. It breaks down into three options:
The trilby
A 'proper hat', as many people seem to refer to it, a trilby or fedora is the default option with tailoring. I have worn Christy's, Bates, Lock and Borsalino, but my favourite is the Traveller model from Lock's.
The Traveller is made of a thin felt and is unlined. This is intended to make it easy to roll up and travel with, which you can certainly do, but the biggest advantage for me is that it makes the hat softer and more casual. The brim is never perfect, never crisp and sharp, and I find that makes it easier to wear with tweed jacket, even leather. Try turning the brim down all the way round for a more casual look too.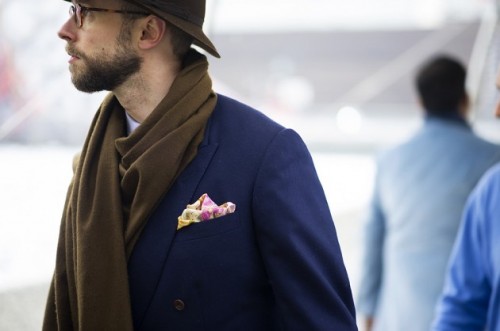 The beanie
Sadly, the default choice for men these days. Scared of a 'proper hat' and with few other options, men go uncovered or wear a too-casual beanie with too-formal tailoring.
A beanie can sometimes work, however, particularly with tweed or a big overcoat. It just needs to be the most formal version of a beanie there is: dark, thin and short. Most beanies are too thick, making them warmer but casual. A smarter one would be made of thin cashmere, with light ribbing. Most are also worn too low on the head – roll it up higher, so not all the ear is covered. And navy is obviously the smartest colour, though mid-grey (again, obviously) is a good second.
Elia Caliendo works this look particularly well. I have two of his hats from Milan – I will dig out the details for a future post and take a few photos.
The fur hat
As shown in the top photo. These are from Eggert, the Icelandic furrier stocked at Anderson & Sheppard – a wonderful man, who I was fortunate enough to meet recently and will write more about soon.
This is hat as accessory rather than necessity, but it is very warm and mine has kept my head cosy in Moscow, Scotland and Milan (the coldest of the three). Worn either formally or casually, it is a great option. Mine is deerskin with racoon fur I believe, and cost £450.
Top image: Luke Carby, at Anderson & Sheppard. Middle image: High Snobiety, from Pitti Uomo January 2013