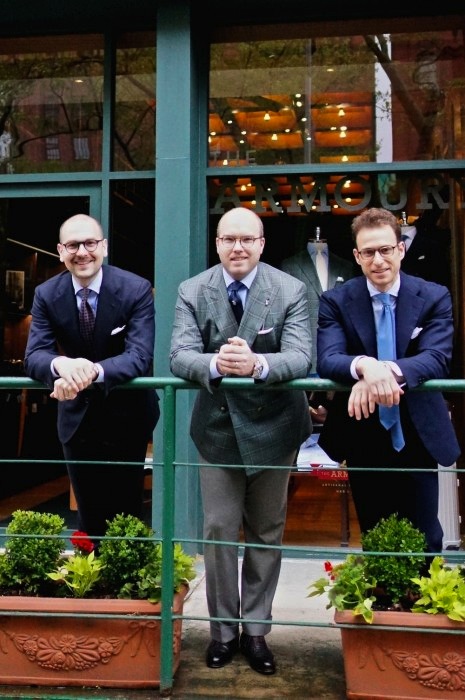 The best stores – certainly in the modern luxury industry – have a sense of community. Trunk has that in spades, thanks to Hugo, Daniel and now Tim. Anderson & Sheppard (haberdashery) too. And digitally, no more so than The Armoury in Hong Kong. Such is the success of Mark, Ethan and co that we all somehow feel part of that community, despite being thousands of miles away.
Judging from an all-too-brief time spent with the guys at the Armoury's new store – in Tribeca, NYC – they are well on the way to achieving the same thing. This is particularly valuable in New York, where most of the competition for luxury clothing comes from department stores with often arrogant and commission-centred salesmen.
Of course, the biggest benefit of The Armoury is the brands it brings to the city. Carmina and St Crispin's shoes; Ring jacket and Orazio Luciano jackets; Liverano and Koji Suzuki bespoke. The guys say that, so far, there has been a big interest in made-to-measure suiting and the bespoke trunk shows. Perhaps this isn't surprising, given the surfeit of ready-made clothing in New York but relative paucity of custom. These offerings require more education of the customer, but Jeremy, Zach and Nick (pictured left to right) certainly don't lack an urge to do that.
I clearly remember walking into Leffot the week it opened in New York, and seeing Steven every year since, as the store grew and evolved. It's a lovely feeling, and builds the loyalty that so much menswear relies upon. I can only wish The Armoury similar success, and a community on a par with Hong Kong.