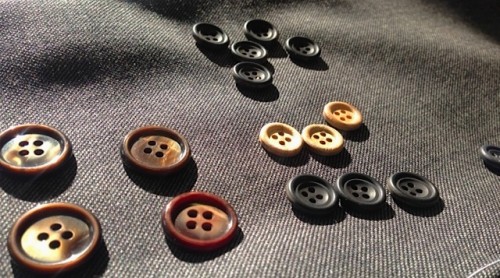 In Paris this week, seeing a few lovely people at Cifonelli, Camps de Luca, Caron and Mes Chaussettes. Again with the Cs.
The Camps de Luca suit needs one more fitting, while the Cifonelli overcoat is almost ready, even if it's not cold enough to wear it yet. The latter has been a year in the making so particularly excited about it. I'd like to say the waiting makes it sweeter, but I'd be lying.
Pictured, button selection at Camps de Luca. Three shades of grey horn, plus brown/grey, blue horn, green horn, polished and matte, then there's corozo and wood. Love the French attention to finishing.