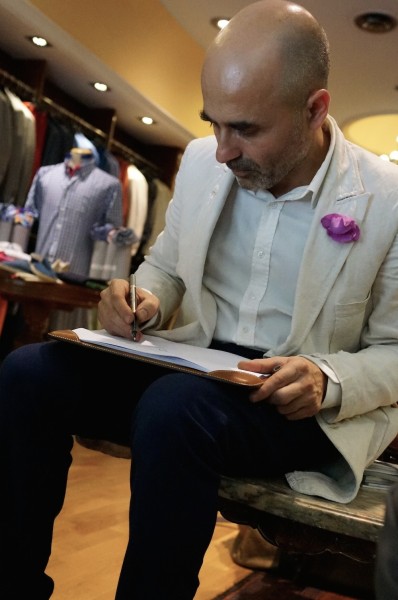 Norman Vilalta is one of my favourite bespoke artisans. Enthusiastic, talented and down-to-earth. His creations can often be fantastical, but he also does a nice line in conservative shoes with little touches of personality.
Earlier this year we had a fitting on a pair of bespoke boots he is making me. The fitting was fine – a little big in the heel, but nothing we can't easily fix, particularly given that Norman usually does two fittings. The rest of the hour, however, was spent in a very entertaining design session.


I had originally suggested an ankle boot with both laces and a strap element. To an extent, the strap was supposed to be practical – in a hurry, it could do as a fastening to the boot rather than lacing it all the way up. Whether due to airport security, or simply trying to get the kids out of the door, such short-cuts often seem to come in useful.
As I talked, Norman drew. Two quick flicks for the sole and waist; a sleek toe and curve up the ankle; the suggestion of a heel with three more lines. With that shape in place, he would begin adding buckles in various arrays. Sometimes they were simple, others ludicrously complicated. A few were pretty conservative, one or two completely impractical.


Looking back now at the pile of sketches we accumulated, I'm surprised that none of them come close to the design we settled on. That was a laced derby, with a single wide strap across it that mimicked that of a riding boot.
The next fitting should resemble something akin to that design, so I'll post it then.
Norman launched a small RTW collection in the Barcelona store Santa Eulalia earlier this year, by the way. You can see the designs here.