Would you (could you) wear a cowboy boot?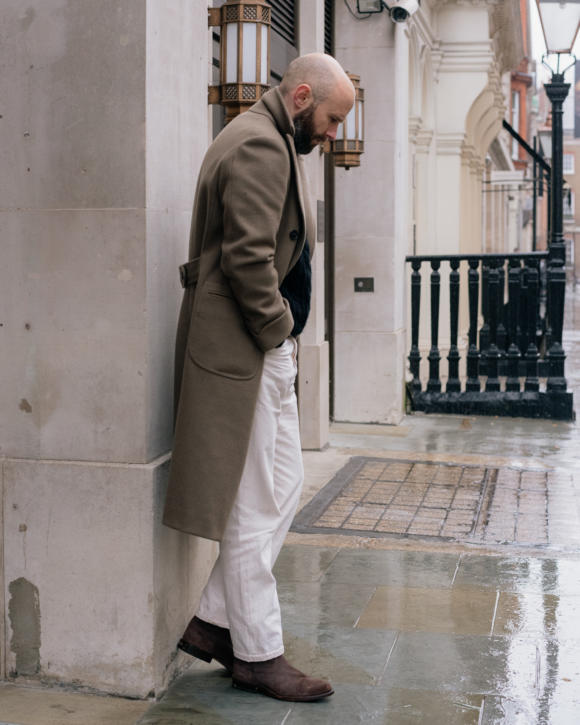 A friend once told me that he gets a kick out of finding an unusual piece of menswear, and working out a way to wear it. Like a challenge: how can he make this esoteric bit of clothing wearable.
I've never really taken that approach to clothes. However, I have always been interested in genres I don't typically wear. I'm interested in the tradition, the conventions, what it's normally worn with and why. Perhaps most interestingly: could it be worked into another genre, and if not why not?
Cowboy boots are one of these for me. Traditional, artisanal clothing in one part of the world, and a craft I've loved covering in the abstract in the past, for example when visiting bootmaker Lee Miller in Austin.
But would I wear them, formally or casually? What are the ways to do so without looking like either a Texan senator or cowboy cosplay?
I've been having fun figuring that out over the past six months, with the help of Zephan Parker, a bootmaker from Houston, Texas.
Zephan is Parker Boot Company. He was introduced to me by a friend last year, and we had a few calls talking about styles of western boots, as well as how they're worn in Texas and abroad. I was also able, gratifyingly, to give him some advice in return on trunk shows, social media and other things.
The style of boot that most interested me in our discussions was the roper boot, because it sounded like something I might actually wear.
Originally used for roping cattle as much as riding them - hence the name - a roper boot is a subtler version of a normal western boot. It usually has a lower heel, a less pronounced toe and a lower shaft on the leg.
It's not only toned down, it's also more practical - easier to walk in, because (unlike a normal western boot) that was what it was designed for.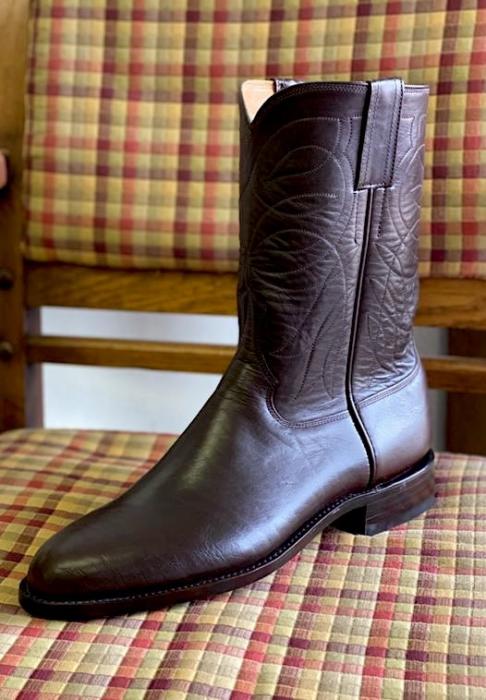 That's a typical roper boot above. The other shots in this article are of me wearing a fitting boot (not the finished product) from Zephan in a style I chose.
I went back and forth on that style for a while. On the one hand, I wanted something that was subtle enough that I would wear it; but on the other, I didn't want to remove everything that made it an interesting style in the first place.
In the end I decided to try a roper boot with a brown suede lower half, and a brown alligator upper. It's pretty standard to have the top and bottom halves in different materials, with the top usually the brighter and more decorated, in part because it's usually hidden.
The fitting boot that Zephan made was suede top and bottom, because it wasn't really worth using alligator just on the trial. However, having received and worn the fitting boot, I think I might go with a brown leather on the upper: it's nice to have some contrast, but alligator might be too showy for me.
Zephan also worked on an inlay design for the top half. Unprompted by me, he took elements of my tattoo design and made it into something smaller and rounder, better fitted to the space.
That he did in alligator, because there was so little of it. On the final boot, I might switch to a stitched pattern: this design is a little intricate for inlay and some of the detail gets lost.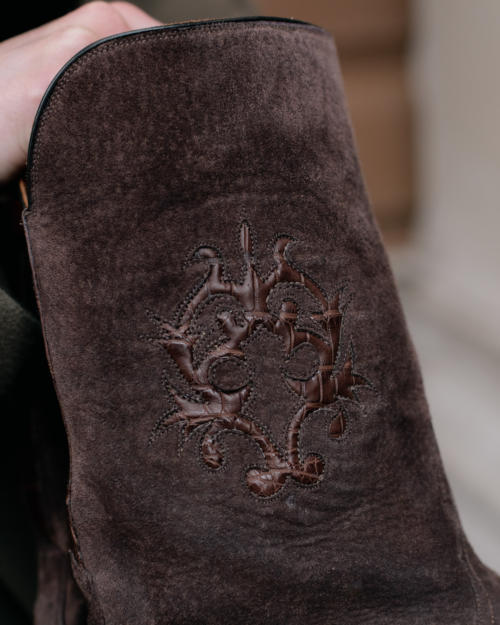 Wearing these boots in London over the past few months, I think it's interesting that most people don't give them a second glance. They look - unless you do give them take a second glance - just like big brown boots.
The only thing that makes them look western, until you put your feet up and show the top half, is something subtle in the shape of the foot. The last is quite wide and rounded in the joints (where the foot bends) and a little elongated in the toe.
You definitely wouldn't see those kinds of proportions at a European bootmaker. But they are so subtle - like the difference between a pointed toe and an almond shape - that most people are also unlikely to notice them.
It's worth pointing out that a normal cowboy boot also has a slim, pegged waist, rather than the full welt you can see running to the heel here.
That along with the pointed toe, pitched heel and decoration are things that make that boot more smart, dressy. It's why a boot in that style is what someone in Texas might wear with a suit. They wouldn't wear a roper.
"A roper for us is a working boot, something you might wear at the weekend to do chores," says Zephan. "Most people wouldn't wear either with tailoring, I guess, but here we certainly wouldn't wear that style.
He's right: I don't know anybody in London that's going to wear a western boot with tailored trousers. But I do think that those who wear them (or are considering wearing them) with jeans could do worse than look at a roper boot instead.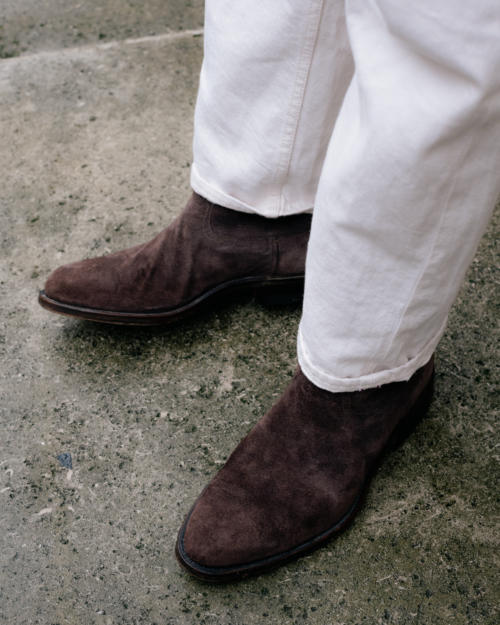 This is an interesting time for menswear. I think the erosion of tailoring as businesswear has left quite a few guys feeling stranded, not knowing quite what to wear apart from their old, lacklustre weekend clothing, or the streetwear that is pushed by fashion magazines, but which can seem both lazy and perhaps immature.
In a way, it's exciting because you can wear almost anything. There will probably be more mixing of genres now than there have ever been.
But it can also feel chaotic, and most men don't want to experiment every day. They want good-looking combinations that make them feel well-dressed and, just as importantly, give that impression to others.
There is still a smart casual middle-ground, of quality well-fitted clothing. It's what we cover on PS, and it seems to help having it spelt out and clearly demonstrated. But I also think it's nice to find ways to sneak in some of those unexpected, genre-bending pieces. To take advantage of the chaos.
A pair of suede cowboy boots with a bespoke overcoat is - for me, always for me - a fun way to do that.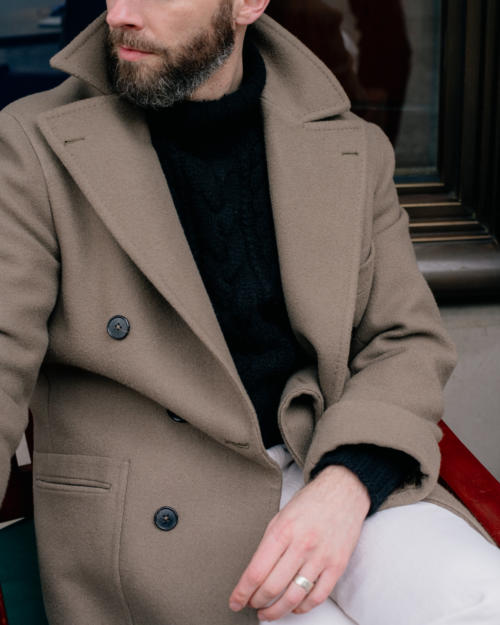 These boots are not finished - they are a fitting boot, the creation of which is Zephan's standard practice for a new customer. Mine were finished to a slightly higher standard, so I could get an idea of the style. But this is not the finished quality level. The final boots will have a full review in a follow-up article.
Zephan's boots start at $2500 and are all made custom, to order. Like many custom bootmakers he is in high demand, with a current delivery time of 16 months.
Other clothes shown: Ciardi bespoke overcoat; Dalmo hand-knitted roll neck; Drake's ecru jeans; Frank Clegg tote bag.
By the way, a reader recently commented that he would like to see more on North American crafts. I have covered a fair few over the years. Here are some, with links:
– Optimo hats, Chicago
– New York tailors
– Lee Miller boots, Austin
– Horween leather tannery, Chicago
– Stephen Temkin hats, Toronto
– Red Rabbit jewellery, New Mexico
– Chris Despos tailoring, Dallas
– Len Logsdail tailoring, New York
- Sr Francesco, Toronto
– Paolo Martorano tailoring, New York
– Good Art jewellery, Los Angeles
- Navajo weaving, New Mexico
– Wellema hats, California
Do shout if I've forgotten anyone!