A day out at Rag Parade, Sheffield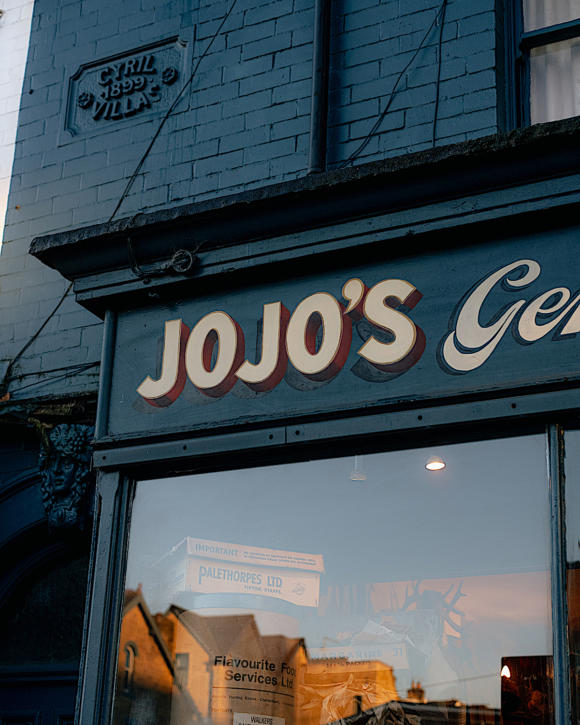 When you stare at a shop enough on Instagram - seeing new stock highlighted every day - it can seem bigger than it actually is.
That was the case with Jojo's General Store (or Rag Parade) in Sheffield, which myself, Alex and Lucas visited last month.
The shop is on the terraced Ecclesall Road, a trunk road running out of Sheffield town centre. It's busy, and even though the shop is set back from the traffic, elevated behind a set of steps and a ramp, it's probably not the space most people will expect from following the store online.
I guess no one ever shows what's behind a cameraman.
Inside, however, Rag Parade is a jewel. Small, certainly, but stuffed to the rafters with vintage clothing from every era.
It also has that feature which I find vintage shops often acquire over time, which is decorations that are just as interesting as the clothes.
On one wall, behind a stack of knitwear, is a poster explaining the proper equipment for hill walking. Opposite it, there's a large photo of the Queen's College rowing team, plus the tiny jacket worn by the cox. Above are antlers, advertising hoardings, helmets and collars.
They're all beautiful, period things, but they speak to someone who's a collector just as much as a retailer.
One of my favourite points in the day was when I inquired about a pair of old trainers (above), and it transpired that the case they were displayed in was from a baker's, intended for keeping pies warm.
Getting the trainers out required Jojo and Dan to take the whole case down, clear a space for it on the floor, and slide open the glass at the back. Not to mention removing the mannequin, hiking hat and oversized white Converse from on top.
As the case is only accessible from the back, it's a wonderfully impractical way to display shoes. But it does look nice, and Jojo relished taking it down and telling everyone about it.
Which of course also speaks to Jojo himself: anyone that has met him will know he is rarely anything but smiling and enthusiastic.
That's fortunate, because being a small shop stacked to the ceiling, the best way to browse is to ask Jojo or Dan for something you're interested in, and then let them rummage for you.
For example, I was interested in finding an old Belstaff Trialmaster jacket, ideally from the 1960s or so. Tracking one down in my size, with the right amount of character - very worn in but not actually worn out - has not proved easy.
Trialmasters, like old Barbours, also vary in how much they've been waxed over the years. Some are virtually dripping and others are bone dry, making them look and feel like completely different materials.
If I was being fussy I'd also like some patching or repair work on my jacket - and the original belt. I used to have a Barbour International that was perfect in that regard (covering on PS back in 2014) but it was always a little small and I eventually had to sell it.
Jojo had big range of Trialmasters, from the 1950s to the 1980s. One on a mannequin, a lovely Sammy Miller model, had been heavily patched but only lightly waxed. It was perfect, but two sizes too small.
In the end I think we went through about a dozen from the packed rail. Two were good candidates: a later model that was a perfect fit, but without much character and plastic studs; and an earlier piece with brass studs but rather snug.
I passed on both, but didn't feel frustrated. This is what vintage shopping is like: long periods of interesting but not necessarily successful browsing, punctuated by unexpected and glorious finds.
I did walk away with a pair of old Nikes though: Oceanias from the year I was born, 1981. (The blue pair above, not the red.)
Although I rarely wear trainers, I also find it hard to find models I like. The closest I have is a Margaret Howell/Mizuno pair, covered previously here.
I want trainers that are slim and simple (again, discussed here) and old models are nearly always better. Even recent Nike resissues, like the Challenger or Waffle 2, aren't as slim and unpadded as the originals.
(I think part of the problem is that the image I have in my head is George Costanza wearing his Cortez in Seinfeld. And he has tiny feet!)
I won't get into a big discussion of 'modern' vintage like this here, but I do think it's something we should discuss at some point. It's a category Jojo specialises in (with a separate Instagram account, @contemporary_ragparade) and it's interesting to consider how more modern vintage is different from the pieces from the 1940s and 1950s.
The appeal, for example, is often more about unique design than about quality or patina.
For those that can only see Rag Parade on Instagram, the good thing is it's similar in many ways to being in store: Jojo presents interesting things from the racks, with a few thoughts and close-ups.
As long as you keep a handy record of what measurements you need (pit to pit, body length, sleeve) it's not too different from visiting in person. And he's usually happy to answer questions on DMs.
Although, having said that, if you can visit Sheffield at least once, it's worth doing so.
The store itself is an experience, and it's in a lovely area of town: there's an antiques quarter behind, sprinkled with cafes and restaurants.
Jojo hosted us for lunch at JH Mann (below), and around the corner we had coffee and doughnuts at Eve Kitchen. I'd happily recommended both.
Many, many thanks to Jojo and Dan for their hospitality, and for a lovely day out.
If you'd like to hear more background on Jojo, and how he got started in vintage, try his interview on Handcut Radio here.
My trainers were £200, while the waxed biker jackets ranged from £250 to £650, largely based on rarity.
The PS team were myself, Alex Natt and Lucas Nicholson, pictured below left to right. I am wearing an old PS watch cap sample, a wool fleece from The Real McCoy's, Full Count jeans and Edward Green waxed boots.