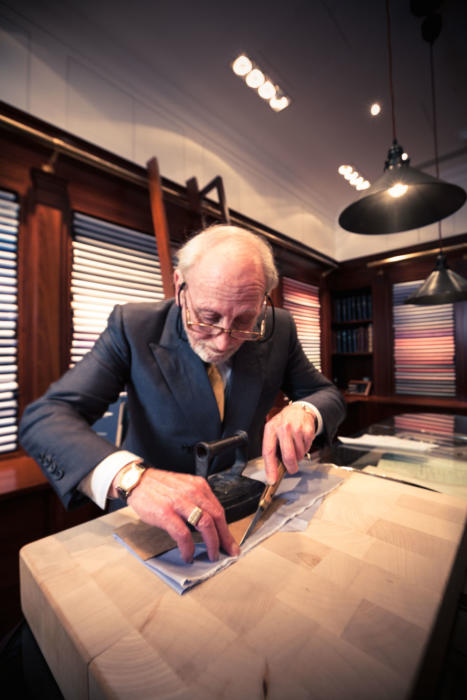 My first ever shirt cutter, David Gale (above), moved from Turnbull & Asser to Hilditch & Key recently. It's one more sign that things are going in the right direction at Hilditch.
First was Steven Miller taking over the running of the brand, having moved from Turnbull & Asser itself. Then there was the news that Bate's hats, which lost its own shopfront in 2009, was to be moved into the smaller of the two Hilditch shops (having two never made much sense), giving it a window on Jermyn Street once again.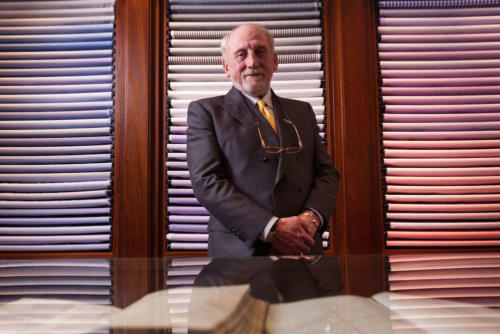 Then finally, David's move away from T&A. David made my first bespoke shirts, covered here on Permanent Style when it was still rather new, back in 2009. And although I've since changed my taste in shirts – preferring the softer and more hand-worked Italian makers – I'm still a big fan of David himself. The fit on those first shirts was as good as any I've had since.
As readers have pointed out, these changes do mean that prices have gone up at Hilditch. But to a certain extent that's what we pay for a new, much nicer shop, for a new website, for Bate's at number 37, and for a bigger range of high-quality accessories. Aside from money spent on advertising, I don't think they are things we can really complain about – at least, not while also bemoaning the death of gentleman's retailing in the West End.
The bespoke shirt operation now has far more space, and a cutter on site with a view out onto the street. Most of the RTW shirts are made in Scotland, and there are few other interesting projects underway.